It's time to dive into my second day of life in Waikiki with Animal Crossing: New Leaf for the Nintendo 3DS. Again, I may leave some sections out to keep the already insane length down, but please enjoy.
Highlights today include my new house, approval rating fun, fishing, and another trip to a Japanese village. 🙂 Read on for everything:
The first thing I noticed when starting up Waikiki today was… my house! Yeah, I actually have a house now. The hobo tent is gone forever! Thank goodness. I mean, thank Tom Nook. I never thought that I would speak those words in my life.
Yes, before it bugs anyone too much, I did dig up the fossil next to the yellow roses. 😛 I know someone will mention it in the comments if I don't, haha.
I headed inside my new house where Isabelle intruded to congratulate me on my upgrade!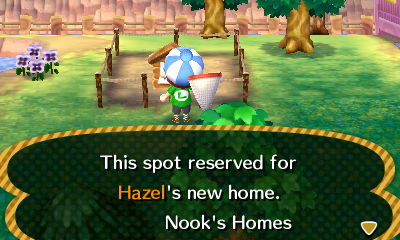 After speaking with Isabelle, I walked around Waikiki checking up on things and heading over to Re-Tail. On the way, I discovered a reserved area for a new resident: Hazel! Apparently, this is a brand new villager to Animal Crossing: New Leaf so I'm excited to meet them. 🙂
Apparently, I'm not quite Mayor yet. Thanks Isabelle.
To truly do my job as Mayor of Waikiki, I need a town-development permit. For that to happen, I need my approval rating as Mayor to be about 100 percent. (talk about unrealistic!)
It seems I've already made some of my villagers happy with my approval rating sitting at 28 percent. That's not good enough though.
What does any good mayor do to improve their town? Make a town flag! Time to put my non-existent design skills to work.
Behold… the new town flag of Waikiki! Okay. I admit it. It's terrible. But my residents better like it!
Another suggestion from Isabelle to improve my approval rating was to clear out weeds. Well, I intend to do just that! Check out the sweet justice above!
Then I checked on the Perfect Apple tree which I planted the day before. It's in a very secluded location, so I wasn't sure if it would grow properly. Of course, it did!
I joined a conversation between Roscoe and Beau. They were sharing terrible great puns, and I heard a couple… Check out my favourite above!

WHO WAS IT? WHO? Confess or face the wrath of my net! I'm not afraid to use it!
In addition to the Perfect Apple tree, I started a mini orchard of other fruits yesterday. Surprisingly, all six trees survived! It'll be a secret as to which fruit they are. 🙂
After checking up on my trees, I headed back over to Nookling Junction. I bought a Fishing Rod and another Fortune Cookie. If you know me at all, you probably know that I love Pikmin, so I was very happy with this item!
Tom Nook let me know that my house wasn't free and I was going to have to pay up. I guess I better slave away to make the Bells for this…
Oh wait… I can already pay it off!
Because I'm a masochist, I headed straight back to Nook's Homes for another loan. Great. Mistake of the year. This one is going to take a bit longer to pay off!
While I was at Main Street, I stopped by the Able Sister's for a new hat. Of course, I found the perfect hat. A frog hat. Hell yeah, I want to be a frog!
Back in town, Roscoe challenged me to catch him an ocean fish, as the perfect opportunity to use my fishing rod for the first time.
He seemed pretty satisfied with his Horse Mackerel. Honestly, if I was Roscoe, I would have accepted nothing but a Red Snapper!
I checked back in with Isabelle to see how my approval rating was progressing. 78 percent is quite the jump! But it's not quite enough…
Beau wanted a fresh new catchphrase. I'm really uncreative with making up catchphrases, so I went with a spin on her previous one.
With some more villager interaction and weed picking, I made it all the way to 100 percent! To be honest, I was very surprised as I heard from other players that it was impossible to achieve 100 percent rating in a single day.
Well, I managed to do it somehow! So, keep in mind when you guys play, it's definitely possible so don't give up. 🙂
A nice shot of the interior of my house before the expansion tomorrow!
ADVENTURE TO BLUE SKY VILLAGE
Following my Japanese village visit yesterday, I travelled again today for an evening of fun in the Blue Sky Village with some Japanese friends. 😉 Well, it was early afternoon in their village!
One of the first things I noticed was Yamanon's Pooh faceboard! I made sure to catch a screenshot of it. 🙂 I can tell he is a big Winnie the Pooh fan, haha.
They wanted to head over to the Resort Island, where I played my very first Island Tour game! Yuku picked, it was the Easy Gardening Tour.
You would think that a gardening tour might be boring, but in fact it was very fun and relaxed. We played a harder level one later as well.
I caught a Ribbon Eel on the Island and everyone crowded around me, haha! It made for a great screenshot. Also, Ruu gave me a Red Pikmin Hat. I love it!
After some fishing fun, we went back to the Island Tour games. In this particular game, the level was full of pitfalls. It was almost like a Pitfall Minefield!
Some more shenanigans were had on the Island, before we were unfortunately interrupted by a disconnect. Granted, the connection held up fine for almost 3 hours all the way from Japan!
Back in Waikiki, it was quite late. The better question Opal is, how are YOU still awake?!?
To close us off, here's a photo of the outside of my house before expansion tomorrow!