A chilly new fortune cookie has swept into Animal Crossing: Pocket camp today, alongside three new villagers!
Hamlet's Chilly Cookie is a new set of winter-themed items featuring plenty of snow for your campsite, including snow-covered cedar trees, a snow castle, a hamster snow igloo, and snowball barricades. As for clothing, there's a nice pair of Hamlet-inspired winter wear clothing.
The five-star spotlight item for Hamlet's Chilly Cookie is none other than the massive Snow Park Slide, a big ice slide in your campsite that villagers can ride a sled down the ramp! There's also some fun animations for the snow barricade items seen in the GIF below: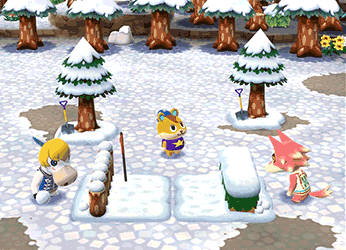 Like other fortune cookies in Pocket Camp, a single cookie can be purchased for 50 Leaf Tickets and a pack of five with an extra stamp for 250 Leaf Tickets. It's available beginning today  throughout the winter season until April 14th.
Here's a full list of the items found in Hamlet's Chilly Cookie:
snow park slide
powdery-snow rug
snowball barricade A
snowball barricade B
horse snow sculpture
snow castle
hamster igloo
snow-covered tree
hamster knit cap
big-star snow wear
Alongside the fortune cookie, there are three more new villagers joining Pocket Camp today with Puck, Skye, and Hans available to level up and invite to your campsite! Plenty of new winter themed furniture can be unlocked alongside them including their favourite Boblsed and Snowmobile items.