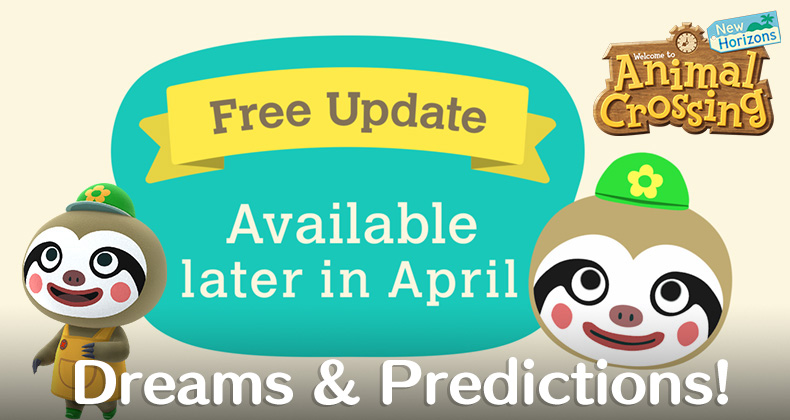 With the Bunny Day event for Easter behind us in the rear mirror, it's time to start thinking about what's next in the pipeline for Animal Crossing: New Horizons with the next update coming in less than a week from today!
Unfortunately, there's still not much information from Nintendo on exactly what this update will bring to the game. So in this article we'll go over the limited facts so far, and share our dreams and predictions for the upcoming Earth Day update!
What We Know So Far About The Earth Day Update
First of all, let's set out the actual facts for what we know so far about the upcoming Animal Crossing: New Horizons update in Late April. It's easy to mix up what's speculation, and what's actually a fact!
The update was first announced during a Nintendo Direct Mini presentation near the end of March, alongside details on the Bunny Day event. Specifically, a new free update was promised for release "later in April" with some "newly added features, including the Earth Day event!".
And while he wasn't mentioned in audio by the narrator, an icon for the past Animal Crossing character Leif appeared on screen at the same time. This certainly implies that Leif will be added into Animal Crossing: New Horizons with the update, but we really don't know anything else.
In summary, here are all of the facts we know so far about the April Animal Crossing: New Horizons major update:
The update will arrive "later in April" — Earth Day in the real world is on April 22nd.
"Newly added features" will be included, like the Earth Day event.
The Leif special character will be introduced somehow.
Hopes & Dreams We Want To See In The Earth Day Update
Now that we've got the hard facts out of the way, it's time to start dreaming about what new features we could be getting in Animal Crossing: New Horizons from the upcoming update!
Leif — A New Visiting Merchant and Shop Owner?
First and foremost, our number one dream has definitely got to be that Leif will become a permanent character and open his own new flower shop on the island, just like he did in Animal Crossing: New Leaf.
Inside Leif's Flower Shop in New Leaf, he sold a variety of flowers, bush starts, fertilizer, and even some plant furniture. Eventually, that flower shop even evolved into an integration with Timmy & Tommy's store! (image credit)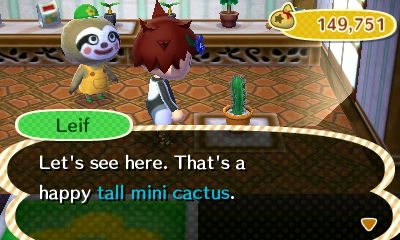 Interestingly, the same kind of integration is certainly still possible for Animal Crossing: New Horizons as there's currently only one Nook's Cranny upgrade in the game. We'd love to see the third store upgrade be added in this update with Leif partnering up with Timmy & Tommy to be a part of it.
Before Leif opens up his Flower Shop though, it'd be interesting to see him visit the island on a weekly or twice-weekly basis as a visitor by Resident Services, just like how Mabel and Kicks do when they come to sell their goods. Discovering Leif visiting our island with a random variety of flowers and bushes to purchase would be great!
Bring Back Bushes in Animal Crossing: New Horizons
Speaking of bushes, we absolutely need to see them added in this Earth Day update in some shape or form. Even if Leif doesn't end up opening a shop, it's a crucial design element that's clearly missing from Animal Crossing: New Horizons and needs to be taken care of! (image credit)
For a brief refresh if you're not familiar, bushes were one of the most interesting options for decorating the outdoors of your town in Animal Crossing: New Leaf on the 3DS with a variety of different versions sold by Leif.
The varieties of bushes in New Leaf included white and pink Azaleas, blue and pink Hydrangeas, red and yellow Hibiscuses, Sweet Olives, and Holly!
Given the incredible island designs we've already seen from Animal Crossing: New Horizons players in less than a month, we can only imagine the possibilities with bushes added to the mix alongside outdoor furniture and terraforming.
A Hybrid Challenge for Earth Day?
Going back to the promised Earth Day event, there's a lot of possibilities for what this event could entail. Given that Leif is almost certain to be taking part though, we have to wonder whether flowers should be a part of the event to give it a unique twist compared to other events.
Perhaps Leif could challenge us to grow a few hybrid flowers for him over a period of time? This could help introduce the concept of hybrid flowers to newer players who aren't already familiar with them!
And as a reward, Leif could bring some fresh new DIY Crafting recipes for flower-related items making use of the hybrid flowers he guides us to breed.
The hybrid breeding system has always been quite low key in the Animal Crossing series, so this would be a great way to bring more attention to the feature and make for a unique event.
Simple Quality of Life Features
Finally, there's a few small quality of life features that we hope to see implemented with the Earth Day update. We certainly don't claim to be an original trendsetter on these — they've all been popular requested features within the community, so let's hope some make the cut!
Multiple Crafting Queue
With this change, the ability to 'queue' up multiples of an item to craft automatically one after the other would added. You'd still have to wait for the crafting to complete, but the process would be automated.
Craft With Materials In Storage
We're surely not alone in feeling fatigued by the repetitive process of pulling out needed crafting materials from storage before getting started on the workbench! This simple change would allow you to craft using materials in your storage.
Extended Tool Durability
There are a number of more complex tool changes that could be made in the long term to improve the game, but we think a worthwhile first step to start would be increasing the durability of non-flimsy tools. Nothing crazy, but perhaps doubling it?
Of course, there's endless new features that would make a great fit for Animal Crossing: New Horizons, but we tried to focus on a few small realistic changes that could be made in response to fan feedback in the past month.
Predictions For The Earth Day Update
While our dreams for the Earth Day update are certainly exciting, and we truly hope that they come true, it's possible that we might find ourselves a little disappointed given how little information is known so far.
We certainly hope that we're wrong on this, but it's a possibility that Leif will only serve as a limited time event character as part of the Earth Day event. Then he could leave our islands to never return until next year, similarly to how the last event character Zipper T. Bunny worked.
That would be a shame and a sore mistake in our view though. Limited time events are certainly an important part of the Animal Crossing series and we want to see lots of them introduced over time, but Animal Crossing: New Horizons needs more substantial permanent content added as well!
Speaking of limited time events, we're not really sure what should be expected from the new Earth Day event. The concept isn't new to the series with Animal Crossing: New Leaf including a similar event, but Earth Day was nowhere near a notable event. (image credit)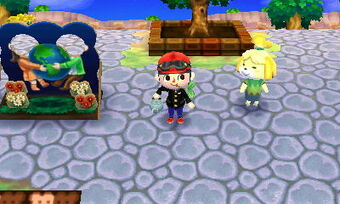 Rather than being what we would consider a full-fledged event with gameplay, it was simply an opportunity to visit Isabelle for a photo opportunity and a single take home souvenir item. We'd like to hope that the New Horizons edition of Earth Day will be far more substantial like many are expecting, but it's possible it will be a smaller affair.
---
Are you excited about the upcoming Earth Day update for Animal Crossing: New Horizons? What are you hoping to see introduced to the game with this new event and update? Let us know in the comments below!
For more on Animal Crossing: New Horizons, check out our many helpful pages on the game in the Guides section here.