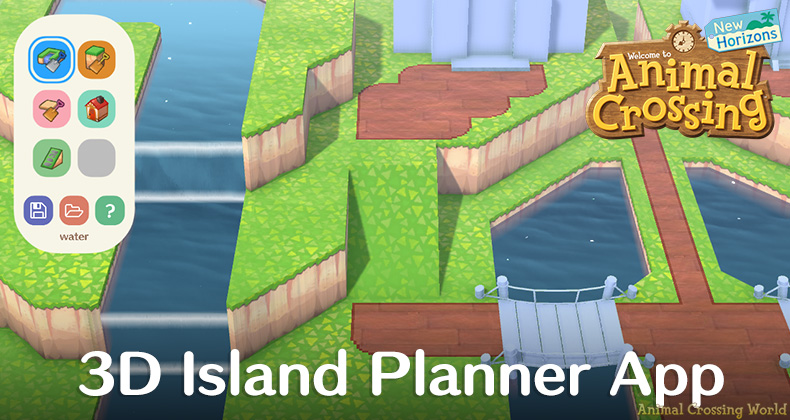 Even a month and a half later, many of us are still hard at work on trying to decide exactly how we want to design our Animal Crossing: New Horizons islands and make them as beautiful as possible!
With so many possibilities for designs though, it can feel pretty overwhelming working on your island sometimes and the slowness of the Island Designer tools in-game make the process pretty cumbersome if you want to test out new ideas.
That's where a brand new tool called the Island Planner created for planning your Animal Crossing: New Horizons island comes into play, featuring a complete 3D environment for replicating and designing an island!
When you load up the application, you'll find a blank grass canvas equipped with a number of tools replicating in-game options like creating cliffs, adding or removing water, painting path tiles, building bridges and inclines, and placing major buildings like houses or shops.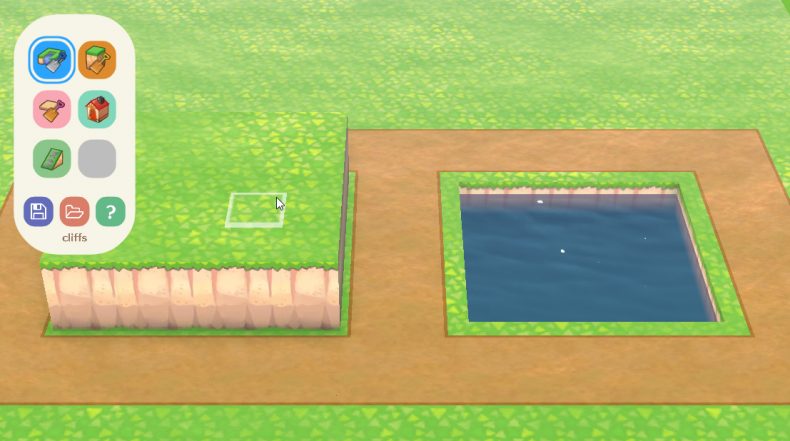 With a few clicks of your mouse, you can easily use these tools to manipulate the 3D environment just as if you were using the in-game tools found in Animal Crossing: New Horizons! Using this app makes for a great way to test out and prototype new island design ideas before you commit to implementing them in your actual game.
A few different camera options are available too with an overhead view and various zoom levels to choose from, plus you can choose to enable a handy tile grid. And when you're done with your design work, you can save the virtual island plan to your computer for loading later!
Currently, one of the biggest missing elements are landscaping options like trees, rocks, and fences, but the developers have those additions right at the top of their to-do list. Other features such as a mini-map, multi selection for moving, beach shape editing, and more are in the plans too.
Despite these limitations though, we've found the Island Planner app to be a tremendously useful tool so far for planning abstract cliff, river, path, bridge, and incline concepts for our island before taking the time to commit to them in-game.
While it's clear that this application has a long road of development ahead to be completed, the concept is certainly promising and the developers seem to be in it for the long haul from what we can tell. Given enough time, we're confident this 3D Island Planner app will become the best way to plan out your Animal Crossing: New Horizons island.
You can test out the 3D Island Planner app within your browser on the website here, and proper executable downloads for both Windows and MacOS are available on the page as well! If you like what you see, consider making a donation to the developers Rob Fichman and Carmela Diaz on the page so they can continue working to improve it.
UPDATE: A new update for the 3D Island Planner has been released including new mini-map and fence features! Check our article covering all of the changes here.
Note that you may need a decently capable computer to run this as it is relatively complex tool and it's not currently available on mobile devices. If you're looking for a 2D planner for your island that can run easier, be sure to check out the Happy Island Designer app that we covered back in March!
Island Planner Controls
By the way, here's a handy summary of the Island Planner controls and keyboard shortcuts as it can be a little confusing at first and hard to find on the page:
WASD/Arrow Keys – Move
Left Mouse – Place object
Right Mouse – Lower cliff/Remove object
Middle Mouse/I – Eyedropper tool
Scroll Wheel/Minus/Plus – Zoom
R/F – Camera Angle
Q/E – Rotate Incline/Bridge
G – Toggle Grid
H – Toggle Greybox Mode
1/2/3/4/5/6 – Change Mode
Let us know in the comments below if you give this awesome new Island Planner tool a try and how it goes for you. Be sure to check out our Animal Crossing: New Horizons Guides page here for more information on the game.