February has arrived and there's plenty of new additions to experience in Animal Crossing: New Horizons during this month, beginning with the first preparations for Festivale today!
In this article, we'll cover everything new for you to enjoy throughout February on your Animal Crossing: New Horizons island for real-time players, including new items and seasonal events.
Buy New Festivale Items, Clothes, Reactions
February brings the first sign of new Festivale content introduced in the January Update for Animal Crossing: New Horizons! Players who time travel will have already had the chance, but this is the first time real time players can experience most of the Festivale additions.
Festivale Furniture at Nook's Cranny
To help you prepare for the upcoming Festivale Event with Pavé later in the month, the great folks at Nook's Cranny will begin selling nine different furniture items from the Festivale Set on February 1st!
These Festivale Set items available at Nook's Cranny include the Festivale Balloon Lamp, Festivale Confetti Machine, Festivale Garland, Festivale Stage, and more. Follow our Festivale Set Guide here for a complete list of furniture items in the series!
In fact, all but one of the Festivale Event's items can be purchased at Nook's Cranny in advance. However, only a single type of color variant will be sold at your island's store.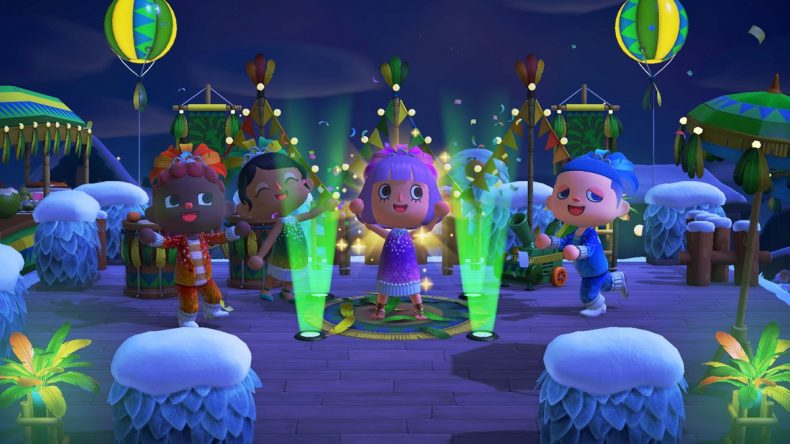 To get all of the color variants of Green, Red, Blue, Purple, and Rainbow — you'll need to either participate in the Festivale Event on February 15th or trade with other players. Rainbow Feathers collected in the event can be used for item customization.
Festivale Clothing at Able Sisters
Furniture isn't the only way to get your Festivale vibe on before the big event starts though! Be sure to drop by the Able Sisters shop too for a chance at finding three different types of Festivale clothing and accessories.
Each Festivale clothing item comes in four different design variants matching the furniture and feather colors, excluding Rainbow. Make sure to purchase them all!
Check out our Festivale Clothing Guide here for a complete list of clothing items in the series, including all color variants.
Fesivale Reactions at Nook's Cranny
Rounding out all of the Festivale preparations you can check out at the start of February, you won't want to miss out on a new item found inside the cabinet at Nook's Cranny called the Viva Festivale Reaction Set.
By purchasing the Viva Festivale Reaction Set for 19,800 Bells, you'll learn four brand new Festivale themed reactions in Animal Crossing: New Horizons called Feelin' It, Let's Go, Viva, and Confetti:
It's worth picking up these Festivale Reactions and checking them out for yourself as they're pretty fun, but we show them all off in a quick video below too if you want to see. Our complete guide to all Reactions in general is worth a look as well if you don't have all of them yet.
All of the Festivale furniture, clothing, and reactions covered above will be available from February 1st to February 15th when the actual Festivale Event is held.
Mini Valentine's Day Event & Items
Starting on February 1st this month, two brand new Valentine's Day themed items can be purchased from the Seasonal tab in Nook Shopping! These lovely items are the Chocolate Heart and Heart-Shaped Bouquet.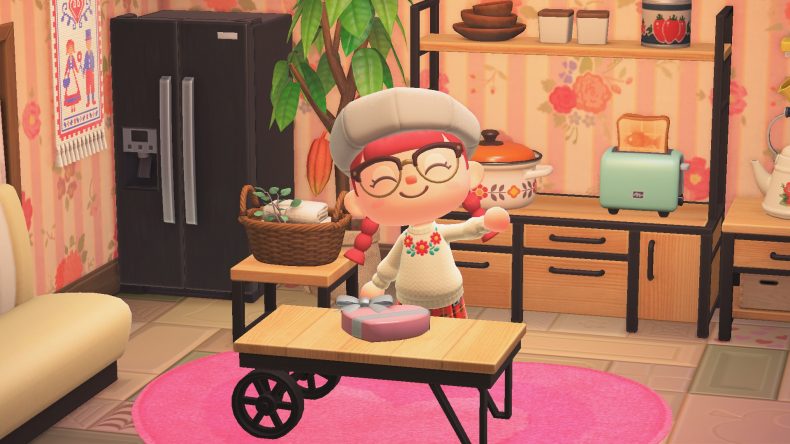 What's great about both these Valentine's Day items is that they come in multiple different color variations to collect, much like the Cheer Megaphone for Super Bowl. So you'll want to repeatedly check in to Nook Shopping over this two week period until Valentine's Day to get every version!
Here are all 4 of the Chocolate Heart item variations of Milk Chocolate, Dark Chocolate, White Chocolate, and Strawberry Chocolate:
And here are the 6 Heart-Shaped Bouquet item variations in Red, Pink, Yellow, Purple, White, and Black:
Both items will be available in the Seasonal tab of Nook Shopping from February 1st to 14th.
When Valentine's Day held on February 14th comes around, you'll also receive two letters in the mail from both Isabelle and a villager. While these letters contain the same Valentine's Day items that will be available in Nook Shopping, it's nice to see this holiday celebrated with letters like in past Animal Crossing games.
Lunar New Year Items
Another upcoming seasonal event to look out for in Animal Crossing: New Horizons during this month is the Lunar New Year holiday bringing three new items on February 10th.
First, this holiday introduces a pair of Lucky Red Envelope and Bokjumeoni Lucky Pouch items in Nook Shopping that can be used to wrap Bells.
When you wrap Bells using one of these two items, the item is converted into either the Lucky Money or Sebaetdon items in your inventory. Then each converted item can be unwrapped to reveal some Bells, ideally for gifting to another player.
Secondly, a gorgeous Lunar New Year Decoration furniture item can be ordered for a wall-mounted decoration to celebrate the holiday.
All three of these Lunar New Year items will be available in the Seasonal tab of Nook Shopping from February 10th to 17th.
Festivale Holiday Event
Towards the middle of the month, you'll be able to experience the full Festivale Event on February 15th! During this fabulous event, look out for returning special character Pavé visiting your island outside of Resident Services.
Throughout the event, beautiful feathers of five different colors will rain down upon your island from the sky floating around and waiting to be caught by you using a Net!
These lovely feathers can be traded to Pavé to obtain the same Festivale Set furniture items that are sold at Nook's Cranny. However, the color of the feathers you give Pavé will determine the color variant of the Festivale furniture reward.
You'll also unlock a special new DIY crafting recipe that can craft Rainbow Feathers using one of every other color of Feather.
Finally, in the event's grand conclusion, you'll be able to get your hands on the exclusive Festivale Float furniture item from Pavé by trading him three Rainbow Feathers. This item isn't sold at Nook's Cranny!
Keep in mind that you won't be able to access this event through time traveling in advance right now as it has been locked by Nintendo behind Version 1.7.0a. Stay tuned for our complete Festivale Event Guide to be published in the next few days!
Goodbye Snow, Hello Grass
While there was much hype around the original arrival of snow, it doesn't take long for that magic to turn into boring, just like in the real world! So starting on February 25th in the Northern Hemisphere, you can expect to find your island back to the grass landscape you miss, although with muted colors at first.
This also means that the first 3 weeks of February are your final chance to collect all of the Winter Snowflake DIY crafting recipes and build all of your Perfect Snowman with Snowballs as this content will all leave on February 25th as well!
And for players who only recently picked up a copy of Animal Crossing: New Horizons over the holiday season, this will be their very first time seeing islands without the snow cover, which is pretty exciting.
Young Spring Bamboo Seasonal Materials & Items
When the snow leaves your island on February 25th, the winter's seasonal items will be replaced by a fresh round of Young Spring Bamboo materials and items!
For fans who have been playing Animal Crossing: New Horizons since the very beginning last year, this won't be new content, but it might be new if you joined the fun later on in the year.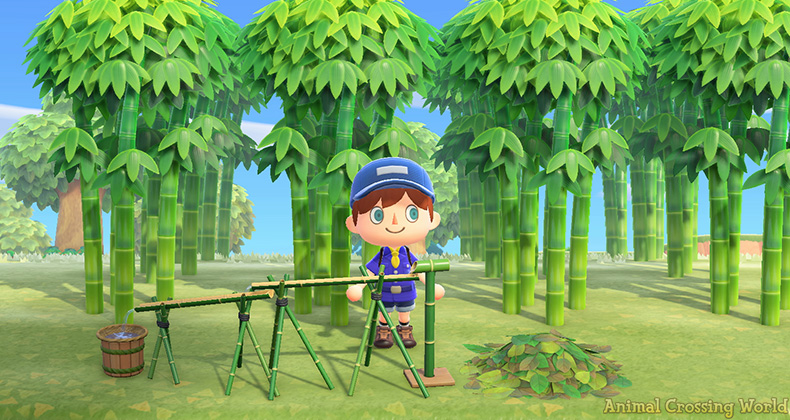 To get your hands on Young Spring Bamboo, simply find some Bamboo on an island and hit it with a Stone Axe for a chance of Young Spring Bamboo materials to drop. As for getting the recipes, those will unfortunately come randomly from shooting down Balloon Presents.
And for players in the Southern Hemisphere, February will be the last month of the Summer season in Animal Crossing: New Horizons as you head into the start of Autumn season in March. Get those Summer Shell recipes while you can!
---
Stay tuned to Animal Crossing World for everything on Animal Crossing: New Horizons, including our extensive Guides section here. Our most popular pages include Festivale Furniture Set, Every New January Update Item, Sanrio Card Reprint, ColourPop Collection, Winter Snowflake Recipes, How To Build Perfect Snowboy, Redd Art, and Sea Creatures.