A new month is just around the corner with new seasonal events and items coming to Animal Crossing: New Horizons throughout April!
In this article, we'll cover everything new and returning you can enjoy during the month of April in Animal Crossing: New Horizons including Prom Night, Cherry Blossom Season, Bunny Day, and more.
New Prom Night Seasonal Items
Beginning on April 1st and running throughout the entire month of April, a new Prom Night seasonal event will take place in Animal Crossing: New Horizons to celebrate the high school Prom dances popular in many countries.
While most of these minor seasonal events tend to only include a couple items, Nintendo has gone all out for Prom Night with a vast collection of over 10 different themed items available in two locations.
First, you can find 3 different Prom Night themed items for sale in the usual Seasonal tab of Nook Shopping:
The Prom Sash is especially appealing as it's technically a 'backpack' item that can go over types of clothing, rather than being its own entire outfit. Of course, the Prom Wall and Prom Flooring will be great for decorating rooms too.
Next, another 19 different Prom Night clothing and accessory items can be found for purchase at the Able Sisters shop throughout April:
Plus, as the last cherry on top, every one of the clothing and accessory Prom Night items can be found in multiple variations ranging from 2 to 8 different colors! Be sure to collect them all before the end of April.
Cherry Blossom Trees & Recipes Return
The most beautiful time of the year in Animal Crossing: New Horizons returns during the first week of April when Cherry Blossoms season arrives for Northern Hemisphere islands!
From April 1st to 10th, the fruitless trees on your island will transform into amazing Cherry Blossom trees and Cherry Blossom Petal crafting materials begin floating in the air to catch with your net.
Collecting these petal crafting materials will allow you to craft the 14 lovely pink Cherry Blossom items including the Blossom-Viewing Lantern, Cherry-Blossom Pochette, and Cherry-Blossom-Petal Pile.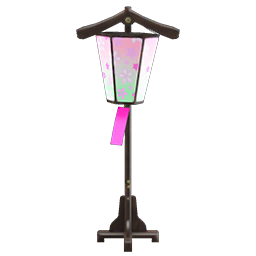 Be sure to shoot down Balloon Presents flying across your island from April 1st to 10th in order to unlock the Cherry Blossom DIY crafting recipes as this is the only way to do so, besides the Outdoor Picnic Set from Isabelle.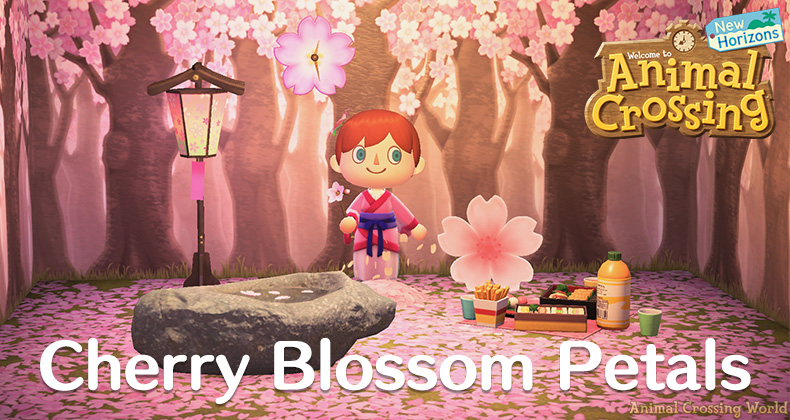 For a full list of Cherry Blossom DIY recipes and how to craft them, check out our complete guide here.
Veteran players who have been playing Animal Crossing: New Horizons since the beginning might find themselves enjoying Cherry Blossom season quite a bit more this year as the 'egg infestation' from Bunny Day won't overlap the entire season.
Last year's Bunny Day event period completely overlapped with Cherry Blossoms, whereas you'll get to experience the beautiful pink blossoms without any unwanted Easter intrusions from April 5th to 10th.
New Forsythia Plant Seasonal Item
If you've ever wished there were more potted plant items to decorate your Animal Crossing island or house, you're in luck during April!
From April 1st to 10th, the new Forsythia plant furniture item is available in Animal Crossing: New Horizons as a seasonal item for purchase at Nook Shopping for 1,000 Bells.
This new item serves to celebrate the Tree Planting Day event, known as Singmogil holiday in South Korea, that encourages planting of new trees by society. We suspect this will be a popular one with many Animal Crossing players, so don't miss out!
New Nature Day Seasonal Item
There's one more new seasonal item in Animal Crossing: New Horizons you can look forward to later during April — the Cool Globe!
Available starting from April 15th to 22nd in Nook Shopping's seasonal tab, the Cool Globe item can be purchased for 2,300 Bells to celebrate Nature Day. This holiday reminds us all to be mindful of our environmental impact.
It's worth noting that last year's mini-event for Nature Day featuring limited-time Nook Miles+ goals with dialogue from Tom Nook has been removed in Version 1.9 and will not occur in 2021.
Bunny Day Event Day On April 4th
While the preparation event period for Bunny Day began late last month on March 28th, the real Bunny Day event in Animal Crossing: New Horizons takes place a little later on April 4th for Easter!
On this day, everyone's favorite event host Zipper T. Bunny will return to your island with additional Bunny Day items and DIY recipes not previously offered.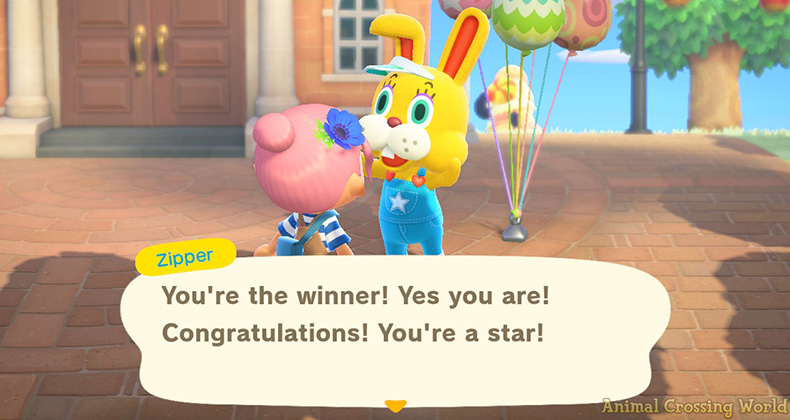 Our Bunny Day on April 4th article from last year over here covers everything happening, but here's a summary of items and recipes you'll get on that day:
Bunny Day Arch recipe
Bunny Day Basket
Wobbling Zipper Toy recipe
Bunny Day Wand recipe
Note that veteran players who already enjoyed Bunny Day to completion last year shouldn't expect anything new this year on April 4th — this is more for new players.
Collect & Redeem Nook Points
In case you missed the news, a new Nook Points feature has recently been introduced to Animal Crossing: New Horizons inside the Nook Link app for smartphones.
Throughout the month of April, you'll want to open the Nook Link service on a daily basis to receive free Nook Points that can be used to redeem exclusive prizes for enjoyment in-game later!
For example, you can purchase the Isabelle's Photo furniture for the first time at the cost of 100 Nook Points, delivered to your island from the 'NookLink Admins'. Other possible items to redeem include the Nook Inc. Doorplate and Tom Nook's Photo.
Check out our complete guide to Nook Points here, including a full list of possible items you can redeem.
New Bushes Bloom
Say goodbye to the Camellia Bushes in Animal Crossing: New Horizons for the Northern Hemisphere! In fact, say goodbye to all bushes as none will be in bloom during the Cherry Blossom season.
Just after on April 11th, the new Azalea Bushes will arrive in both Pink and White colors for the rest of Spring until May 31st.
Over on Southern Hemisphere islands, the Tea Olive Bushes just recently became available on March 21st and will remain until April 30th.
Check out our complete guide to Bush Types & Colors in Animal Crossing: New Horizons here.
New April Bugs, Fish, Sea Creatures
Just like any other month, a fresh round of new bugs, fish, and sea creatures are coming to your Animal Crossing: New Horizons island in April!
Veteran players who have been playing for over a year now won't be too excited, besides Sea Creatures. But if you've only been playing since last fall or winter, it's an exciting month as Spring comes into full bloom for the Northern Hemisphere.
Here's some of the most notable April arrivals for the Northern Hemisphere:
Rajah Brooke's Birdwing
Atlas Moth
Long Locust
Darner Dragonfly
Giant Water Bug
Snapping Turtle
Surgeonfish
There's not really too much going on in the Southern Hemisphere though as the autumn season begins.
Check out our complete New Bugs, Fish, Sea Creatures In April For Animal Crossing: New Horizons guide here.
April Fishing Tourney
Ready to embrace some springtime fishing? The Fishing Tourney event returns to Animal Crossing: New Horizons on Saturday, April 10th this month for the first time since January.
If you've only been playing for a few months and missed the last tournament in early January, it's definitely worth participating and collecting all of the exclusive Fishing Tourney items.
Sadly, there aren't any new items for veteran players to collect, though that remains one of our hopes for a future update to reinvigorate interest in this event.
---
That covers just about everything new to experience during April in Animal Crossing: New Horizons this year! Or at least until the next update likely arrives sometime in Late April.
Stay tuned to Animal Crossing World for everything on Animal Crossing: New Horizons, including our extensive Guides section here. Our most popular pages include Bunny Day Event, Cherry Blossom Petal Recipes, Sanrio Villagers & Items, Sanrio Amiibo Cards, Nook Points, Super Mario Items, Redd Art, and Sea Creatures.