In a strange turn of events, the latest Summer 2021 Update Animal Crossing: New Horizons has introduced three brand new Halloween items for the first time!
No new Halloween items were previously announced by Nintendo for the update today, and in fact there was no word on this year's Halloween event entirely in the company's update announcements this week, making this quite a surprise. You can find the full Version 1.11 Patch Notes here.
New Halloween Spooky Items For 2021
So far, we've discovered three new Halloween themed items in the Spooky Set with the Summer 2021 Animal Crossing: New Horizons update! These are the Spooky Treats Basket, Spooky Tree, and Spooky Trick Lamp.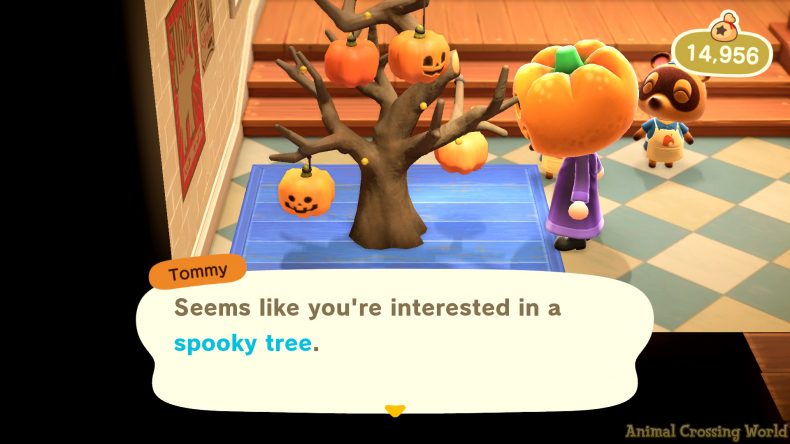 Check out some screenshots above and below taken by us showing off all three new items:
Additionally, the new items appear to be customizable into different color variations, just like past Spooky items have been.
How To Get Them
All three new Spooky items can be easily found for sale inside Nook's Cranny in the seasonal slot during the month of October 2021! There is no time lock behind the items, so you're free to time travel right now if you'd like to check them out or purchase one.
You can also get DIY crafting recipes for these new Spooky items from villagers too, just as you were able to with last year's Halloween event, allowing you to craft them instead if you wish.
RELATED: All New Items In Summer 2021 Animal Crossing: New Horizons Update (Datamine)
Why Were These Released Now?
Given that nothing about Halloween at all was included in the update announcement, we initially believed it was possible that Nintendo may have accidentally included some Halloween content created for a future update in this July Update instead by mistake.
However, after further research, it appears there are also multiple seasonal Nook Shopping events that  weren't announced by Nintendo included in this update. Some of these take place quite late into the year approaching November too.
It's simply not possible that so much content could be mistakenly included, so for some strange reason, the company's marketing team must have decided it would best if they saved the announcement for October content until later.
We suspect that there will be some kind of second 'announcement' around late September that will 'reveal' these items, despite already being in the game now. It'll be a strange strategy that differs from the past where there would have simply been an actual update in late September, but that appears to be the situation here!
Stay tuned to Animal Crossing World for everything on Animal Crossing: New Horizons, including our extensive Guides section here. Our most popular pages include New In July 2021, New July Creatures, Version 1.11 Update, Animal Crossing Monopoly, Bug-Off Event, Sanrio Villagers & Items, Sanrio Amiibo Cards, Redd Art, and Sea Creatures.