With the spooky Halloween event past us, November has arrived in Animal Crossing: New Horizons bringing a fresh batch of new seasonal content throughout the month for the late autumn season!
Although the next major content update isn't set to be released until a few days into the month on November 5th, there's plenty of seasonal content and changes already built into Animal Crossing: New Horizons that can only be experienced during November.
If you happened to take a break from Animal Crossing around this part of the year in 2020 like many players did, then it's a great time right now to catch up while you await the big Version 2.0 Update release! We'll cover everything new happening during November in this article.
Mushroom Materials & DIY Crafting Recipes In November
Straight off the bat on November 1st, a brand new set of seasonal crafting materials and recipes are available to enjoy in the Northern Hemisphere! All month long, you'll be able to find and collect five different types of Mushroom items across your island to craft new Mush items.
Specifically, the five types of Mushrooms will spawn around random trees on your island for picking up. Each day, take a tour around your island and pick all the Mushrooms you can spot for crafting later.
Helping you to get started, either Isabelle or Tom Nook will unlock the Mushroom Wreath crafting recipe during their morning announcements near the start of the month.
You can then unlock more Mushroom DIY Crafting Recipes to create autumn items by shooting down flying balloon presents across your sky during November, such as the Mush Log, Mush Parasol, Mush Table, Mush Umbrella, and more.
Mushroom DIY Crafting Recipes & How To Get Them
Perhaps the most coveted Mush item though is none other than the Mush Lamp. A lamp made out of mushrooms might not sound very exciting at first, but the item features a beautiful glowing effect at night AND can customized into five different glowing colors!
When you finally get the Mushroom Lamp DIY from r/AnimalCrossing
By the way, the seasonal Acorn & Pine Cone materials introduced back in September with DIY Crafting Recipes are still available during November. However, this will be the last month for them, so make sure you have everything you need with our Acorn & Pine Cone DIY Crafting Recipes Guide.
Acorn & Pine Cone DIY Crafting Recipes
Unfortunately on the Southern Hemisphere side of things, there's not much new going on for seasonal materials and items this month. Likewise with the Acorns & Pine Cones in Northern islands, the Young Spring Bamboo Materials & DIY Crafting Recipes including the musical Pan Flute are still around until the end of November.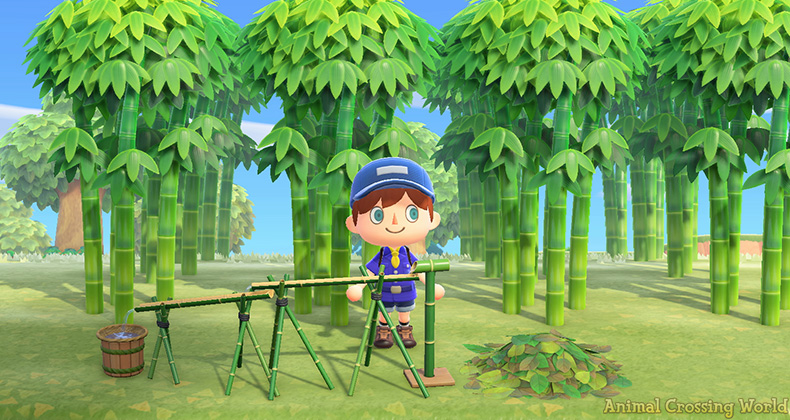 However, the Summer Shell materials and recipes will be arriving on your beach shores starting in December when Summer kicks off, so Southern Hemisphere players can look forward to that later. Not to mention plenty of summer sharks making a glorious return!
Maple Leaf Materials & DIY Crafting Recipes In Mid November
But wait, there's more! During the month of November, the Northern Hemisphere actually gets a second set of seasonal materials and crafting recipes to enjoy with the Maple Leaf!
Maple Leaves will float down from the sky across your island during November 16th to November 26th in Animal Crossing: New Horizons — look for them in the sky and catch one with your net.
In terms of mechanics, they're very similar to Cherry Blossoms found during the Spring due to their floating in the air and limited time nature since Maple Leaves are also available for only 10 days. Remember the panic of getting everything in the Spring? Here we go again!
Maple Leaf DIY Crafting Recipes & How To Get Them
You can use the Maple Leaves you catch during this period to craft special autumn items with Maple Leaf DIY Crafting Recipes, which are obtained by shooting down balloon presents during the period of November 16th to November 26th. These items include the Maple-Leaf Pochette, Maple-Leaf Umbrella, and more.
Handheld Lantern & Shichi-Go-San (Nook Shopping Items)
Two new seasonal items can be found inside the Special Goods section of Nook Shopping during the month of November, and they're both new for 2021 as well!
First, the Handheld Lantern item can be purchased from November 1st to 11th for 1,100 Bells each. It celebrates the Lantern Festival seasonal event, based on the real-world St. Martin's Day holiday in Europe.
Best of all, there's six different variation designs for the Handheld Lantern including Stars, Moons, and Stained Glass — check them all out below:
Later in the month, catch the Chitose Ame item available in Nook Shopping from November 11th to 20th. This one celebrates the Japanese Shichi-Go-San holiday where rituals are held for girls aged 3 and 7, and boys aged 3 and 5.
We could see even more seasonal Nook Shopping items introduced with the Version 2.0 Update on November 5th, so stay tuned.
Turkey Day Thanksgiving Event
Towards the end of the month, we can look forward to the latest holiday event in Animal Crossing: New Horizons as your island celebrates Turkey Day for American Thanksgiving!
Likely to place this year on November 25th, the Turkey Day event brings special character Franklin to your island for a delicious feast at Resident Services! With your help gathering ingredients, you can complete numerous dishes for your villagers to enjoy,
Although this is a returning event from November 2020, we think there's a decent possibility that the Turkey Day event might receive a substantial update for 2021 with the Version 2.0 Update.
That's because a central element of the Turkey Day event is cooking dishes for Franklin using materials around your island… and one of the key new features coming in Version 2.0 is five brand new vegetables and dozens of Cooking DIY recipes! See where we're going here?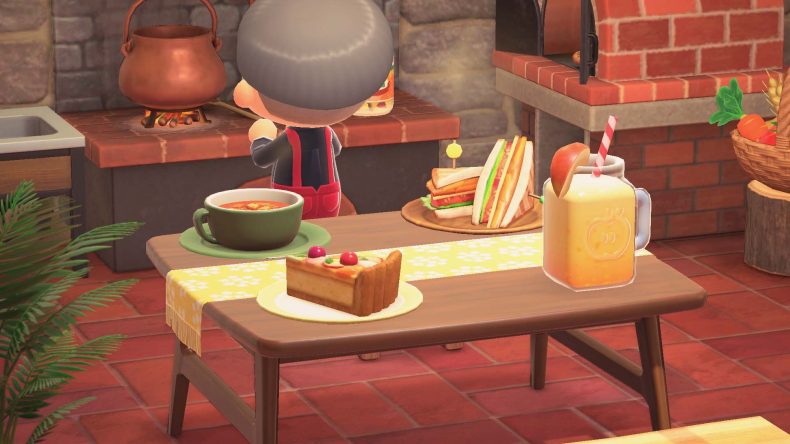 For more details on Turkey Day, check out our complete guide from 2020 here — but note that changes may be made for 2021!
Version 2.0 Update
By far the biggest new content coming to Animal Crossing: New Horizons during November is the packed full Version 2.0 Update set to release on November 5th, 2021!
It's hard to know even where to begin with this colossal update, but here's a quick refresher on all of the major new content that can be expected starting on November 5th in Version 2.0 of Animal Crossing: New Horizons…
The Roost with Brewster opens inside of The Museum with warm cups of coffee available to drink!
Kapp'n arrives at your island's pier offering boat tours to new mysterious islands, including with new items to collect!
Harvey's Island massively expands with a new Plaza where characters like Saharah, Kicks, Leif, Jolly Redd, and more can open a permanent shop!
Completely new characters like Katrina, Harriet, and Tortimer open up shops at Havey's Island too!
Collect new Gyroid figurines from digging the ground and display them in your house!
Farm and harvest five new vegetables including wheat, carrots, and tomatoes!
Cook vegetables and other ingredients at a kitchen using new Cooking DIY recipes!
Enjoy an expanded construction limit for bridges and inclines, with up to 10 of each available to build!
Dramatically increased house storage up to 5,000 spaces for storing all your favorite items!
Listen to 12 brand new K.K. Slider songs, plus get music box furniture items to play them!
Change the rules of your island with new Island Ordinances allowing you to choose from Beautiful Island, Early Bird, Night Owl, and Bell Boom!
Get yourself ready for the update with our How To Prepare Your Animal Crossing: New Horizons Island For Version 2.0 Update article here!
New Holly Bushes Begin Blooming
Islands in the Northern Hemisphere will be saying goodbye to the Tea Olive bushes on November 1st and saying hello to a brand new type of blooming bush– the Holly Bush!
This simple holiday bush blooms across our islands during the holiday season from November 1st all the way until December 31st after Christmas passes.
While we love having the Holly Bush for the festive occasion, it starts a little early in our opinion and the middle of November would be a lot nicer. We're not really looking forward to having nothing but Holly for two months.
Bush Types & Colors List, Blooming Season Dates
Unlike the other types of bushes in Animal Crossing: New Horizon though, the Holly Bush doesn't come in any color variations — there's just one.
Don't have any Holly Starts to plant yet? Be on the look out for Leif selling shrubs outside of Resident Services on your island soon as he'll always sell the currently in season type of bush, so you're guaranteed to find Holly Bushes for sale when he arrives!
Finally, in the Southern Hemisphere, the Azalea Bushes will continue to keep blooming during the Spring season up until the end of November. They'll be replaced by Hydrangea Bushes afterwards.
New Bugs, Fish, and Sea Creatures To Catch
Just like any other new month in Animal Crossing: New Horizons, the rotation of bugs, fish, and sea creatures currently available to catch on your island have been switched around starting today.
At this point in the game's life cycle though, it's worth keeping in mind that you've likely caught the majority of the game's fish and bugs already if you've been playing since launch, so not every month's 'new' creatures will actually be new for you.
For those who love to hunt down the most menacing of dangerous bugs, the Tarantula and Scorpion have been swapped. That means players in the Northern Hemisphere will now see Tarantulas again, and Southern players will meet the Scorpion again.
For a complete list of New Bugs, Fish, and Sea Creatures to catch in November for both hemispheres, check out our complete guide here!
---
That's just about all of the exciting new things to enjoy during the month of November in Animal Crossing: New Horizons! Let us know in the comments below what you're most looking forward to or enjoying on your island during this month.
Stay tuned to Animal Crossing World for everything on Animal Crossing: New Horizons, including our extensive Guides section here. Our most popular pages include Prepare For Version 2.0, 16 New Villagers, Happy Home Paradise DLC, Series 5 Amiibo Cards, Version 2.0 Update, Mushroom DIY Recipes, New November Critters, Redd Art, and Sea Creatures.