Maple Leaves and their Autumn themed items have arrived for you to enjoy in Animal Crossing: New Horizons again starting today, plus a brand new recipe for 2021 in Version 2.0!
Beginning today, special Maple Leaf materials will start falling down from the sky across your island for you to catch and enjoy. Just run around until you spot a large orange leaf floating in the air, take out your Net tool, and swing away!
Available from November 16th to 26th in the Northern Hemisphere, these limited time Maple Leaf crafting materials can be collected and used to craft 10 new gorgeous fall themed items. Maple Leaves are remarkedly similar to the Cherry Blossom Petals found during the Spring in the way you can obtain them and the length of time you can find them.
And with the new Version 2.0 Update released earlier in November 2021, a brand new 10th recipe has been introduced for 2021 that wasn't previously available last year called the Maple-Leaf Rug! Veteran players will want to ensure they grab this new recipe.
During this time, there will also be smaller and much more dull leaves floating in the air everywhere to celebrate the season, but these shouldn't be confused with the proper large orange Maple Leaves! You can't catch those small ones seen more commonly.
With Maple Leaves being available for just 10 days, we can't help but feel a bit nostalgic for the early days of Animal Crossing: New Horizons at launch when we were all desperately hunting down Cherry Blossom items! At least there won't be egg balloons polluting the sky this time though…
Just as with other seasonal materials, you'll need to shoot down balloon presents from your island's sky to get the new Maple Leaf DIY Crafting recipes for making the latest items. You can also get the Red-Leaf Pile recipe from Isabelle during her morning announcements near the beginning of Maple Leaf season.
Maple Leaf Recipes & Items
Here's a preview of just a few of the Maple Leaf items you'll be able to unlock and craft during November 16th to 26th in Animal Crossing: New Horizons…
Maple-Leaf Rug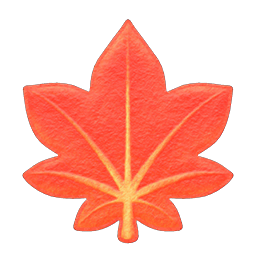 Maple-Leaf Pochette
Maple-Leaf Pond Stone
Autumn Wall
For a complete listing of every item you can craft using Maple Leaves in Animal Crossing: New Horizons, check out our full Maple Leaf DIY Crafting Recipes & How To Get Them Guide here!
Additionally, it's worth noting that two of the Acorn & Pine Cone recipes made available back in September actually make use of the Maple Leaf material. If you unlocked the Tree's Bounty Arch and Tree's Bounty Big Tree crafting recipes recently, you can finally craft them using Maple Leaves now!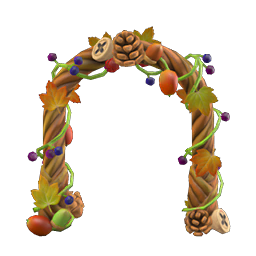 Let us know in the comments below how your experience with Version 2.0 is coming along so far, and whether you've completed the Maple Leaf DIY recipe collection.
Stay tuned to Animal Crossing World for everything on Animal Crossing: New Horizons, including our extensive Guides section here. Our most popular pages include Version 2.0 Summary, 9000+ Items Datamine, 16 New Villagers, Gyroids, Kapp'n Islands, Cooking Recipes, Happy Home Paradise DLC, Series 5 Amiibo Cards, Mushroom DIY Recipes, New November Critters, Redd Art, and Sea Creatures.