In celebration of Filly's birthday today in Animal Crossing, let's take a detailed look back in time at one of the Animal Crossing franchise's most interesting collaboration partnerships seen so far!
Shortly after the launch of Animal Crossing: New Leaf in Japan during late 2012, Nintendo unexpectedly announced the series' first ever in-game partnership with another company — the 7-Eleven convivence store chain.
During the distribution period of this 7-Eleven partnership, Animal Crossing: New Leaf players could connect to Wi-Fi at a local 7-Eleven store in Japan to receive exclusive 7-Eleven convenience store themed items from the game's Post Office each week!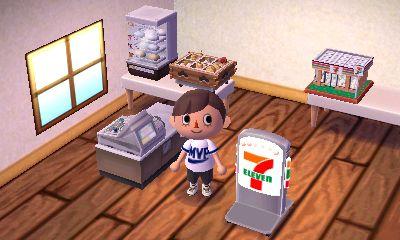 It's worth adding for context that in Nintendo's home country of Japan, 7-Eleven stores are far more common and ubiquitous than they are in the western world. The worldwide chain is actually owned by a Japanese company, and there are more locations in Japan than any other nation.
These 7-Eleven items ranged from furniture featuring direct branding like a 7-Eleven sign, bin of shopping baskets, clock, soft drink display, sandwich display, ice cream case, employee uniform, and more.
Some other items were more on the silly side and didn't feature the brand directly such as a Sushi Bench, a Donut Cushion, and our personal favorite: the Barbecue Bed that you can actually lie down on!
But perhaps most desired of all the 7-Eleven items was the 24-Hour-Shop ABD, a furniture item that could be placed in your home, but actually function as a full-fledged bank machine for in-game Bell transactions inside a house. A similar item exists in the base game, but it requires a hefty feat of saving up 100,000,000 Bells first.
The 7-Eleven items were generally only distributed at stores within Japan. A few years later, a small number of the items without blatant 7-Eleven branding became available outside Japan in a limited manner through various other methods, but never the complete set.
Animal Crossing 7-Eleven Furniture Items
There were three different main sets of 7-Eleven items released in the Animal Crossing series.
First, the initial five items of 24-Hour-Shop Sign, 24-Hour-Shop Model, 24-Hour-Shop Counter, Buffet Server, and Steamed-Bun Case were made available from December 1st, 2012 to January 3rd, 2013 in Japan.
Next, another five more items of 24-Hour-Shop Uniform, Soft-Drink Display, Barbecue Bed, Sandwich Display, and 24-Hour-Shop ABD were released as a follow up from March 1st to May 9th, 2013 in Japan.
Finally, ten more items were introduced through distribution in Animal Crossing: Happy Home Designer during Fall 2015, and later in Animal Crossing: New Leaf with the Welcome Amiibo Update during Fall 2016.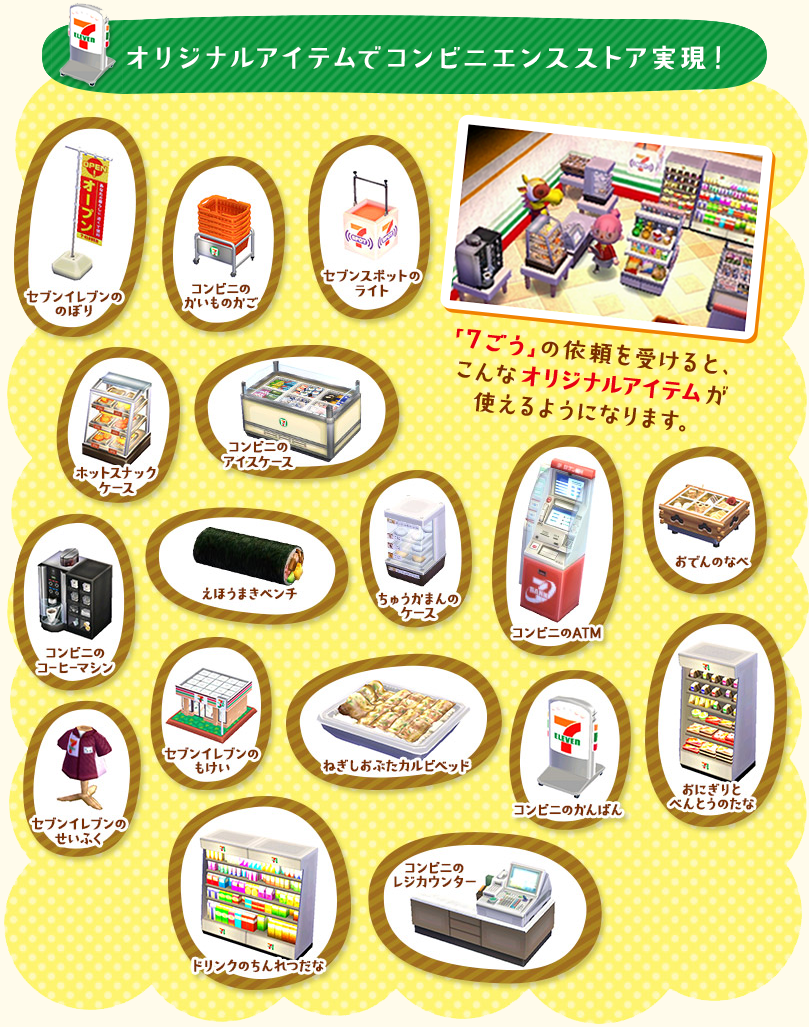 New items added during this period are 24-Hour-Shop Banner, 24-Hour-Shop Baskets, 24-Hour-Shop Clock, Convenient Floor, Convenient Wall, Donut Cushion, Hot-Snack Case, Shop Coffee Machine, Shop Ice-Cream Case, and Sushi Bench.
P.S: As a fun easter egg, many of the 7-Eleven items in Animal Crossing: New Leaf have a fitting sell price of 711 Bells!
Filly The 7-Eleven Horse Villager
Anyway, that's all great, but who's this Filly fellow we referenced in the article's opening? If you're a newcomer to the Animal Crossing series in the past few years, you might have never heard of this very unique villager who deserves an introduction.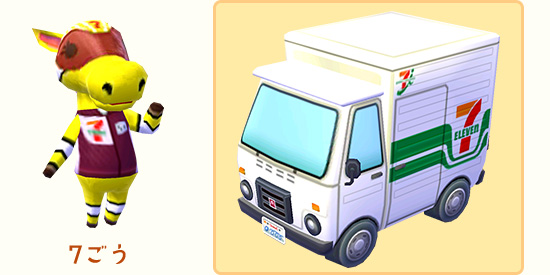 Although the 7-Eleven items became available in 2012, they made a reappearance when the spin-off game Animal Crossing: Happy Home Designer released in 2015. Nintendo decided to bring back the 7-Eleven partnership back for this spin-off, but the design of Happy Home Designer essentially requires a villager to deliver and unlock the items.
So Filly, a new horse villager, was created to deliver the 7-Eleven items in Animal Crossing: Happy Nome Designer by arriving in-game to request the player build and design a 24-hour convenience store! You can watch the archive video above to see Filly in action yourself.
Later on, when the Welcome Amiibo Update released for Animal Crossing: New Leaf in 2016, Filly made a return once again with a special 7-Eleven branded RV discoverable at the Campgrounds area when connecting to store Wi-Fi!
This brought all of the 7-Eleven items back to New Leaf again, plus adding many of the items that were newly introduced with Filly in Happy Home Designer. They can be ordered from Filly's RV by spending MEOW Coupons.
It's worth noting though that we're using term 'villager' in a rather loose sense as it's not actually possible to invite Filly to your town to live there as a resident. Filly really only exists as a character that can be visited inside his RV in Animal Crossing: New Leaf after the Welcome Amiibo Update and while designing their home in Animal Crossing: Happy Home Designer.
Left Behind In New Horizons
As we all know now, none of these 7-Eleven item or villager promotions ever made their way into the most recent Animal Crossing: New Horizons on Nintendo Switch. But given it's ultimately an advertisement, that's not a tragedy by any means.
But it should be said that the 7-Eleven promotion wasn't the only past crossover or collaboration to be skipped over. Other than the beloved Sanrio characters collaboration, we never saw any other promotions from New Leaf make their way into Animal Crossing: New Horizons. That includes characters inspired by Splatoon, The Legend of Zelda, and Monster Hunter!
---
That's about everything there is to know about Animal Crossing's long lost 7-Eleven collaboration DLC. If you're a newer fan, we hope you learned a little piece of Animal Crossing history from this article that you might not have known about!
Stay tuned to Animal Crossing World for everything on Animal Crossing: New Horizons, including our extensive Guides section here. Our most popular pages include Redd Art, Bug-Off Event, Bush Types & Colors, Villager Houses, Summer Shells DIY, Sea Creatures, K.K. Slider Songs, New Items In 2.0, Series 5 Amiibo Cards.
Animal Crossing: Happy Home Designer Animal Crossing: New Leaf Welcome amiibo Japan News