A few days ago Nintendo released brand new screenshots for Animal Crossing 3DS. Since then the screenshots have been on my mind the entire time. I've enlarged them and analysed them for new information to gather. I'll go through each screenshot and point out what I see that's new to the game. Let's start with the first screenshot below…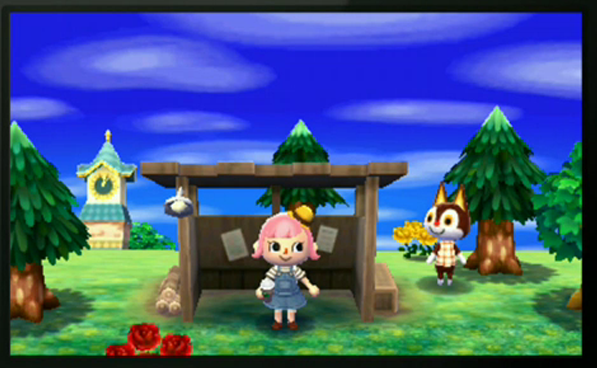 In this first screenshot the player is obviously outside. Behind her you can see some form of a bench or bulletin board? Perhaps the bulletin board has been moved away from being directly next to the Town Hall. Speaking of the Town Hall the clock tower in the top left appears to be the Town Hall. We can also see that pine trees have returned. Finally, if you look at the player's left hand it looks like she is holding an ice cream cone, coffee or latte of some sort. Perhaps this means you'll be able to take beverages outside of Brewster's Cafe?
This second screenshot appears to be inside of a low-class (notice the walls and floors! it's like nook's cranny!) furniture store. The pink animal is most likely the new store keeper since Tom Nook is now a real estate agent. Notably the only items for sale we can see are furniture so maybe there are separate stores for furniture and flowers/tools?
It seems Kicks the Shoe Shiner from City Folk has opened up a full fledged shoes and socks store in Animal Crossing 3DS! Seeing as the characters are taller in this game it make sense for their to be customizable shoes and socks and therefore a store for them. Not much else to say other then it continues the trend of speciality stores rather then a single Tom Nook's. Perhaps there is a mall in Animal Crossing 3DS?
In this final screenshot it seems we're inside of the new Mayor's office! As confirmed in the past, you'll get to be the Mayor in Animal Crossing 3DS. As such it would make sense for you to get your own office in the Town Hall. Something to note is the portrait of Tortimer in the background on the wall. It seems he retired or something similar to make room for you to be the Mayor. I'll miss you Tortimer… : (
Well that's about it! Hopefully that will tide you over until E3 when there will probably be a playable demo and new trailer! Stay tuned to the blog for more news and articles as we countdown to E3 and the release of Animal Crossing 3DS.