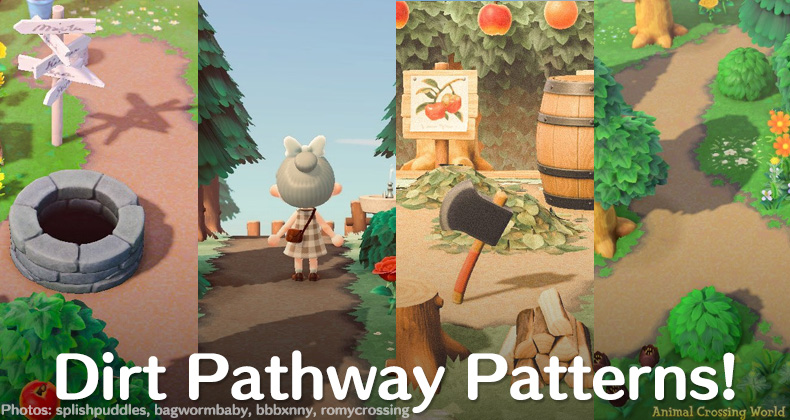 What's the latest sensation in the Animal Crossing community? One particular set of dirt pathway custom patterns are making the rounds and causing quite the excitement lately!
With nine parts in the set, these patterns can help you form naturally shaped paths throughout your Animal Crossing: New Horizons island with rough edges and star cut-ins, rather than the more blocky perfect look that regular Island Designer paths have.
To understand why these dirt patterns are so sought after though, it's worth remembering the history of past Animal Crossing games and how they handled grass or dirt on the ground. Up until New Horizons, every other game featured various dirt spots across the landscape to mix up the grass.
In GameCube and Wild World, they were fixed in place, whereas in City Folk and New Leaf your character's movement patterns would help degrade the land more depending on where you walked most often.
But with New Horizons, the entire island is essentially one giant carpet of grass. On one hand, this is fantastic as it removes any pesky dirt spots in areas you want to enjoy the grass scenery, but it has a downside of making your island seem almost too fake with grass everywhere.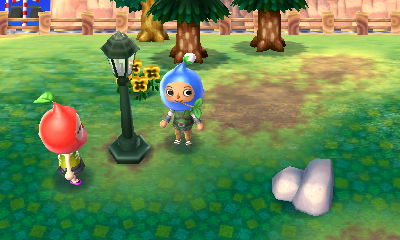 Using these new dirt pathway patterns taking advantage of the design transparency feature helps give us the best of both worlds — manually placed dirt paths where want them, without unwanted grass deterioration everywhere else!
Check out how these dirt path patterns could look on your island with some lovely screenshot examples shown off on Twitter by kaylee_acnh, splishpuddles, bagwormbaby, and bbbxnny:
✨yes basic little me decided to use these paths too✨#animalcrossing #acnh #cottagecore #cottagecoreacnh pic.twitter.com/uVdUGTsnpi

— kayleepaylee • commissions open! (@kaylee_acnh) June 11, 2020
https://twitter.com/splishpuddles/status/1271571971214540801
ok so like OBVIOUSLY i used the path CLEARLY i used the path ok FINE pic.twitter.com/0JY2gJTDwK

— louisa (@louisakvevo) June 12, 2020
Finally finished my orchard remodel! Featuring the infamous Path™ pic.twitter.com/ejnUuOIcnj

— ☾ (@bbbxnny) June 12, 2020
And if you're curious how they'll look throughout all of the seasons including fall, winter, and spring, check out an excellent comparison below from romycrossing:
for those interested; this is the path with all the different seasons! pic.twitter.com/PEmvF8YfaO

— romy ♡ (@romycrossing) June 11, 2020
Honestly, it goes to show how you can rarely ever 'win' as a game developer — the 'animal tracks' or grass deterioration were largely hated during their time for ruining the grass everywhere, and yet now fans are crawling over each other to add dirt back to their island! Funny how that happens.
How To Get Dirt Path Patterns — Design Codes
To get access to these dirt pathway patterns yourself to use on your island in Animal Crossing: New Horizons, the best way is to enter the creator Denim2's Creator Design Code of MA-6647-9230-4716! You'll need 9 open custom design slots to fit the entire set.
UPDATE: Looking for more goodness similar to this path? Check out our latest 16 Great Variations of The Path Pattern for Animal Crossing: New Horizons (Brick, Stone, Sand, Water) round-up article here!
お待たせです。旧作っぽさのある「けものみち」を投稿しました。島クリの道が直角過ぎてモヤってた方は是非ご利用下さい。作者ID:MA-6647-9230-4716 #どうぶつの森 #AnimalCrossing #ACNH #マイデザイン #マイデザ配布 pic.twitter.com/lHWdUNAMa5

— Denim2(森) (@Denim2_mori) June 10, 2020
You can do this at the Custom Design Portal at the back of Able Sister's, which will pop up a screen displaying all of Denim2's patterns, including the coveted dirt pathways we're looking for. They have a few other pattern sets as well that you might find intriguing, like a set of four tiles that form a classic Animal Crossing for GameCube circle design seen below.
初期シリーズにあった、なんかよう判らん地面のマイデザインです。持て余したスペースあればご利用下さい 作者ID:MA-6647-9230-4716 #どうぶつの森
#AnimalCrossing
#ACNH
#NintendoSwitch #マイデザイン #マイデザ配布 pic.twitter.com/Cv4cMEWder

— Denim2(森) (@Denim2_mori) May 14, 2020
---
Let us know in the comments below if you'll be trying out these dirt pathway patterns on your island, and feel free to share some screenshot links if you like how it looks! Stay tuned to Animal Crossing World for everything on New Horizons, including our extensive Guides section here.