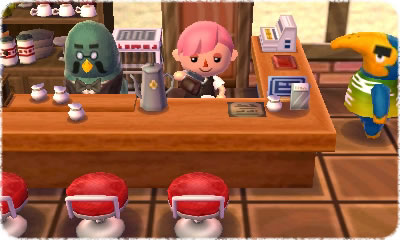 Become a Regular and Get a Part Time Job at the Coffee Shop!
Become a regular at The Roost?! You can now take home Brewster's authentic coffee and if you work part time as a staff member, you can even get special furniture. Work really does pay off!
Proudly Show Off Your Merit Badges!
Do you catch lots of fish or tirelessly weed? Phineas will reward you with a merit badge for all the hard work you do. Your badges are even added to your profile so you can show them off to anyone you connect with!
Preserve Your Memories in 3D!
Whether it's the time you enjoyed a seasonal event with your animal neighbors, took a tour with your friends, or any memory you cherish, you can use the Nintendo 3DS 3D Camera to preserve those moments you never want to forget!
(Image Caption: This is an actual image. If you open it in the 3DS browser, you can see it in 3D.)
Make Original Display Rooms in the Museum!
If you add a second floor to the museum through Public Works, planning rooms and the museum shop become accessible! If you create an original display room, you can quickly give the museum your own personal feel!
Get Fortune Cookies With Game Coins!
You can trade game coins for fortune cookies at the kids' shop. If you keep the fortunes you get from inside, you can trade them for all kinds of things.
– – – – – – – – – – – – – – – – – – – – – – – – – – – – – – – – – – – – – – – – – –
Thanks to Daniel from GoNintendo for the translations.