In the past two Animal Crossing games, Brewster owned a Cafe inside of the town Museum  This time around in New Leaf, the Cafe is a stand alone Community Project to be built when you progress through the game. Read on to learn all about it:
In order to build the Cafe a few requirements must be met:
Museum Store (second floor) built for about 7 days
50+ fish/bugs/fossils/paintings donated to the Museum
298,000 Bells
When these requirements have been met, you'll be free to build the Cafe community project. Now you can head over to the Cafe and pay 200 Bells for a cup of coffee. After purchasing coffee 4 times you'll have the option to take your coffee to go. This means you can walk around the down and take sips of your coffee in a cup.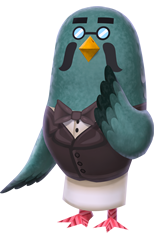 One of the new additions to the Cafe in New Leaf is the ability to work a part-time job there after you've purchased coffee 8 times. You can work on pretty much any day between 11:00am to 11:00pm except for holidays.
During your shifts in the Cafe, a random selection of 4 Villagers (and other characters like K.K. Slider) will visit the Cafe and order Coffee. They will give you hints as to which type of coffee they like but they won't be entirely specific so some guesses will be required. Eventually you'll need to remember their order as they'll begin to just ask for "the usual". (list here)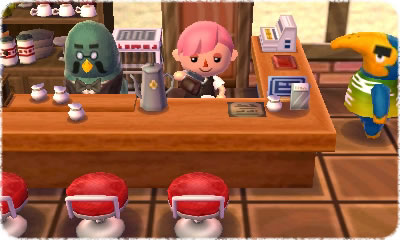 Now of course you don't want to work for nothing so good ol' Brewster has some prizes for your hard work. Depending on how many orders you get correct in a shift, you'll receive different quality coffee beans to sell for Bells.
Ordinary Coffee Beans – 500 Bells
Good Coffee Beans – 1,000 Bells
Very Good Coffee Beans – 2,000 Bells
Don't worry though, there's more than that! In addition to the Coffee Bean rewards, there are cumulative total of correct coffee order rewards. These are Cafe themed furniture items (and a uniform) which are a must if you plan on creating a Cafe room in your house.
Well, that just about details everything you ever wanted to know about the Cafe in Animal Crossing: New Leaf. Discuss away in the comments below about the Cafe! Which reward do you want most?
(thanks to Zen and Jake for the information in this post)