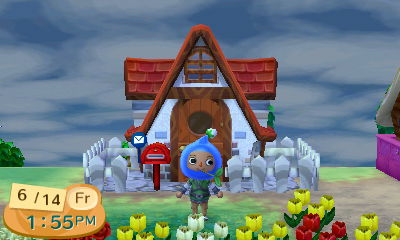 It was pretty cloudy in Waikiki today, especially in contrast to the previous couple days of a clear sky. You can see my new neighbor Kitt has moved in next door too.
Checking my Bulletin Board, I was reminded of the Bug-Off tomorrow. (yes, that means I'm a week behind on writing these now…)
Over at Nookling Junction, I purchased my daily Fortune Cookie. Today, the prize was a Pipe from Mario! The text for the fortune is pretty clever.
Since I was on Main Street anyway, I checked out the exterior parts at Nook's Homes. The Barrel Mailbox looked nice and I haven't had a chance yet to order an exterior part, so I purchased it.
In town, Crazy Redd had stopped by for the day with his tent. The Ancient Statue looks nice, and I didn't notice any defects on it, so I gave it a chance.
I got another pink rose today. I'm pretty happy with that.
With some help from a friend, I got another piece of the Mermaid series of furniture.
I decided it was time to greet my new neighbour Kitt. I do like her a bit, which is kind of sad because I'll need her to move out eventually…
I had a funny chat with Opal later. She asked if I believed in UFOs, and well, I wasn't expecting this…
UNIDENTIFIED ORANGES! All over the floor! How majestic.
We wouldn't want any rogue citrus…
Earlier in the day, I dropped by Re-Tail to get a customization done by Cyrus. I didn't take a screenshot but it was an orange and white Astro Dresser. With the power of blue alpaca though, it became red and black!
Well actually, it kind of looks more like pink and black. But I like it regardless.
While we're at it, here's a look at how the main room of my house is progressing.
Beau asked me for a cherry, which I was happy to provide. He seemed to enjoy it quite a bit.
For my reward, I earned a ranch tea table. But I didn't have it for long as…
Right after, Lolly ran up to me and asked to trade for her game shelf. The game shelf sounded pretty swell though, so I went for it. (Beau will never know…)
It's got a Gamecube on the top shelf, which is really awesome. But I'm not a fan of the pink wood colour, so I put in an order to change it. We'll check back on it a bit later.
Phineas showed up in Waikiki with another badge to add to my collection! This time around, I got the Insect Maniac badge for catching over 50% of the bugs in Animal Crossing: New Leaf.
Back at Re-Tail, I picked up my newly refurbished Game Shelf furniture. It's now a nice cool black colour for the wood, rather than the previous bright pink.
On my beach, a few more Banana trees have fully grown! Check them out.
Next, it was time for a trip back to the Blue Sky village! I had a pretty fun time with Yamanon and Ruu.
I checked out the rooms in Yamanon's house. It's a pretty nice house, but I especially enjoy the snow globe in the picture above.
We then headed over to the Island to play some fun mini games. I gotta say, we did a pretty good job at the Item Matching Tour!
Yamanon was kind enough to give me the Setsubun beans item. As you can probably tell, I had a LOT of fun throwing them around. 😀 Thank you very much!
To close the day off, I had some good ol' fashioned Hazel abuse with my newly acquired beans to throw. Lee assisted in the efforts.
WHY HASN'T SHE MOVED OUT YET
WHY