I've been severely getting behind on my Daily Blogs lately and I apologize. With the release date and other events, it's been very busy for me lately. The process of catching up begins now though, so I may post multiple entries a day until I catch up.
To start off the day, I checked out my first upgrade in house size. My house isn't quite as cozy as before, but I think I'll find the extra room for furniture to be worth it soon!
After moving some items around and placing down some new ones, my house is looking pretty great! If you have a sharp eye, you might notice a couple Japanese DLC items. My amazing friend Yamanon from the previous day's blog entry gave them to me. Thanks!
I headed over to the dock on my beach to meet Tortimer, the previous mayor of Waikiki. He informed of a special tropical resort island, and that the boat driver would be here tomorrow to pick me up!
This rock looks suspicious… I could have sworn it wasn't there the other day.
Oh right, it's a fake rock! It broke into a ruby for me.
After that, I went to check on how my first fruit orchard was going. It's slowly progressing, I should fully grown trees in a day or two! It's a surprise as to which fruit they are, you'll have to see soon. 🙂
Back at the Town Hall, I spoke with Isabelle to check on my progress for the town-development permit. Lucky for me, it's gone through the system and I can now build Public Work Projects in addition to enacting Ordinances.
As my first act, my Villagers will remain awake longer in the night, and the shops will stay open later. It won't go into effect until tomorrow though.
The new Villager in Waikiki was ready to meet me today………………. Hi Hazel. I don't like your face. Please leave Waikiki and never come back. Pretty please?
Over at Nookling Junction in Main Street, I purchased some new furniture for my upgraded house. The modern wood TV will be a nice addition.
Of course, I couldn't forget my daily fortune cookie either. The S.S. Dolphin from Pikmin 1 on the Gamecube. I'm really racking up the fortune cookie Pikmin items! Although, I'm hardly complaining. I really love the Pikmin games. Can't wait for Pikmin 3 on Wii U!
Sable at the Able Sister's still refuses to speak with me. 🙁
I did try out a dress though. Mabel had a few comments about it.
Representative Lyle from the Happy Home Academy opened up his desk at Nook's Homes today. He hasn't changed a bit from the previous games! Bang!
At about 10PM, an hour after the game launched, my friends Connor, Hailey, and Debs who downloaded the game visited Waikiki.
I tried to plant a pitfall behind Connor while he was reading my bulletin board… it didn't work very well!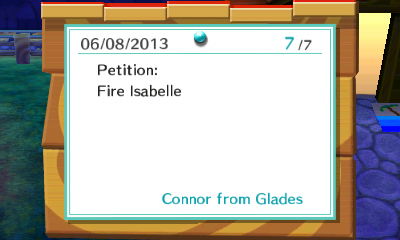 Such great advice… Thanks man.
He also attempted to block my house from access with a fish and some holes… Good try.
A bit later, I headed over to Jamie's town, where it was early evening because she cheated her time! I'm disappointed in you Jamie… But I did catch a special fish while I was with Prof Gallows since it was raining!
Of course, it's the elusive Coelacanth! As any Animal Crossing fan will know, they only appear in the evening while it is raining. So, I was pretty happy to catch one on the third day playing the game. They also happen to sell for 15,000 Bells!
Gallows and I also caught some sharks. Check it out above!
Again, my apologies for the delay in Daily Blog entries lately. I'm catching up now! Also, I'm going to be starting a new screenshot series on here soon featuring YOUR screenshots. Stay tuned.