Starting off with yet another shot of my house here… Not much has changed so it's a bit useless. You can see some changes in the landscaping on the upper left side though.
If you were paying attention to the last screenshot, you may have also noticed… a villager is moving in! RIGHT NEXT TO MY HOUSE! Literally 2 spaces away. Not cool Kitt.
Since Tom Nook renovated my house today, I went in to check out my new extra back room. It will probably just act as storage for the moment until I expand the size.
I found Katie in my village, she wanted me to take her to another town. I'll do that a little bit later.
Reading my Bulletin Board, I was reminded of my now completed suspension bridge. I'll attend the ceremony later.
Before taking Katie out to another town, I checked my daily fortune cookie. Looks like I got a Coin!
I brought Katie over to Hailey's town. She seemed pretty happy!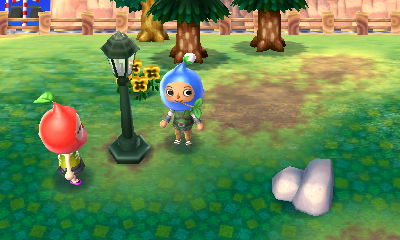 We also used the opportunity to trade some Pikmin hats! I gave her my extra Red Pikmin hat for her Blue Pikmin hat. 😀 I just need the Yellow hat now!
It was time for some Island fun then with Hailey, Sarah, and Eban. We did pretty good in the tours.
Also, Sarah left me a very inspirational Bulletin Board message.
I found Phineas wandering around Waikiki, he had a badge to give me! What could it be?!?
It's the Bronze Medalist badge! Can't say I'm too surprised, I have been farming a lot of medals to get my mermaid set and shrub seeds.
In other news, my Perfect Apple tree has grown back with more fruit! I'll be planting more trees.
Over at Re-Tail, I met Cyrus for the first time. He's been lazy and sleeping for a while, but he's awake now!
Reese let me know that her husband can refurbish furniture including the paint. I'll definitely be messing around with the feature a bit in the future.
… I'll try my best, Cyrus.
Here's a look at how my Mermaid room is progressing. I really need to get the floor for it to come together. Soon though.
I found Beau in the Waikiki Museum. He seemed a little bit confused… Are you calling me ancient or something?!?
For some masochist reason, I decided to check out Nook's Homes and see my new loan. I think I'm going to wait it out a bit to pay it off this time though. I have other priorities, such as Public Work Projects.
While I was in Nook's Homes, I had a little chat with Lyle. Apparently, I've hit the 10,000 points mark with the HHA! They'll be sending me a commemorative gift in the mail tomorrow.
I've been talking to Sable in hopes of unlocking the QR machine, but it hasn't happened yet. She's become a bit more talkative though. Progress folks!
I helped Lolly out with some easy fishing. She's one of my favourite villagers.
Over at Debs's town, he had Perfect Apples selling for double at Re-Tail, so I brought the few I had over for extra bells. Thanks Debs (John)!
I went ahead and attended the suspension bridge ceremony as I promised earlier. Unfortunately, Hazel attended too which dampened the fun.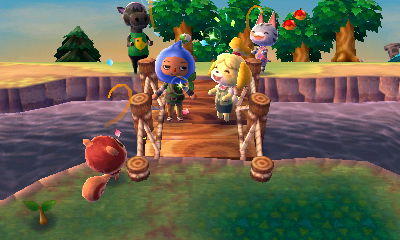 As for the placement of the bridge, it's close to my house but you guys will see the full vision a bit later. Check out the bottom left corner for a hint…
Somehow I found Phineas in my town again, with yet another badge! This time around, I got the Fish Maniac badge for catching over 50% of the fish in Animal Crossing: New Leaf.
Finally, I gave my Alpine Sofa to Cyrus for a test run of the customization feature. It's alright I guess, but I'll probably sell it later.
That's all for today folks. Check back tomorrow!