Literally just as I started my game up and walked out of my house, Bonbon came running up to me asking to move away!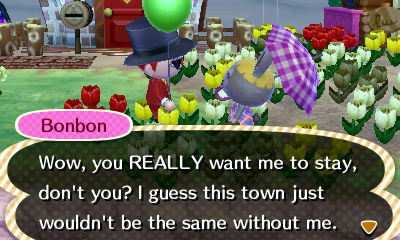 As much as her house is in an inconvenient location, I do like her! Same situation with Kitt.
Over in the top right of Waikiki, my Perfect Apple orchard continues to provide fruit. I've been storing it all away waiting for a friend to have double Perfect Apples at Re-Tail, but it hasn't happened sadly.
Look, it's some wild Pink Cosmos! I haven't had any hybrids for days now, so it's nice to see.
Oh hey Kitt. Glad to see you're not sick anymore… but really? A caution sign? I must agree, it certainly would have a big chance on how our town looks. A TERRIBLE CHANGE!

Alright, I'm happy for you, but it's time for you to give me your picture now right! I worked hard for this, okay?
………………………………………………..
Over at Town Hall, Isabelle was eager as always to celebrate the opening of Waikiki's Museum Shop!
Some of my favourite villagers showed up for the ceremony this time including Beau! I mean, there's no Hazel in sight, so that's a good start.
It's really great to see Celeste back with the Museum Shop open. I don't miss the constellations very much at all, the shop and custom exhibits are much better.
I rented out my first personal exhibit today. It's mostly going to act as a showcase and storage for many of my Japanese items, but you guys will see it in a few days. My locker storage needs more room!
Aw… Beau didn't fall for my trick. 🙁
For the first time, here's a good look at the map of Waikiki! Alternatively, feel free to pay a visit to my dream at 4800-2169-9920.
This particular fortune seemed a bit out of place today… because it was a dud! Aww. But actually, the vacuum cleaner is pretty cool. 😛
I really like my current Imperial Door, but it doesn't match well with my wood looking mailbox and fence… so I'm giving this new Arched Door a try. We'll see how it looks.
Thanks for checking out Waikiki everyone. 🙂 It's not the greatest, but I hope to improve it plenty in the coming weeks.
Finally, I seem to have started a trend of my villagers nicknaming me Jubs! It's pretty cool though as I do use it as a nickname in some places. (including the TBT IRC)
Anyway, that's all for today folks, your viewership is appreciated. 🙂 Please feel free to leave me any feedback you may have in the comments below… whether it be about Waikiki or these blog entries!