It's the first of July! Unfortunately, this means the rainy season will be coming to an end soon. I might have to actually water my own flowers now…
And as seen from the day before, my Lighthouse project is built! Hooray!
As per usual, Isabelle wanted to hold a ceremony to celebrate the lighthouse. Nothing wrong with doing that, so I attended.
After the ceremony, Bonbon asked me to collect signatures for her petition "Late-Night Snacks for All!". I thought it was worth a go since the last time I completed a petition, I got Beau's picture!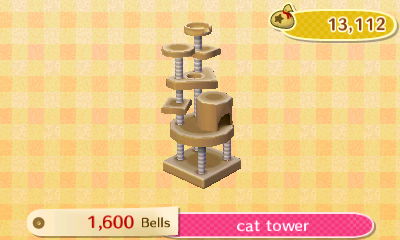 I got my Best Buy Cat Tower the night before and ordered some extras for friends from Super T&T.
Of course, Hazel proposed an amazing trade right after. Yeah, no.
A bit later I had some friends over to share our K.K. music between each other. Oh and Connor bought a pile of red hammers from the island, so we had some fun with those!
Crazy Redd was in town today, and I handed over some Bells for probably yet another fake painting. Yay!
Speaking of Crazy Redd, I did actually manage to obtain a real painting last week, so I can finally build the Museum Shop on the second floor. Now that my lighthouse is complete, I'm going straight for the Museum!
At Club LOL, I got a new emotion from Dr. Shrunk. He joined me with it in the screenshot above.
After dumping a ton of Bells on Turnips yesterday, I dumped even more Bells into paying off my loan! I'm almost broke again. 🙁
I've been getting a lot of StreetPasses lately, so I checked out some of the homes in my HH Showcase. The Astro Lamp caught my attention and I ordered one.
To end the evening, I checked out Lee's village for some signatures on Bonbon's petition. I got the red hammer welcoming too from Lee.
And that just about covers today! Check back soon for more.