Summer is definitely here in Waikiki with my hibiscus bushes in full bloom! I think I might need to switch to Beautiful Village soon though… my flowers are dying!
The mango trees have also grown alongside this other hibiscus pathway I have, and there are more to come soon!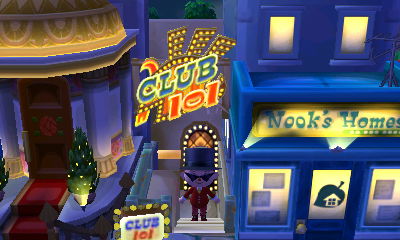 It's Saturday in Waikiki and that means it's time for a visit to Club LOL! Let's check in.
After forcing a random song on me last week, K.K. Slider gave me free reign to request whatever I wished. I just had to ask for one of my favourite airchecks… Go K.K. Rider!
Thanks K.K! It's going straight to my Astro CD Player!
Looks like I'm in for another exterior renovation tomorrow! I just had to order this brick exterior to get away from the default.
Some of my villagers got together to play a game of Hide & Seek with me. It's usually pretty easy so I went for it.
Found Quillson!
Wow, real sneaky there Roscoe!
And finally, here's Kitt behind Monty's house. You can't hide from me that easily!
Wow. A writing desk.
At the Museum, I donated my only new fossil today, completing the Pachysaurus!
Here's a look at the album art for Go K.K. Rider. It's pretty awesome seeing K.K. Slider riding a motorcycle!
Upstairs at the Museum, Celeste was selling a silver shovel to commemorate 15 fossils donated at the Waikiki Museum. Of course I bought it!
Just a bit later, I caught my very first Scorpion in New Leaf! So straight back to the Museum I went…
It was the Tanabata festival in Japan today, so I took a trip to Yamanon's Blue Sky village to celebrate!
Isabelle referred to the day as Starcrossed Day on my English version of the game and handed me the Bamboo Grass item to celebrate.
There was also a cute face board nearby for the festival. I took a picture with Yamanon and Ruu.
Yamanon has a lot of Gold Roses!
Ruu educated me on the Fertilizer sold by Leif in T&T Emporium. I originally thought it was only for perfect fruit, but apparently it helps grow hybrid flowers too!
Yamanon's Museum exhibits are quite the sight to see as well! He has a masterful complete gyroid collection across all of his Museum rooms.
Back at home in Waikiki, I updated my Dream data. Apparently 80 of you have visited Waikiki! That's really awesome.
Hi Meg!
Finally, I noticed an X reappear where I planted a time capsule a few weeks back. I was curious so I dug it up from the ground.
Luckily, it says who it belongs to, or else I would have completely forgotten who to give it to. Lolly was happy to see I dug it up and rewarded me with a Gold Screen Wall. I might actually keep it!