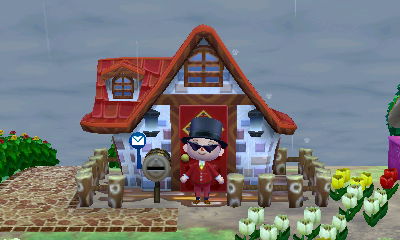 Alright. I admit it. I MAY have fallen behind a bit here. So, I'm starting things up again here with the opening of Super T&T in Waikiki. Let's dive in!
I can't screenshot letters, so this will have to do… I got a silver HHA trophy for 90,000 points and a Piggy Bank for 1 million Bells in my ABD! Check them out on my fireplace above.
Anyway, Sunday means turnips so I took out my megaphone and called for Joan!
107 Bells is higher than I'd prefer but I'll take it… WAIT HOLD ON A SECOND MY BELLS
I forgot to take some Bells out of the bank so I had to go do that first. Anyway, here's the turnips I bought:
The weird amounts are due to space restrictions in my pockets. But it works out to 3,000 turnips!
Anyway, as I said at the start of this post, Super T&T opened in my town! After a quick look at the Bulletin Board to confirm, I went to Main Street to see.
Annnnd, there it is! Quite fancy, and it's even got some shopping carts! Let's go inside…
Timmy greeted me, and informed me of the new inventory of wall furniture available for purchase. I don't have a screenshot, but I bought a Giraffe Ruler wall item.
I had a chat with Lyle over at Nook's Homes. He let me know that I passed 90,000 points and a commemorative gift was on the way… jokes on you Lyle, I already got it!
A bit later, the moment I've been waiting 22 days for happened! Hazel informed me that she was moving, and I told her she was welcome to leave. Then THIS happened:
NOOOOOOOO. Why!?! I TOLD you to move! Ah well, there's always a solution to be found.
I think she'll get the picture now.
Just before Noon hit, I made a last minute decision to buy another 1,000 turnips. Don't make me regret this Reese!
In some of the previous entries, I promised I would show you guys how the area near my house was coming along. Well, now is the time! It's nowhere near complete but you can see some of my landscaping work in the screenshots above.
I'm also going to give you guys a little house tour. Here's my current main room. A couple things got moved around but overall, it's fairly similar to how it was seen before.
Upstairs is my Mermaid room. When you last saw it, I only had a couple parts of the series, but now it's complete! Eventually, I'll expand the floor further and adjust it, but until then it's going to remain the same mostly.
Finally, we have the soon-to-be Modern Wood room. Until I expand this room, it's a bit of a mess and not quite ready. I also have a back room and basement, but those are nowhere near a state worth sharing!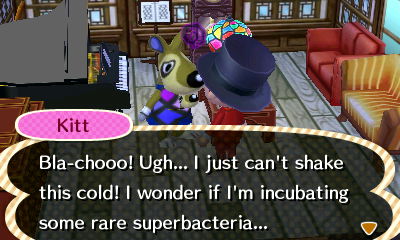 I paid Kitt a visit after hearing about her illness from another villager. She's nice, so I brought her some good medicine to help her out.
It seemed to help out! I'll be back soon with more…
I stopped by the Dream Suite to upload my town to the servers. This is the first time I've posted my code anywhere, but it seems my dream has earned some visits already through random searches.
Feel free to drop on by if you want to have a look at Waikiki. The code is 4800-2169-9920, as pictured above.
Finally, I checked out my Lighthouse project to find that… it was finished! Well, the funding was. Looks someone else paid off the remaining Bells… Thanks Connor!