Nintendo has announced new promotions for both 7-Eleven and Monster Hunter DLC items in Animal Crossing: Happy Home Designer, at least in Japan.
This isn't Nintendo's first promotion with 7-Eleven: Animal Crossing: New Leaf previously had a significant similar promotion in Japan including exclusive 7/11 branded furniture in the game, only obtainable through a 7/11 hotspot, or trading online with players of the Japanese version. They remain some of the highest value and hardest to obtain items in the game to this day.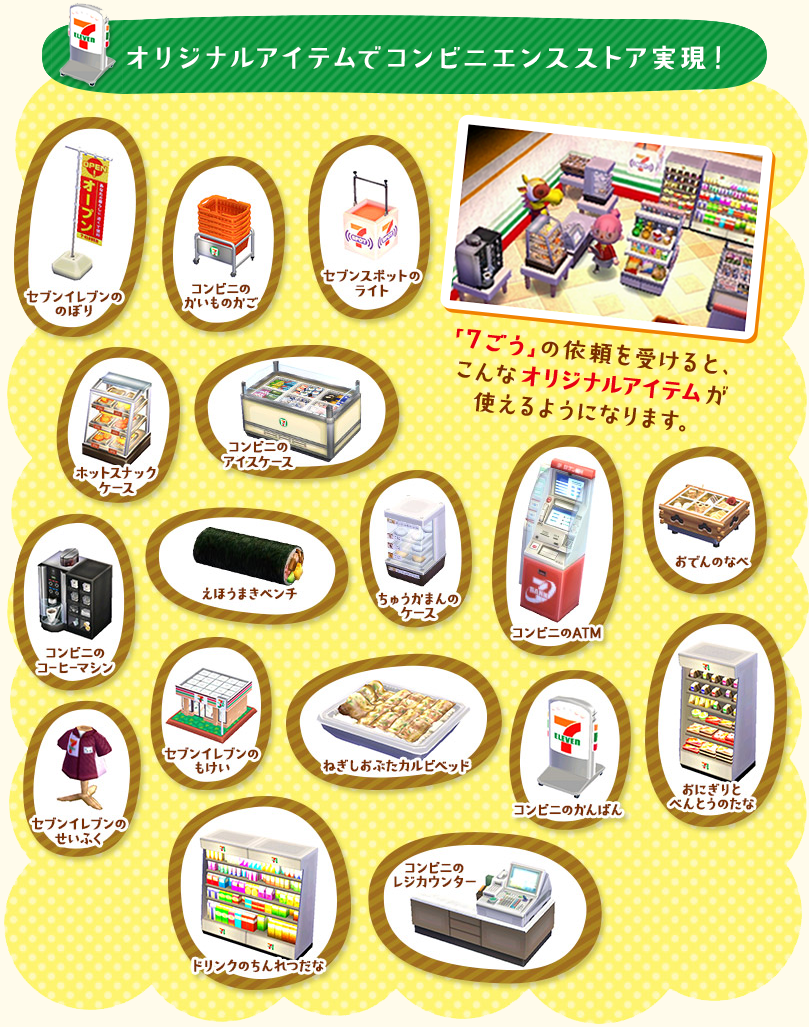 Now the promotion is coming back to Animal Crossing: Happy Home Designer, but with even more new items on top of the existing ones from New Leaf. Those new items include a shopping basket holder, a 7/11 ceiling logo, and more. All of the items will be distributed between July 30th and September 30th in Japan.
There's also a new Monster Hunter promotion introducing themed furniture from the franchise to Animal Crossing: Happy Home Designer. It's not as clear as to when or how the Monster Hunter items will be distributed, but we'll keep you up to date as soon as we know.
As for the chances of seeing these items make it overseas to North America and beyond? I wouldn't bet on it for the 7/11 furniture, but the Monster Hunter items stand a solid chance keeping in mind that an Animal Crossing crossover recently made it into Monster Hunter 4 Ultimate worldwide! On the other hand, there has been no sign of the 7/11 items outside of Japan in the two full years since Animal Crossing: New Leaf made its worldwide debut in June 2013.
We're now less than two weeks away from Animal Crossing: Happy Home Designer's launch in Japan on July 30th. Follow our release date countdown for Japan, as well as other regions here. Check out the full promotion page on Nintendo's website yourself here.
Animal Crossing: Happy Home Designer DLC Japan Monster Hunter News