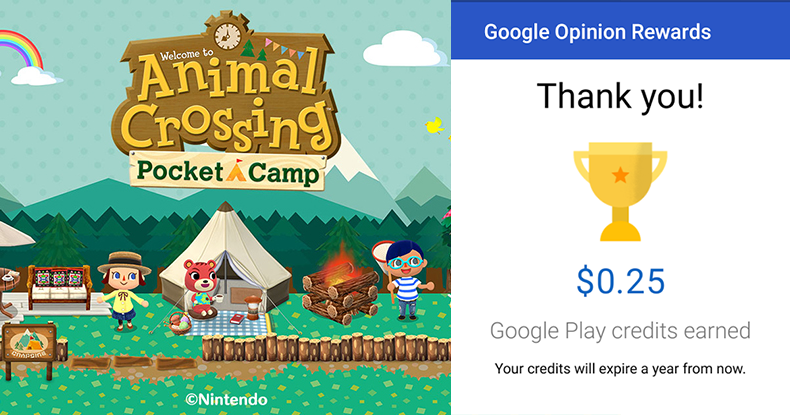 It might be advertised as a free download, but Nintendo would love for you to spend some cash on purchases inside Animal Crossing: Pocket Camp. Thanks to a handy app from Google, you can reap some purchases from Pocket Camp for free!
Google Opinion Rewards is a free application for both Android and iOS devices that connects you to a network of potential very short survey questions sourced by Google. It's not just for fun though — Google will reward you with small tidbits of either Google Play credit on Android or PayPal credit on iOS in return for your answers.
It's worth noting that we're talking small amounts between 10 cents and a dollar each here, but these rarely take longer than 30 seconds to complete either.  Just download the app, fill out some basic information, and Google will automatically send you notifications when there is a new survey available.
When you receive a notification and complete the survey, credit will be deposited directly into your Google Play or PayPal balance, then usable on in-app purchases for Animal Crossing: Pocket Camp! Or just any other app if you stop playing Pocket Camp of course.
I can speak personally to using the app myself for purchases other than Animal Crossing racking up over $40 in free credit over the last couple years, it's the real deal! Check out Google Opinion Rewards yourself on the iOS App Store here or the Google Play Store here.