Another new event has arrived in Animal Crossing: Pocket Camp for the remainder of January featuring new winter clothing and other items to craft!
The Winter Sports Event operates pretty similarly to previous events for Christmas and New Year's — complete ordinary requests for campers for a chance to receive a new crafting material, in this case Snowflakes. Then spend those Snowflakes in exchange for crafting new limited-time event items!
With this event, there are 6 new clothing and accessory items to craft, 1 new rug, and most notably 1 new amenity. I believe this is the first time an event has offered an new amenity to craft! Here's a complete list:
figure-skate shoes: 10 Snowflakes
snowboard pants: 10 Snowflakes
snowboard jacket: 10 Snowflakes
figure-skate outfit: 40 Snowflakes
pearl tiara: 40 Snowflakes
beanie with goggles: 40 Snowflakes
mini skate rink: 80 Snowflakes
snow park (amenity): 100 Snowflakes
New timed goals are available during the Winter Sports Event for crafting new items and other objectives, but unlike previous events, these only reward Snowflakes and Leaf Tickets — no direct clothing rewards. Here are the new goals:
Complete 3 requests for visiting animals: 10 Leaf Tickets
Complete 10 requests for visiting animals: 10 Snowflakes
Complete 20 requests for visiting animals: 30 Snowflakes
Craft figure-skate shoes: 10 Snowflakes
Craft snowboard pants: 10 Snowflakes
Craft figure-skate outfit: 10 Snowflakes
Craft pearl tiara: 30 Snowflakes
Craft beanie with goggles: 30 Snowflakes
Craft mini skate rink: 30 Snowflakes
Craft snow park: 20 Leaf Tickets
From a quick observation at the numbers, we'd say this event will pretty easy to complete too. You need 330 Snowflakes total to craft all the new items and 160 Snowflakes reimbursed through the Timed Goals, requiring just 170 Snowflakes earned to complete everything — that's about 19 per day throughout the event's duration.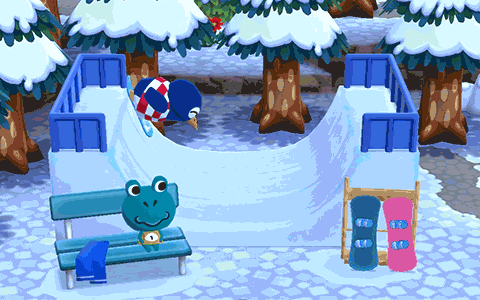 Just as with previous events, the Shovelstrike Quarry can offer the new Snowflakes crafting material as a reward at select times throughout the day if you need a boost. There's also a new in-app purchase option for a special bundle of 20 Leaf Tickets and 25 Snowflakes for $1 USD. It can only be purchased once.
The Winter Sports Event begins today and is scheduled to end on January 30th at 10PM Pacific Time. Get started now!