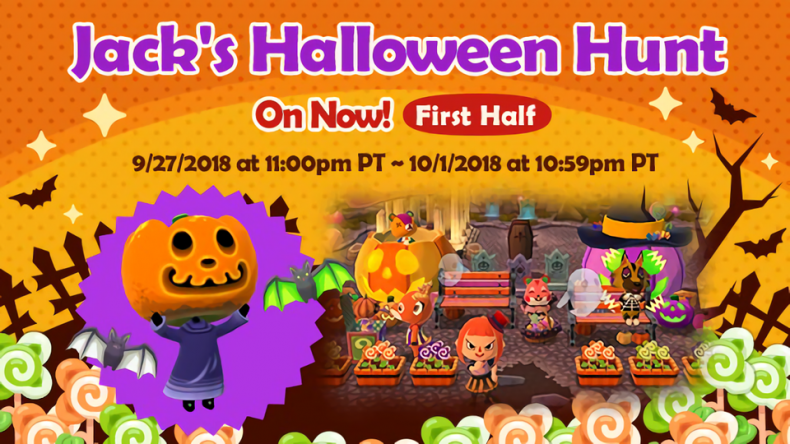 The Halloween season is nearly here and Nintendo is partnering with Jack to bring a new Animal Crossing: Pocket Camp event fitting the occasion!
Jack's Halloween Hunt is the latest of Pocket Camp's recurring gardening events where campers plant seeds to grow special flowers with the goal of catching creatures from them. In this Halloween edition, you'll plant Lollipoppy flowers in hopes of catching spooky bat creatures!
When you catch enough bat creatures, tasks are completed rewarding fun Halloween themed furniture and clothing! Here's a list below of what you can collect as prizes during Jack's Halloween Hunt, with some items pictured in the banner above:
Trick-Or-Treat Basket
Witchy Jack-O'-Lanterns
Hexed Jack-O'-Lanterns
Pumpkin Gravestone
Stack-O'-Lanterns
Creepy Coffin
Spooky Bat Balloons
Hexed Bat Balloons
Halloween Bench
Witchy Jumb-O'-Lantern
Hexed Jumb-O'-Lantern
Spider Gravestone
Jack-In-The-Box
Trick-Or-Treat Dress
Potted Apple Lollipoppies
Potted Peach Lollipoppies
Potted Plum Lollipoppies
UPDATE 10/02: The second half of this event has begun, so all of the items above are now available to earn! Much like the last gardening event, there are some extra hard tasks at the end after completing the regular tasks, so get going as soon as you can. They're actually even more difficult than Brewster's Sweet Harvest.
Alongside the event, a new set of Spooky Terrain is available too. You can dress up your campsite all the way with a variety of sky, background, ground, deck, and fence pieces. Beware though — these don't come cheap at a total cost of 1100 Leaf Tickets!
Just like all other gardening events, there's lots of free Leaf Tickets ready to be collected during this event through Event Goals and Tasks! We highly recommend participating in the event for that alone, even if you don't fancy the items that much. Although we're really loving the furniture in this one!
For a closer look at the event including all rewards and tasks, check out our complete Jack's Halloween Hunt gardening event guide for Animal Crossing: Pocket Camp with everything you need to know! It ends on Monday, October 8th at 11PM Pacific Time.