A new update for Animal Crossing: Pocket Camp has arrived introducing the Event Reissue Crafting feature and other notable improvements in Version 2.3!
The best addition to Pocket Camp in this update is Reissue Crafting, a new feature where you can craft some previously released event items if you missed them! Some items have been re-issued already but only through Fortune Cookie stamp card trading which is very pricey, so we're hopeful this will act as a more affordable method for some items.
You can access the re-issue crafting items through a new tab in the crafting menu where the available items will rotate in and out just like Fortune Cookies. From what we've seen so far, you will need either a large sum of Bells or a small fee of Leaf Tickets to craft a re-issue item, alongside a new Reissue Material currency.
Unfortunately, we don't know any more specifics beyond this yet as the feature isn't fully available. You won't have to wait long though — the first set of Reissue Crafting items will become available Tuesday night at 11PM Pacific Time! From the looks of the screenshot released, this first set will feature items from Rover's Garden Safari, Leif's Spring Flowers Event, and Gyroidite Scavenger Hunt 1.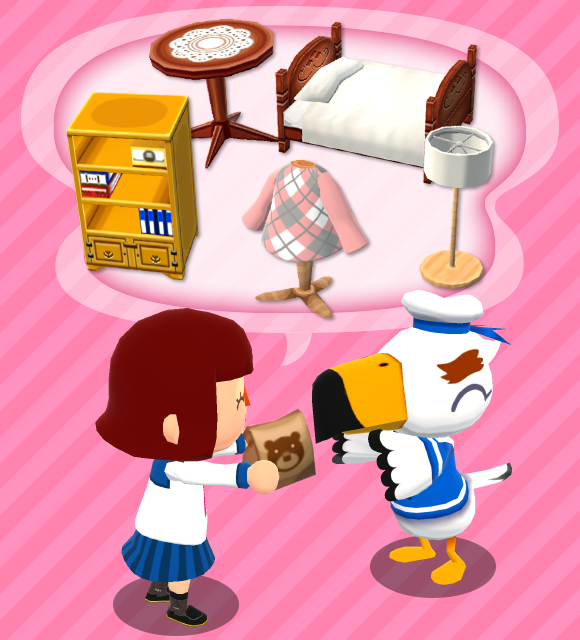 Gulliver has received some solid improvements in this update with adding items to his cargo ship now only popping up a simple confirmation box, instead of completely resetting the item window every time. This will make it far easier to hunt down items in your inventory and clear them out to him.
Player inventory has been given a much welcome boost in the update too with additional item limit increases of 10 each at levels 40, 45, 50, 55, and 60. You can also purchase another 50 slots through Leaf Tickets than you previously could if you're so inclined.
Finally, a couple more small improvements in Version 2.3 of Animal Crossing: Pocket Camp include:
The friendship points earned from speaking to villagers at the Cabin have been greatly increased.
Multiple rugs at once can now be placed inside your camper.
Various bug fixes.
As always, Nintendo has sent another 20 free Leaf Tickets to all players as a gift accommodating the update! Animal Crossing: Pocket Camp version 2.3 is available now in the App Store and Google Play.