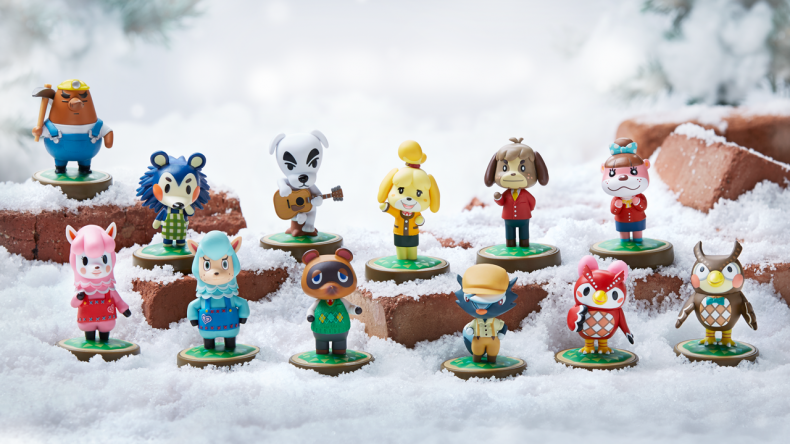 Some additional smaller details on Animal Crossing: New Horizons have been revealed through a French interview from GameKult with lead developers Aya Kyogoku and Higashi Nogami.
Most notably, support for Animal Crossing amiibo figures and cards in New Horizons has been confirmed! While it's not a big surprise, Nintendo was quiet on the topic during the E3 reveal and some fans were understandably anxious to hear about whether their collections of Animal Crossing amiibo will serve any purpose going forward.
The developers unfortunately weren't yet ready to share exactly how the compatibility will work with New Horizons. We're guessing it will differ from New Leaf's Welcome Amiibo implementation of summoning villagers to move in, otherwise they would have just said that.
They were also asked about the unfortunate delay of New Horizons past 2019. Kyogoku explained how important it is to the team that we can experience the game well past just one year and everything needs to be in place to facilitate that. As such, they didn't want to rush and the game will have to take a bit longer.
New Horizons' new local multiplayer feature on a single screen was discussed as well, and interestingly Nogami revealed they have been thinking since the very first game on Nintendo 64 (in Japan) about a four-player mode. It looks like New Horizons will finally fulfill that dream nearly two decades later! Nogami has been working on the series for a very long time.
And in response to a question about finding K.K. Slider's songs on Spotify someday, the developers pointed out that K.K. can still be found in concert every Saturday in New Horizons — we have to wonder where that will be on this new island setting!
Unfortunately, it was a 'no, we don't control that' on the Spotify question but they did share that different ways to listen to his music have been included in New Horizons. We might have already seen one way with music playing on a radio outside in the Treehouse Live demo!
One other interesting tidbit from the interview is that both director Aya Kyogoku and producer Higashi Nogami watched a recording of fans reacting to the New Horizons reveal during the Nintendo Direct at Nintendo World in New York. It's nice to know that they apparently felt very touched and happy to see such a positive response to the game.
And finally for those Animal Crossing fans who are still out there hoping for the addition of weddings or similar features, Kyogoku shut down the interviewer's question on the matter pretty hard simply pointing out how there are many costumes and furniture available to use your imagination already!
You can read the complete interview at GameKult yourself, although you'll need to use a service to translate it to English. What do you think amiibo will do, or where will K.K. Slider perform, in New Horizons? Let us know in the comments below!
Pre-orders are now open for Animal Crossing: New Horizons at Amazon, GameStop, and Best Buy. Stay tuned to Animal Crossing World for more on Animal Crossing: New Horizons as we approach the release date next year.