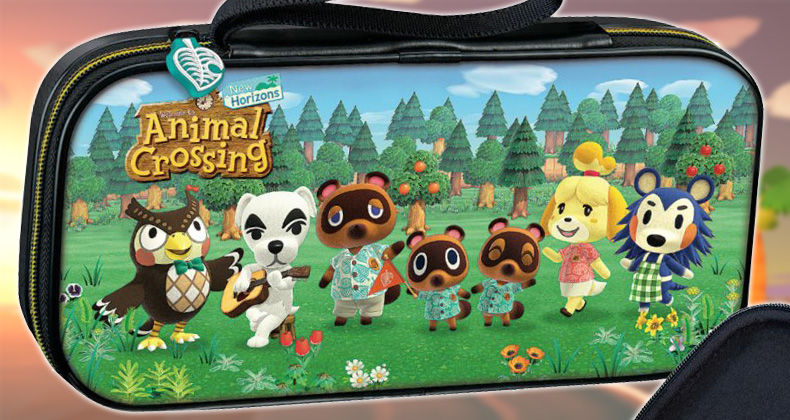 Many fans have been long awaiting the first reveal of more classic characters to be seen in Animal Crossing: New Horizons and we're finally getting our first look at both Blathers and Mabel thanks to a new Nintendo Switch case!
This new Animal Crossing: New Horizons Nintendo Switch case is made by Big Ben and features a spread of Animal Crossing characters on a beautiful landscape background of grass, fruit trees, flowers, clouds, and more.
Those characters featured include the New Horizons renditions of Tom Nook, Timmy, Tommy, K.K. Slider, and Isabelle that have all been seen previously. But the most exciting characters seen are Blathers and Mabel in brand new renders for New Horizons!
This marks the first time that either character has been seen in any materials for Animal Crossing: New Horizons so far, whether in-game or in accessories like this one. While this is by no means a surprise, it's good to see them return as some fans have been worried lately about the Museum since we have yet to see it.
We made sure to cross-check these photos of Blathers and Mabel with previous renders from past games in our archives to confirm that they are new for New Horizons, and we couldn't find any matches to old artwork!
Above are some comparisons to the most recent New Leaf artwork — they haven't changed much but these are definitely still new.
Other details about this Animal Crossing: New Horizons Nintendo Switch case are that a small Game Cart holder case is included and there's even a slot for it to conveniently fit store into. The case is compatible with both the regular Nintendo Switch and the Nintendo Switch Lite.
Pre-orders are currently only available in the Netherlands from Game Mania here, but of course we'll update this article and let you know as soon as we see it available anywhere else. Stay tuned!
Animal Crossing: New Horizons launches worldwide in less than two months from now on March 20th! Check out our release date countdown here, or pre-order the game here. Stay tuned to Animal Crossing World for more news as we approach the release!