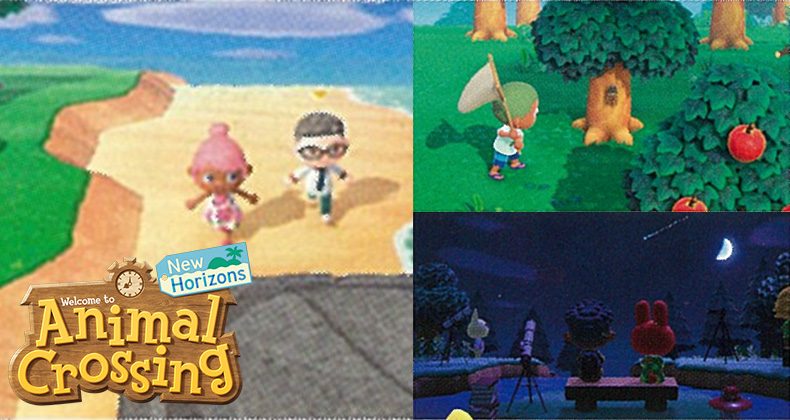 We have a few brand new screenshots for Animal Crossing: New Horizons to show off today from another promotional event booklet handed out for the game!
These new screenshots come our way from the Animal Crossing: New Horizons booth at the World Hobby Fair event happening in Japan this weekend. Inside the booklet is a variety of photos, but only three of them appear to actually be new content we haven't seen before.
Unfortunately, the quality of these screenshots aren't particularly great because they had to be scanned from a paper booklet, but new screenshots are still appreciated and we'll take any news we can get around here!
As for what's new to be seen in them, this night-time screenshot is probably the most interesting. It's somewhat similar to a previous screenshot we saw in September (shown below) but with three villagers now shown including Bunnie, Bud, and I think Merry! The boy's hair style appears to be new as well, I think.
Another particularly interesting detail is the three different telescope items across the landscape, each featuring a villager nearby. Is it possible there might be some kind of shooting star or meteor shower event where the villagers will hang out near telescopes to watch the stars? Or is this just a decorative detail for the screenshot? We're not sure.
Looking at this screenshot with the characters walking on the beach, we can see a new look at the flat rock platforms that will be on the sides of our island. Presumably, these will act as platforms to move the camera for a nice sunrise or sunset view.
It's possible that the girl's hair style could be new too, but honestly I'm not really sure. (keeping track of hair styles is not my area of Animal Crossing expertise… sorry!) One more possible detail? If this rock is always placed towards the bottom of the map like it was at E3, then that cedar tree in the top left is awfully suspicious.
The orange circles on the map above demonstrate where these two screenshots could have been taken. I'm nearly 100% certain on the middle circle representing the nighttime screenshot due to the similarities in river edges.
The rock circle I'm less confident in as the rock seems to be a different shape, but the important detail here is that if the right rock is always towards the bottom of the map like it was on the E3 map above, that would mean cedar trees may be able to grow farther down our islands than previous games. This is just a theory though, I could be totally off here.
Finally, we have this third screenshot of a player sneaking up to catch a bug on a tree. Honestly, I don't notice anything notably new in this one, but I'm pretty certain it hasn't been released before.
To round everything out, here's a look at the full booklet page at the World Hobby Fair Animal Crossing: New Horizons booth where these screenshots originated from, as scanned by StarlitGlitch:
We need to give a huge credit and thank you to StarlitGlitch who went the extra mile and actually scanned this booklet, so we don't have to rely on photos taken with a camera! They're a true lifesaver in our desperate times waiting for New Horizons.
What did you think of these screenshots of Animal Crossing: New Horizons, as limited as they might be? Did you notice anything else new that we didn't catch? Please leave a comment below and share your thoughts!
Animal Crossing: New Horizons launches worldwide in less than two months from now on March 20th! Check out our release date countdown here, or pre-order the game here. Stay tuned to Animal Crossing World for more news as we approach the release!
Analysis Animal Crossing: New Horizons Japan News Screenshots