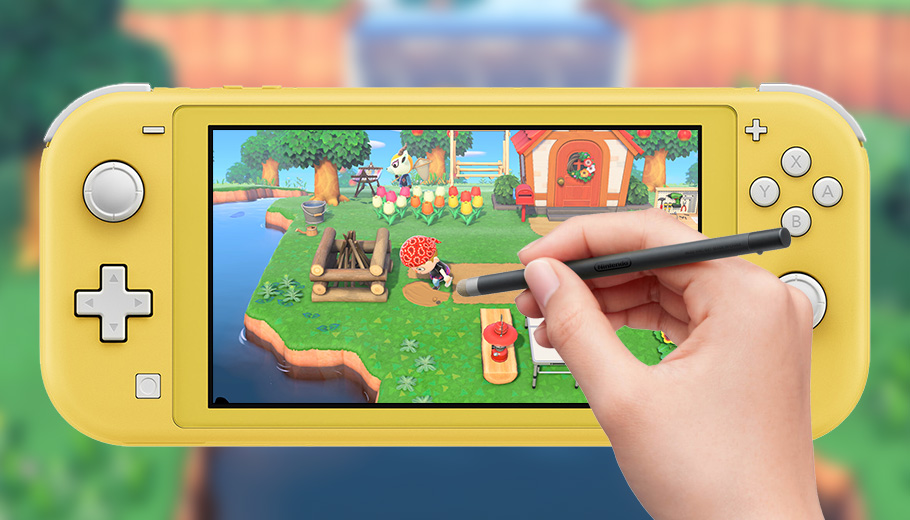 A new accessory for your Nintendo Switch system is now being sold by Nintendo in the UK, and it could be a great addition for Animal Crossing: New Horizons!
Beginning today, the Nintendo UK Store is selling an official Nintendo Switch Stylus accessory designed for use with the system's capacitive touch screen. It's nothing special, just a long black stylus with Nintendo's logo imprinted, but it's nice to see an official on available.
Unlike the Nintendo 3DS and its resistive touch screen, the Switch screen is primarily intended for your fingers with its capacitive touch screen. Because of this, the Nintendo Switch never came with a stylus included as there's generally little need for one.
So far, the only games to really have a particular need for a stylus have been Super Mario Maker 2 and Brain Age. But with Animal Crossing: New Horizons coming up soon on March 20th, there's about to be a much more pressing use for a stylus for designing patterns!
While I'm sure it will still be possible to design patterns in New Horizons without one by using your fingers or the control stick, it's certain to be way easier with a handy stylus.
Even better would be an official Animal Crossing themed stylus to release alongside the game, either standalone or in a bundle! But until that happens, we've at least got an official Nintendo option at last. Not that you couldn't just buy any random one off eBay, but some folks like to have an official product!
Building on that, it would be best if an official Animal Crossing stylus featured a thinner tip at the end than this one especially if it's intended for pattern design. But that might just be a pipe dream!
You can buy the Official Nintendo Switch Stylus from the Official Nintendo UK Store here for £6.99! We'll be keeping an eye out for a North America release too, so stay tuned.
Animal Crossing: New Horizons launches worldwide in less than three months from now on March 20th! Check out our release date countdown here, or pre-order the game here. Stay tuned to Animal Crossing World for more news as we approach the release!