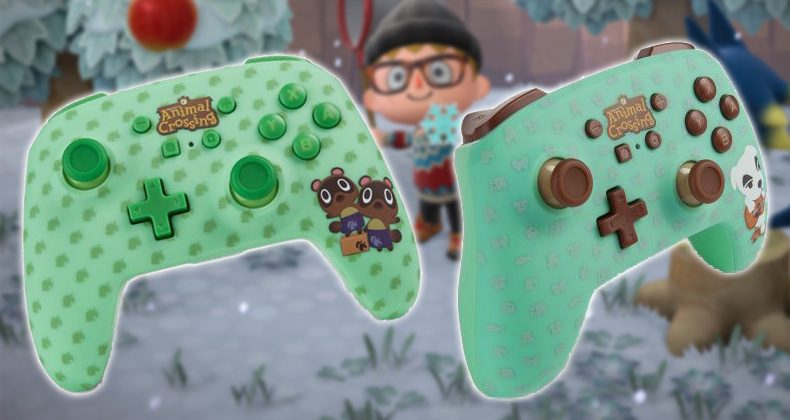 More officially licensed Animal Crossing: New Horizons accessories have been revealed and this time we have something completely different — themed Animal Crossing Nintendo Switch controllers!
Accessory maker PowerA will be releasing two specially themed Animal Crossing: New Horizons Nintendo Switch controllers on March 10th and they're officially licensed by Nintendo. These aren't simply skins or covers, they are real working wireless controllers for the Switch! UPDATE 01/27: They're now available on Amazon US here and GAME UK here.
Two design variants of the Animal Crossing Switch Controller are available to choose from depending on your personal preference:
Timmy and Tommy featuring green buttons and a green leaf pattern background.
K.K. Slider featuring brown buttons and an items pattern background.
How do these controllers stack up to an official first-party Nintendo Switch Pro Controller though? Unfortunately, they are missing a couple key features with no HD Rumble or Amiibo scanning functionality on board. How much this matters will depend on each person.
https://www.youtube.com/watch?v=zrLwF9ZQjbI&feature=youtu.be
They're also powered by AA batteries, rather than a charging cable, which could be either a positive or negative depending on your personal preference. An additional feature is added too with programmable button shortcuts on the back, although I'm doubtful how useful those could be for Animal Crossing.
If you want a better look at exactly what these Animal Crossing controllers have to offer, check out this PowerA Mario Silhouette Enhanced Nintendo Switch Wireless Controller on Amazon as they appear to be the same controller, just with a different design.
One more important factor when comparing controllers though? The PowerA controllers are a decent amount cheaper than the first-party Nintendo controllers if cost is a concern. PowerA's Mario Silhoutte controller mentioned above runs for $45 USD, while Nintendo's Pro Controller has an MSRP of $70 USD.
So where can you place an order for these PowerA Animal Crossing Nintendo Switch controllers? They're currently available for pre-order on Amazon US for $49.99 and GAME UK for £39.99, check out the purchase links below for each version:
(via Nintendalerts and EmilyACrossing)
Animal Crossing: New Horizons launches worldwide in less than two months from now on March 20th! Check out our release date countdown here, or pre-order the game here. Stay tuned to Animal Crossing World for more news as we approach the release!