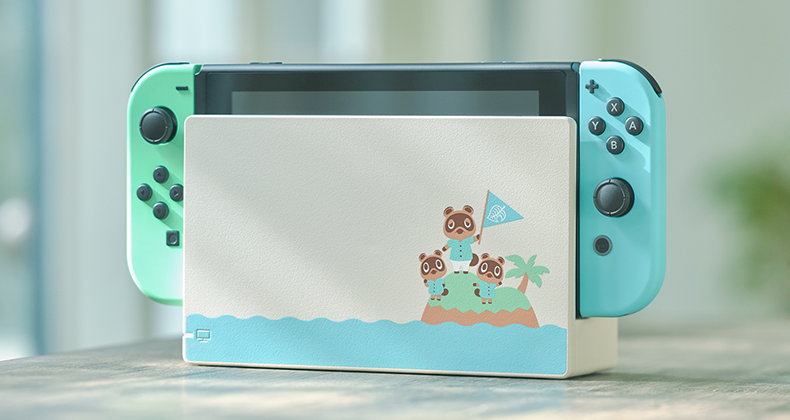 In a new statement posted on Nintendo's Japanese website today, the company is apologizing for potential delays of both the regular Nintendo Switch and the special edition Animal Crossing: New Horizons Nintendo Switch.
Due to the coronavirus infection spreading in China, Nintendo expects that production delays may occur for the Nintendo Switch and some related accessories like Joy-Cons. This is because the vast majority of Nintendo hardware is produced in Chinese factories that are currently experiencing possible shutdowns from the coronavirus.
Going one step further, Nintendo has gone as far as to indefinitely delay the previously announced openings of pre-orders in Japan for the special edition Animal Crossing: New Horizons Nintendo Switch and related carrying case. A new pre-order start date will be announced soon.
Given that pre-orders already began a week ago for the special edition system in North America and Europe, we're unsure of what this could mean outside of Japan and no official announcement has been made for other regions yet.
However, most Nintendo Switch systems are produced in China, no matter whether it is ultimately shipped to Japan, North America, Europe, or any other region. So it wouldn't be unexpected to possibly see shipment delays outside of Japan too for the special edition.
This might partially depend on just how many systems have already been produced and shipped overseas from China. If a large amount already have been produced, it may be possible for Nintendo to cover the existing pre-orders with little delay using that stock, but with further stock including Japan's remaining in limbo.
I would suggest not panicking yet, but keeping an open mind to the possibility of delays. Of course, we'll keep you updated on any further announcements from Nintendo on the topic, especially from Nintendo of America and Nintendo of Europe.
Animal Crossing: New Horizons launches worldwide in less than two months from now on March 20th! Check out our release date countdown here, or pre-order the game here. Stay tuned to Animal Crossing World for more news as we approach the release!