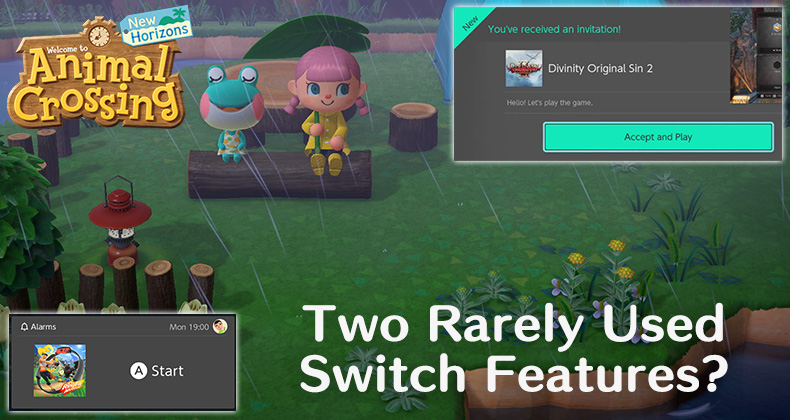 For a while now, the Nintendo Switch has had two fantastic new features that have so far gone almost entirely untapped. Today, we're going to talk about why both of these features would be perfect additions for Animal Crossing: New Horizons to implement!
Ever since the major September 2019 software update to the system's operating system, there's been an interesting new menu hiding on the Nintendo Switch. If you've been paying attention to the sidebar of your Friends List lately, you may have already seen this feature and wondered about it!
Online Play Invites in Animal Crossing: New Horizons
That feature is none other than the Online Play Invites menu. Yes, it finally happened late last year — Nintendo gave in to the demands and added an online game invites feature! But despite how great that could be, not a single first-party Nintendo game has used it yet and that's a real shame.
So why not have Animal Crossing: New Horizons be the first Nintendo title to take full advantage of the feature? Trying to arrange online town visits in Animal Crossing has always been a bit frustrating sometimes without third-party tools. I'm sure I'm not the only one who has just sat there with my gate open for a while hoping someone would notice and join!
We do have one third-party game (Divinity: Original Sin II) that supports it though giving us an idea of how it could work for Animal Crossing. It's pretty self explanatory — you can send game invites to multiple friends by selecting from your Switch friends list and they'll get a notification in the top left of their screen about your invite.
Then they can simply press the Home button to open the notification with details including the invite sender, an invite message, and crucially a Join Game button. Check out the GameXplain video below for a tour of how it works in Divinity: Original Sin II:
Ideally, pressing the Accept button could go as far as to automatically transport us to the Dodo Airlines Airport and begin the connection process to travel between islands. This might seem crazy, but the new Rescue Services feature in New Horizons appears to do just that!
Even if it can't be automated like that though, I believe game invites would still be extremely useful to signal your intent to invite friends over without resorting to a third-party messaging tool.
And when you do make it to the Dodo Airlines desk for traveling, the process could be shortened by having Orville acknowledge the invite and ask if you'd like to directly begin connecting to that island, rather than go through the entire dialogue.
The Online Play Invites feature appears to have the ability to customize a message too, although not used in Divinity: Original Sin II, because in GameXplain's demo a 'Hello! Let's play the game.' message is attached to the invite.
Perhaps Nintendo could even include a selection of pre-set invite messages for Animal Crossing to enhance the feature even more by signalling your intent. Here's some possible examples below that I'd like to see in New Horizons:
Let's trade fruit!
Let's trade furniture!
Let's play island games!
Let's catch bugs and fish!
My turnip price is high, come over and sell!
I really think implementing this Online Play Invites feature in Animal Crossing: New Horizons would be a great addition to the game and help reduce the friction of playing with friends. Especially with up to 8 players now, we're going to need it!
Alarm Notifications in Animal Crossing: New Horizons
The second feature that would be perfect for Animal Crossing: New Horizons is Alarm Notifications, another addition to the Switch OS in September last year! Alarm Notifications allows for a game to add an alarm to your system and when the designated time arrives, your controllers will vibrate and the Home button will light up blue — even in Sleep Mode.
Naturally, the possibilities for Animal Crossing: New Horizons making use of this feature practically write themselves! Imagine if after setting up a meeting with a villager at your house for a specific time, the game could automatically set an alarm for that time to remind you not to miss your meeting.
This handy feature could easily extend to helping you remember to attend important in-game moments when they are available, like purchasing turnips from Daisy Mae on Sunday mornings or checking out a notable event like Bunny Day.
So far though, Ring Fit Adventure and Brain Age have been the only game to make use of this feature, which you can see an example of in the Twitter video below. In addition to the vibrating controllers and lit up Home button, you can see that the system prompts you to load up the game directly when you wake up the system.
Ring Fit Adventure supports the Switch's new alarm function, here's how it works when the system is in Sleep Mode pic.twitter.com/1BlSsSxNEg

— AK (@Akfamilyhome) October 16, 2019
Anyway, I really believe both of these relatively unused features on the Nintendo Switch would both make perfect additions to Animal Crossing: New Horizons and I hope Nintendo will implement them, either at launch or in later updates.
I've had much of this article sitting in my drafts for months now, so while it might be too late now for these features to show up at launch on March 20th when we haven't already seen them, we can hope for their appearance in future game updates later this year.
Let me know what you think in the comments below and whether you'd like to see either Online Play Invites or Alarm Notifications make their way into Animal Crossing: New Horizons! (Image Credits: GameXplain, Neowin)
Animal Crossing: New Horizons launches worldwide on March 20th! Pre-order the game here, the official guide here, and check our release date countdown here. Stay tuned to Animal Crossing World for more news as we approach the release!