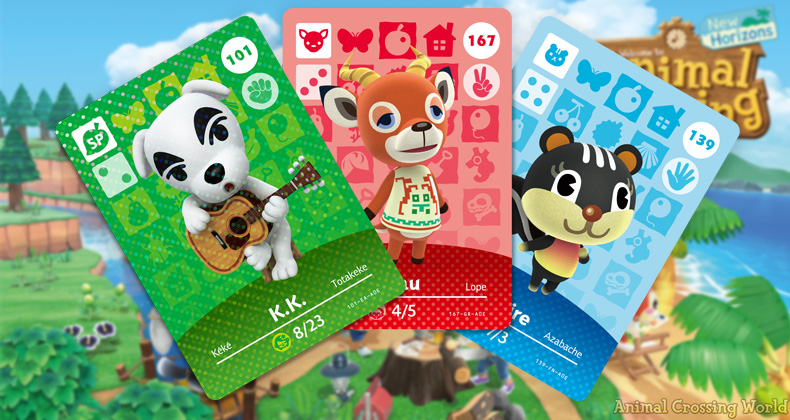 As previously announced a couple weeks ago, Nintendo is planning to restock the Animal Crossing Amiibo Cards in Japan and now the pre-orders have gone live today!
Available now on the Japanese My Nintendo Store, these restocked Animal Crossing amiibo card packs include Series 1, Series 2, Series 3, Series 4, and the Welcome Amiibo Series for $3 each. Like always, the Sanrio Collaboration Series isn't included in this new round of production, as disappointing as that is.
What's interesting about this restock is that Nintendo says the amiibo cards will be made to order with the shipments arriving months later after orders are received. This will prevent the company from producing too many and ending up with excess stock, like what happened with some past Animal Crossing amiibo figures.
On the other hand, this should reduce the amount of scalping too since there are limits on how many packs can be ordered and any fans who want some cards can just place an order themselves. It's certainly an interesting move we haven't seen before from Nintendo.
Due to this unique method of orders, the card listings on Nintendo's store state to not expect delivery of the packs until September or October later this year. Additionally, all orders are fully committed and cannot be cancelled after ordering. Finally, you will only have until June 30th to place one.
Unfortunately, the My Nintendo Store in Japan only ships to addresses with the country, so it's not possible for overseas Animal Crossing fans to easily place an import order to their foreign address.
Sidenote: For fans in the UK, Series 2 cards are actually available at the Official Nintendo UK Store currently — but that's it.
However, there are a number of dedicated services out there based in Japan for the sole purpose of helping customers with this sort of issue. With these companies, you can place an order on the Japanese Nintendo site to their address in Japan, then have the service forward the package out to your overseas address later.
Two of the most popular Japanese mail forwarding and shopping services include both ZenMarket and Tenso. We'd suggest you take a look at these companies and consider them as options if you really want to pick up some of the Animal Crossing cards in a guaranteed manner. The various shipping costs may work out to be impractical though, so use your own judgement.
If you'd like to try placing an order using one of these services, you happen to live in Japan yourself, or have a friend in the country to help, check out the Animal Crossing amiibo card listings on the My Nintendo Store right here.
And by the way, these Animal Crossing amiibo cards are fully region free and supported on all systems regardless of language origins – we've personally scanned Japanese amiibo cards on our English games without issue before! So there's no need to worry about compatibility.
One more matter to be aware of is that Japanese packs of Animal Crossing amiibo cards only include 3 cards in each pack, in contrast to the packs of 6 amiibo cards that have been standard for North America releases. Packs in Europe feature the same 3 cards per pack design though.
Hopefully we'll see a similar healthy restock of cards arriving in North America and Europe soon, so we can put an end to the truly ludicrous prices seen all over Amazon and eBay right now! For more on Animal Crossing: New Horizons, check out our Guides page here.
What's your personal Animal Crossing amiibo card and figure collection look like? Are there any amiibo you're particularly proud of or are hoping to get your hands on soon? Let us know in the comments below!