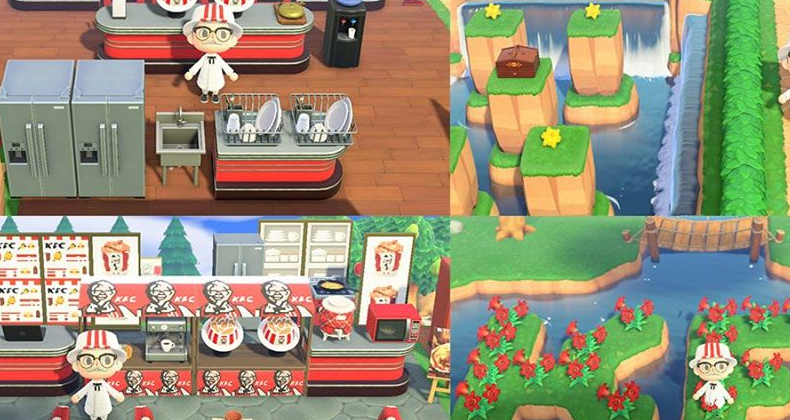 It feels like every week we're reminded of the incredible mainstream reach of Animal Crossing: New Horizons in the year 2020 and that's not stopping anytime soon with the opening of an official KFC Island today!
Just as you'd expect, the official KFC island features a fully decorated virtual outdoor KFC restaurant in Animal Crossing making good use of all that amazing red and white Diner themed furniture.
KFC is making excellent use of custom pattern designs at the virtual branch too, including menus on panels behind the counter and logos on the counter stalls. Allegedly, a secret location containing the legendary 11 herbs and spices can be found on the island too.
Check out a brief video tour of the KFC island and restaurant in Animal Crossing: New Horizons below:
Here's a little sneak peek at our official branch in Animal Crossing: New Horizons!

Don't miss out! Let our Virtual Colonel show you around to see the sights in this short tour.

Got Animal Crossing? Wait for the link to be one of our lucky guests! pic.twitter.com/vA4mbOMhKm

— KFC Philippines (@KFCPhilippines) June 17, 2020
As cool as the virtual restaurant is though, what's most interesting is that when you visit the KFC Island in Animal Crossing: New Horizons, you actually can have the chance to win some free chicken! Throughout the day, the Colonel himself will randomly come out and join the island's visitors.
When the Colonel does show up, visitors can take an in-game screenshot with him and share it on Twitter to enter the company's giveaway for a free 8 piece bucket of chicken from their local KFC.
This promotion is run by the Philippines branch of KFC though, so unfortunately you'll need to live in the country to be able to make use of that coupon for free chicken. However, there's nothing stopping you from getting in the Dodo Code queue simply for a visit though!
Animal Crossing fans, we have something for you! Stay tuned for the grand unveiling of the very first KFC Philippines Official Animal Crossing Island. pic.twitter.com/EmfbVCxzT0

— KFC Philippines (@KFCPhilippines) June 16, 2020
Speaking of that, demand to visit the island certainly appears to be overwhelming the company based on their Facebook page comments, so that might be harder than you'd expect.
We've seen quite a few brands make an attempt to get on the Animal Crossing hype train with a promotion, but KFC Philippines has possibly done the best job so far here managing to tie in a fun integrated giveaway, so props to them!
The promotion runs until June 22nd with the island open for visitors to spot the Colonel every day until then with the daily opening shared on KFC Philippines's Twitter page here. Stay tuned to Animal Crossing World for everything on New Horizons, including our extensive Guides section here.