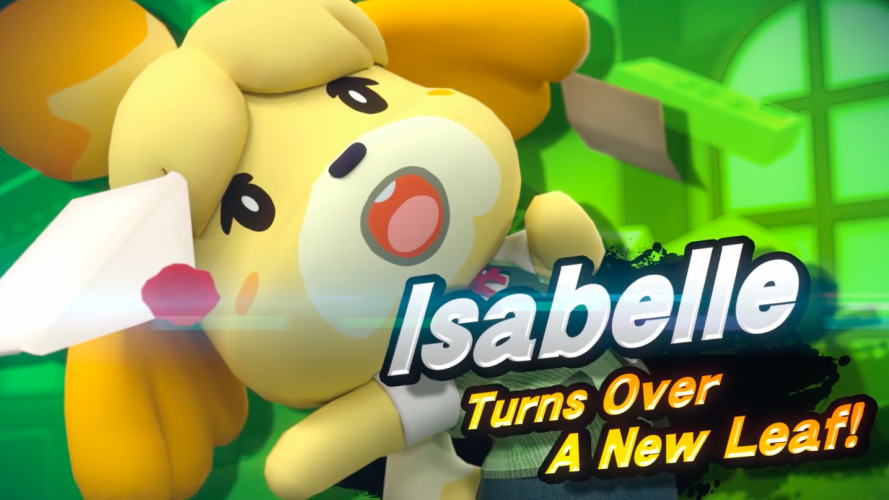 Before today's stunning announcement of Animal Crossing for Nintendo Switch, another reveal came first… Isabelle is joining Super Smash Bros. Ultimate as the latest fighter on the roster!
While Isabelle isn't a simple clone echo fighter, she does appear to share some moves and characteristics with Villager like the net and pocketing items making her a bit of a semi-clone. Her unique moves include hitting with a toy hammer, firing off a party popper, splashing water with a bucket, fishing opponents closer with a fishing rod, and more!
For her Final Smash, it looks to be quite similar to Villager's home building move, yet using the her own 'home' of sorts the Town Hall. To recover, she sets off on a little bunny shaped balloon bench escape into the sky, again like the Villager's balloon move. As for appearance, she's sporting her traditional Summer outfit by default, but the Winter clothing looks to be an option too.
We're certainly no Smash Bros. experts here at Animal Crossing World though — so take a look at the official trailer below to get your own sense of Isabelle's moveset in Super Smash Bros. Ultimate, not to mention the cute introduction of receiving her invitation to the battle!
And here's a selection of screenshots focusing on Isabelle:
With Isabelle joining the fight, there are now two Animal Crossing fighters on the Smash Bros. roster with Villager and herself. Kapp'n was announced as a new assist trophy last month too, and there are three Animal Crossing stages in the collection. It's truly representative of how important of a series Animal Crossing has become to Nintendo in recent years!
Super Smash Bros. Ultimate launches exclusively on Nintendo Switch this winter on December 7th, 2018. Pre-order the game on Amazon US / Canada / UK here.