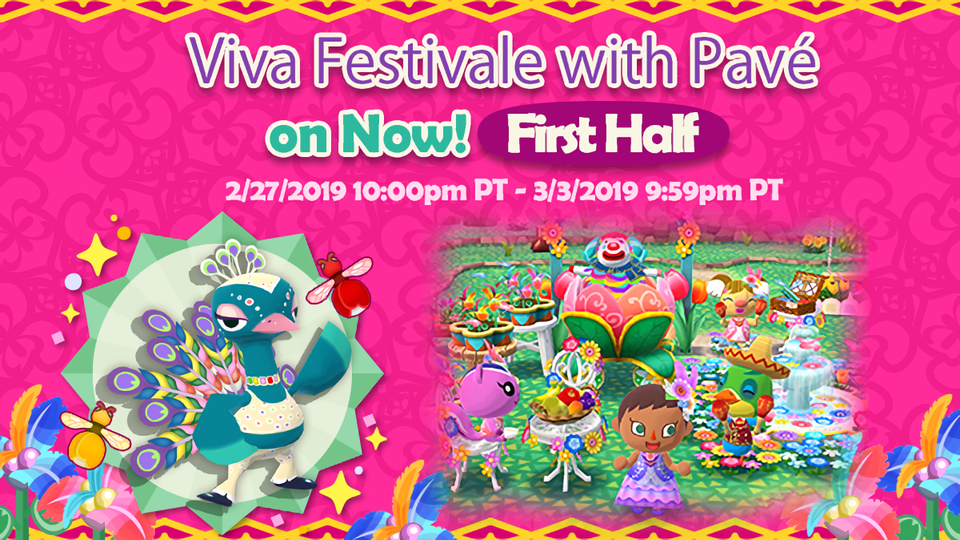 A brand new month of events and activities in Animal Crossing: Pocket Camp are here beginning today with the Shamrock Shimmy seasonal event!
Starting off the month of shamrock events is the Viva Festivale with Pavé gardening event, where you can grow his favourite Featherbloom flowers in your campsite's garden to catch elusive Festivibees. Collect enough of these special festivale bee creatures for a variety of Flowery Festivale furniture items!
Here's a list of all the items you can pick up during Viva Festivale with Pavé:
Pink Flower Patch
Blue Flower Patch
Petal Archway
Pink Butterfly Lights
Blue Butterfly Lights
Red-Petal Stage
Blue-Petal Stage
Yellow-Petal Stage
Petal Fountain
Petal Chair
Petal Table
Potted P. Featherblooms
Potted B. Featherblooms
Potted O. Featherblooms
Later in the month, the Viva Festivale with Pavé gardening event will be followed up by a Mario-themed Fishing Tourney and a party balloon Gyroidite Scavenger Hunt. By completing tasks in all three events, you can earn Kaleidoclovers items for progress towards Shamrock Shimmy seasonal goals throughout March.
Learn everything you need to know about Viva Festivale with Pavé with our complete guide here — the event begins today and runs through until March 10th at 11PM Pacific Time. And head here for our guide on the overall Shamrock Shimmy event throughout the month!