We just published our 13 New Things We Saw in the Animal Crossing: New Horizons Nintendo Direct Trailer analysis on Thursday detailing plenty of exciting new features, but there's already been quite a few extra notable details found since then that we missed initially!
It never hurts to be comprehensive, so without further ado here's another seven more new things found in the Animal Crossing: New Horizons Nintendo Direct Trailer released this week!
Plant Trees Directly Next to Water
Anyone who has played Animal Crossing: New Leaf is unfortunately very familiar with the obstructive rules on placing trees, bushes, and public work projects. In a previous analysis article on New Horizons, we already saw that furniture items can be placed anywhere outside, even next to buildings and rivers.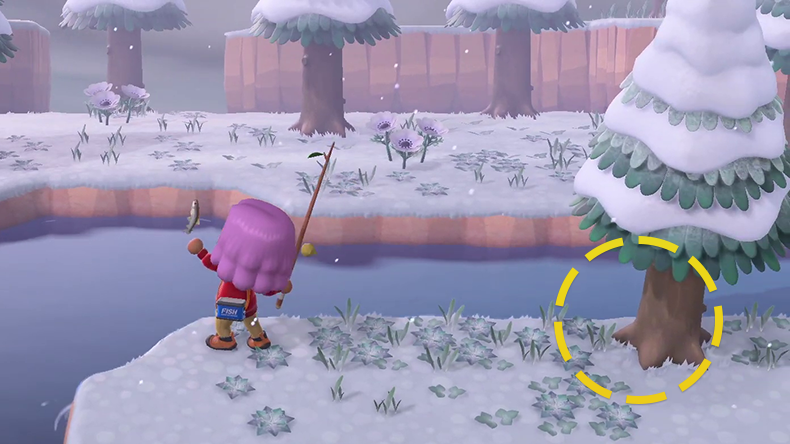 But in the latest Nintendo Direct trailer, we can see even a tree is planted directly next to a river! It might seem like a minor feature to someone, but for anyone dedicated to landscaping their town, this is HUGE!
Bushes have yet to be seen in New Horizons, but it's likely the same will apply to them if trees can be planted there.
To add onto this discovery, we're also thinking it might be the case that trees can't be originally planted next to water, but rather have to be planted elsewhere to grow and then moved using the new fruit energy tree re-planting feature.
Inventory Item Favoriting
It's a small detail that's easy to miss, but it looks like New Horizons will have some kind of new favoriting or starring feature for items in our inventory. When the player accesses her inventory in the new trailer to eat an apple for tree re-planting, we can see that a number of her tool items have a little star icon on them.
Notably, these items all happen to placed at the beginning of her inventory too. It's likely that by starring or favoriting an item, the game will keep those items at the front of your inventory before all other items to help keep track of them.
And just speculating here, but maybe this feature could add extra sell protection to your favorited items? Perhaps an extra confirmation window could appear when selling them to ensure you don't accidentally destroy an important item.
On the other hand, this could all be for nothing and the star simply indicates that the item is a tool seeing all of the favorited items shown in this example happen to be tool items. Hopefully not though! We're betting on the new feature for sure.
New Anemone or Poppy Flowers
A new type of flower for the Animal Crossing series is briefly shown in the first cedar tree shot of the new trailer, and again in the snow while fishing later!
We can't pin-point exactly what type of flower these are with certainty, but Verecund on The Bell Tree Forums seems convinced they're Anemones and I'm inclined to agree! Another possibility is that they are simply poppies.
Either way, they're definitely a new flower type! We did initially believe that these were pansies, but we see the actual pansies later in the trailer and it's clearly a different design as seen above.
Access to the Third Cliff Area?
When we analyzed the island map in the New Horizons Treehouse gameplay at E3, we noted what is now very obvious — the islands in this game will feature a second cliff level unlike the flat towns (aside from the beach) in New Leaf.
But the island map also showed a potential small third level on top of the large second level, although we had no evidence that it would actually be accessible. A scene in the new Nintendo Direct trailer gives us a closer look though…
In the scene above, we can see two cliffs in the back of the screen, with an opening in-between. It turns out that this scene actually matches up perfectly with an area on the island map from E3, as seen below. If you compare the in-game screenshot with the map, you can see yourself just how close of a match it is. Just look at the river shape!
What does this actually mean though? Well, we think it's a safe guess that if that space in-between the cliffs didn't lead anywhere, there would be a cliff wall or other barrier there. Instead, the pathway appears to be wide-open for the player to walk through to somewhere.
It's possible this leads to the back of the island with the rocks depicted on the map, and even some kind of way to access that third level of cliffs we see here. We don't really know exactly what this all means, but the identical match of the map to the scene with that gateway is pretty damn interesting!
Hopefully we'll find out the real answer to this mystery in the next New Horizons trailer. Special thanks to LinaeMei and Abeilard14 for spotting this one!
Exciting New Nook Miles Challenges
We've known quite a lot about the Nook Miles feature since E3, but a new interesting category was revealed in the new trailer that shows Nook Miles will be more than just basic stats tracking.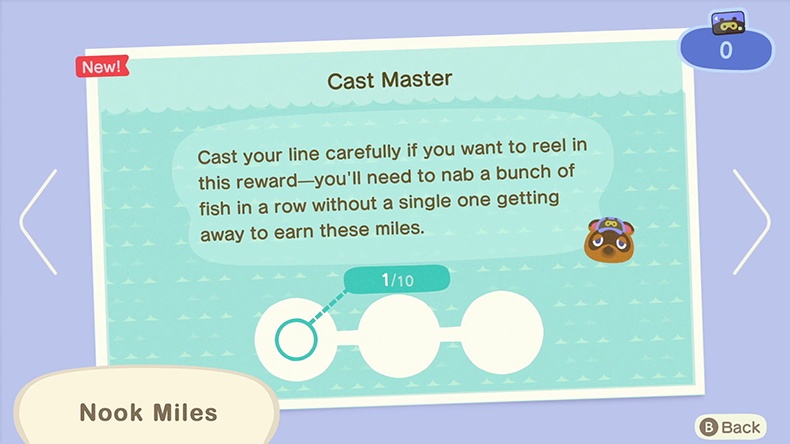 The new Cast Master card in Nook Miles will challenge you to catch ten fish in a row without messing any of them up! If you let one get away, it's back to zero.
It's likely there will be a bug catching version of this too where you need to catch ten bugs without missing any, which sounds even harder to be honest! We're pretty excited for the possibilities of other similar Nook Miles challenges after seeing this. What else could be in store?
Furniture Remaking / Customization Returns
While we would expect this feature to return anyway, the first concrete evidence of the furniture customization or remaking feature can be seen in the tent's interior near the beginning of the new trailer.
Cleverly so, most of the items in the tent are the same as in the first E3 trailer, but have been customized to various degrees in the new trailer now. And not just once, but twice! So we can now see three version of the various items in the tent below.
That's three different pattern designs for the camping cot, three different black/green/red colors for the lantern, and three different  black/green/white colors for the radio!
If you're wondering why there's two versions from this trailer, it turns out the Japanese version of the trailer features different customized versions of the tent items versus the English version! That's a pretty cool little change they made to give us even more to analyze. Thanks Nintendo!
Goodbye Flimsy Tools, Hello Real Tools
In the initial reveal at E3, we discovered that at the beginning of New Horizons you'll have to craft your own 'flimsy' tools. Presumably, these would later be replaced by more traditional Animal Crossing tools that aren't made of, you know, sticks!
Now we can actually see some of the proper tools in the new trailer and how they compare to the flimsy tools.
That's everything!
That just about rounds out the seven more new things we missed in the Animal Crossing: New Horizons Nintendo Direct Trailer! There are a few more tiny details we could mention, but these are the ones we considered notable enough to talk about.
Finally I'd just like to note that we discovered some of these new details from others in the Animal Crossing community pointing them out, so here's a quick shout-out to a few people who noticed them before we did: laurenraz, Verecund, M3YARI, LinaeMei and Abeilard14.
Animal Crossing: New Horizons releases next year on March 20th, 2020 for Nintendo Switch! You can pre-order the game at Amazon, GameStop, and Best Buy. Stay tuned to Animal Crossing World for more on Animal Crossing: New Horizons as we approach the release date next year.
Ad Type 3 Analysis Animal Crossing: New Horizons News Nintendo Direct