Nintendo finally revealed the long-awaited Animal Crossing: New Horizons at E3 2019 this week and there's been an insane amount of information coming out — here's our summary analysis of 20 great new features you don't want to miss!
Following up on our Map Analysis article from earlier this week, this is another lengthy round-up going over 20 new features spotted in Animal Crossing: New Horizons that we think you'll look forward to! We're gonna skip over the super obvious matters like 'did you know you can craft items?!' though and focus on the 'second-tier' of features.
That being said, if you've been closely following every piece of information for New Horizons, you'll probably already know much of this! Think of this as a sort of a summary piece for folks who haven't spent hours like we have analyzing every second of footage out there and want to read a nice round-up of things they might have missed.
Let's dive in!
You can wear back items, including backpacks and satchels
Seen in the last scene or two of the reveal trailer, two different characters are wearing items that go beyond what's typically wearable in Animal Crossing!
The two specific items we seen worn on the characters are a red backpack and a small pink satchel, which can be seen briefly from her back at one point even though it's not visible on the ending shot.
We're hoping that this might be a sign of other back items that aren't strictly like a backpack or satchel too, like the Fairy and Angel wings from Animal Crossing: Pocket Camp, but we haven't seen those yet. One question remaining though is whether the backpack-type items will serve any functional purpose with inventory expansion, or if we are simply looking at a purely cosmetic item!
You can use a new tool to dig dirt paths
For more than a decade, Animal Crossing players have been using patterns designs placed on the ground as a method of creating pathways in their towns, but New Horizons brings a new option.
Using what appears to be a brand new special tool, you can now remove the grass on the ground from a tile to reveal a nice clean looking dirt pathway. This will be a great new addition for making interconnected paths all around your island!
And while patterns placed on the ground like the old days haven't been confirmed directly yet, it was confirmed to IGN that a pattern app will be unlocked on the in-game NookPhone eventually.
All your tools will break, at least at first
While regular axes have always broken in the Animal Crossing series, that's extending to every tool in New Hoirizons, at least for the beginning of the game! Every tool shown as both craftable or purchasable in the Treehouse Live demo is prefixed with a 'flimsy' title, like the 'Flimsy Fishing Rod'.
And if that wasn't enough to be convinced that this means they're breakable, we got a follow-up confirmation inside the Nook Miles menu with a DIY Tools section referencing tools breaking and rewarding you Nook Miles for crafting new tools.
It doesn't look like we need to worried about breaking tools being too annoying either as the inital flimsy tools in the crafting menu show requirements of as little as 5 tree branches to craft. Furthermore, while it's not been confirmed, we fully expect that the golden tools from past Animal Crossing games will return and probably be unbreakable!
Flowers actually grow, and even re-grow
Based on what we've seen so far in the reveal trailer, Animal Crossing: New Horizons will make major changes to the flower systems in the major ways.
First of all, it looks like flower seeds will no longer magically grow flowers instantly below you — they have to actually grow into flowers, as seen by the surrounding seeds around the sapling.
Later in the trailer, we see the same seeds have now grown into flower buds around the tree — notice the identical placement of the sapling that has now grown into a tree in the middle and the tent which has become a house. Then in the next scene, those very same flowers have finally grown into the complete tulips we're used to seeing!
Most importantly though, we see the player actually picks some tulips from the flower and pockets them, while the rest of the plant remains! Presumably this means that the tulips will re-grow in a couple days and can be picked again, otherwise there would be no purpose in picking them.
Both of these discoveries make for a huge change to how flowers work in the Animal Crossing series with New Hoirzons! We still need to see more to know the precise details of these new mechanics, but clearly change is in the air.
New villagers begin with a tent, can be placed by you
Even though you began your life in Animal Crossing: New Leaf with a shoddy tent and had to pay your way to a real house, the new villagers moving into your town always got a deluxe home from the start. That wasn't very fair, was it?
That's changing in Animal Crossing: New Horizons where your villagers first join the island in a tent and have to pay back Tom Nook for a real home, just like you.
And even better, lead developer Aya Kyogoku revealed in an interview with IGN that you'll be able to customize the placement of the villager tents if you so desire:
However, Kyogoku said before they choose a spot for their home, they'll check with you to see if it's okay. If you don't like where they settle down you can tell them you don't want to build in that particular spot and move their house location to wherever you see fit.
Thank you Nintendo, thank you. Millions of New Leaf villager plot resetters are deeply in debt to you now.
New door wreath decorations
Animal Crossing: New Leaf added a bunch of new decoration options to the exterior of your house, and New Horizons is getting another one with new door decorations!
Check out the two different wreaths seen in the reveal trailer; a holiday wreath in the winter, and a flower wreath in the spring.
Notably, these new decorations can be spotted on both a player's home and a villager's log house. And we see two other doors without the wreaths elsewhere in the trailer, proving that is a decoration feature, not just part of a new door design.
New interior window styles
Another one of the great new features included in the spin-off title Animal Crossing: Happy Home Designer was various style options for your windows including blinds and curtains.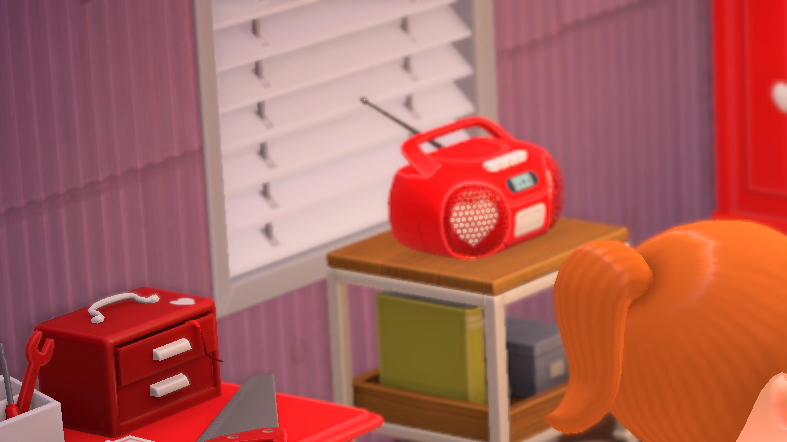 Based on the screenshot above of new window blinds from inside Fuchsia's house in the reveal trailer, we're betting that this feature will be coming to New Horizons too. While this isn't a player's home, it would make sense to be available for both.
Happy Home Designer also introduced custom doorway options for the entrances between your rooms inside a house, so we're hoping those might also come to New Horizons if the window styles are, but that's not been seen yet.
Half-tile furniture movement, indoors and outdoors
Possibly the best feature introduced to the Animal Crossing series with the Happy Home Designer spin-off was the ability to place and move items in half-tile increments. In the Treehouse Live demo, this half-tile movement was confirmed for Animal Crossing: New Horizons and even shown off inside the tent.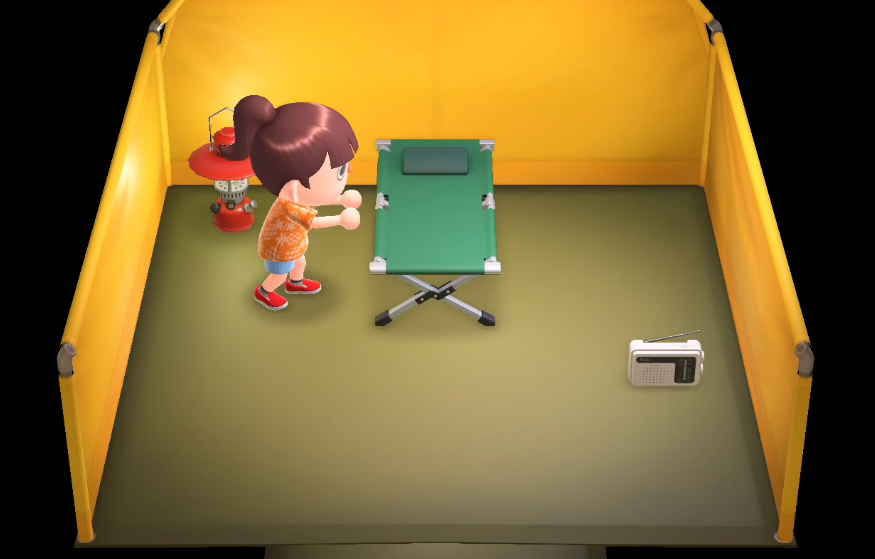 Notice the item perfectly centered in the middle — this was previously impossible in New Leaf with a 1 tile wide item! Furthermore, the same will apply with furniture placed outdoors judging by the placement of a lantern in the reveal trailer.
You can make fishing bait with clams
Near the end of the Treehouse Live demo, the developers revealed that clams can now be spotted under the sand and dug up with a shovel. That would be cool on its own, but these clams will actually be used for an entire new fishing bait system!
Additionally, it's revealed through this dialog that new DIY recipes aka crafting recipes can be unlocked just by finding a relevant item! Personally, we have been wanting fishing bait options since Animal Crossing for GameCube, so consider us HYPED for this one and looking forward to hearing more details.
Less restrictive placement outdoors
Animal Crossing: New Leaf introduced us to a whole new world of town decoration possibilities outside, but those options were unfortunately accompanied by many annoying restrictions on placement.
For example, a Public Work Project could annoyingly never be built directly next to a tree, bush, river, building, or another project. Even if it was just a small 1×1 size project like a sign or a topiary!
Thankfully we can already see multiple examples of less restrictive placement in Animal Crossing: New Horizons, like the garden gnome and fencing directly surrounding a tree and the water tap directly next to a house. There's also a bucket next to the river, and other items directly touching each other.
None of these placements would have been possible with New Leaf's Public Work Projects, but they are with the new outdoor furniture items in New Horizons and that's amazing.
We still expect larger new buildings and other potential public work projects to require some spacing like in New Leaf, but it's great that smaller decorative items like the garden gnome and fountain examples will have far more freedom than before.
More clothing options for villagers
While player characters had their clothing options dramatically improved in Animal Crossing: New Leaf with dresses, skirts, and long sleeved shirts, villagers have only been able to wear the basic shirt design. In New Horizons, we can see Freya wearing a cozy long sleeved winter shirt and Fuchsia wearing a purple-blue dress.
And as seen by Eunice, sheep can now wear at least part of a proper shirt, instead of being restricted to a scarf in past games!
You might be able to dig up trees as saplings
A big change to landscaping in Animal Crossing: New Horizons may have been hidden inside the 2 seconds of autumn footage from the reveal trailer! Watch the short clip below:
Did you see that? Instead of chopping down the tree with an axe, the player just dug their shovel under the tree and instantly pocketed a sapling! What the heck?
In previous Animal Crossing games, trees had to first be chopped down with an axe turning into a stump which was then dug up with a shovel leaving nothing but a dirt hole in the ground.
From the looks of this short clip, that's completely changed in New Horizons potentially allowing you to simply dig up trees to pocket them in your inventory for re-planting! It's very interesting, but we really need to see more to learn exactly how this will work.
The game auto-saves your progress
For the first time in the Animal Crossing series, New Horizons will introduce a new auto-save function like most other modern games these days. While details are light, we'll no longer have to worry about forgetting to save when turning off the game and losing hours of progress.
Unfortunately, that means Resetti is out of a job now! No need to worry about his presence in New Horizons though as it was confirmed in an interview with Mashable that he's looking for a new job.
Larger inventory with potential clothing sub-inventory
First, an obvious but important change: the inventory screen has gained an additional 4 slots over Animal Crossing: New Leaf rising to 20 slots in total with New Horizons!
What's more interesting though is that blue button with a shirt on it next to the Bells counter at the bottom. Could this be a special new section of your inventory for clothing and accessories without taking up precious main inventory space?
It's hard to imagine what else it could be, and throughout the Treehouse demo we never spot any clothing or accessories in their inventory. Unfortunately, they didn't select the button!
More items can stack, and automatically
Speaking of inventory, Animal Crossing: New Horizons is expanding on New Leaf's fruit stacking feature by expanding item stacking to the variety of new crafting materials. We can see that 5 flower seeds have been stacked together too.
Even better than item stacking on its own, we observed in the Treehouse Live demo that the stacking occurred automatically as the items were picked up by the player.
Nook Miles are quest-like goals rewarding a new currency
With the new Nook Miles feature in Animal Crossing: New Horizons, everyday activities will be rewarded with a new currency for completing goals. It sounds quite similar to the Town Initiatives with MEOW Coupons system introduced in the Welcome Amiibo update for New Leaf.
Using the new currency, you'll be able to spend them for rewards, just like a real airline mileage program. Per an IGN interview, the rewards will include a Nook Inc. uniform and new DIY recipes.
Here are the Nook Miles goal categories we spotted during the Treehouse Live demo:
DIY Tools (crafting tools)
First-Time Seller (sell items)
Weed Eater (pull weeds)
Have A Nice DIY!
Exterior Decorator
It sounds like the developers may use this new system with a separate currency as a way of better balancing the in-game economy too. In Animal Crossing: New Leaf, bells quickly became a very devalued resource with the infamous beetle farming tactics on the island, as well as the always present turnip stalk market.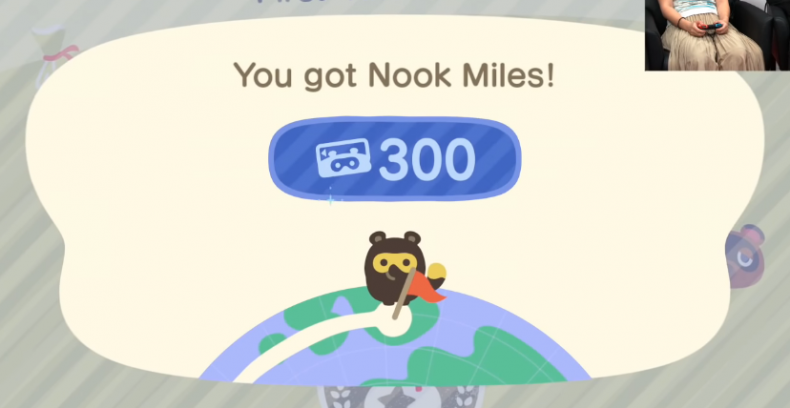 By using a different currency gated behind goals that can't be as easily 'farmed' infinitely, they could offer more valuable unique rewards purchasable with Nook Miles.
You can gift crafted items to villagers
According to an IGN interview, another new feature of Animal Crossing: New Horizons allows you to gift crafted items from the new DIY recipes directly to your villagers. Doing so will help improve your friendship with them, and you can even learn new DIY recipes from them too.
It's implied that there will be more new ways to improve friendship beyond this, so we might be in for a general overhaul of villager friendships in New Horizons!
You can select gender-neutral hair and face styles, plus skin tones
Animal Crossing: New Horizons has the most freeing character customization of any mainline Animal Crossing game yet, thanks to a new completely gender-free pool of hairstyles and facial features!
An option to change your player's skin tone is now available as well, for the first time in a mainline game. Good riddance to the island tanning system!
Even better, everything is changeable at any point, although we're not sure exactly how. Will there be some sort of new item or location on the island available from the start that can interacted with to enter a character editor, like in Happy Home Designer?
Alternatively, there could just be a simple button in the interface menus to access character editing like in Pocket Camp, but that would feel quite out of place for a mainline Animal Crossing game. It seems highly unlikely Shampoodle will return in its original form given that the deserted island wouldn't feature such a shop initially.
You can change a hemisphere setting for seasons
Revealed during the Treehouse Live stream, Animal Crossing: New Horizons has a new hemisphere setting made for players living in regions like Australia where the in-game seasons do not match up with their weather. Now you can switch between either the northern or southern hemisphere for your seasons!
This feature should be usable as an alternative form of time traveling too for players who don't like the current season, but don't want to go as far as fiddling with the actual date. Although we have to wonder how this may effect some in-game events — Christmas lights on trees in summer, anybody?
Camera mode with built-in filters and zooming
Taking in-game screenshots was a highly popular feature in Animal Crossing: New Leaf with how easy it was to snap a quick one by pressing L+R and Nintendo seems keenly aware with New Horizons.
Although a screenshot button isn't needed in-game thanks to the Nintendo Switch's built-in capture button, the developers have built a new camera mode app inside the NookPhone. Using the camera mode, you can apply some built-in filters and use a zoom feature.
That's everything for now!
Wow — Animal Crossing: New Horizons is already absolutely packed full of new features and we've barely seen the game so far! Hopefully you learned a few new things about New Horizons from this summary and we've left you even more excited than you were before.
Did you spot anything else yourself that we missed? And what favorite new feature outlined in this article are you looking forward to most? Please let us know in the comments below!
Pre-orders are now open for Animal Crossing: New Horizons at Amazon, GameStop, and Best Buy. Stay tuned to Animal Crossing World for more on Animal Crossing: New Horizons as we approach the release date next year.
Ad Type 3 Analysis Animal Crossing: New Horizons E3 2019 News