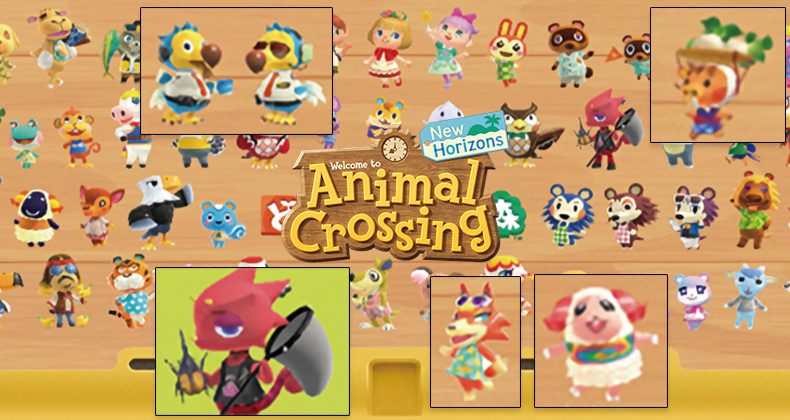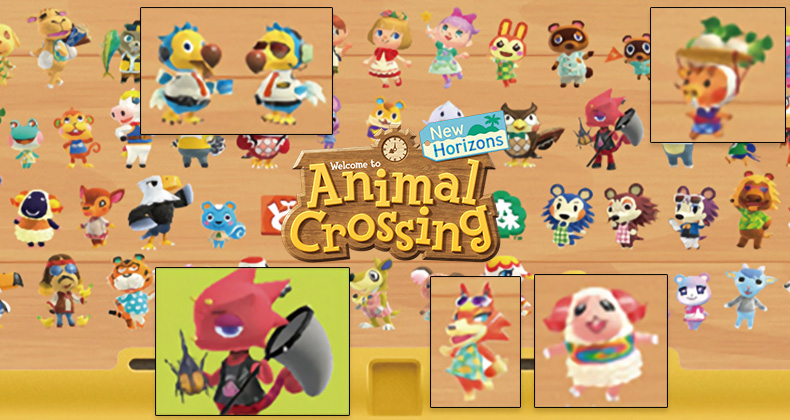 Big news is here! Multiple brand new characters in Animal Crossing: New Horizons have been revealed for the very first time today, plus the confirmation of many returning characters from past games.
This exciting news comes to us from yet another set of Animal Crossing: New Horizons accessories announced in Japan, in the form of sticker sticker seals for the Nintendo Switch. The sticker designs feature both brand new and returning characters seen for the first time!
Here are the full sticker accessory images below, so you can see everything for yourself. Hopefully we'll get these in a higher resolution soon but this is what we have for now…
Now let's go over everything notable in these designs, starting with the completely new special characters to New Horizons, including ones seen on the box art and even some we have never seen before!
A New Bug-Off Host?
Perhaps one of the most exciting new characters we can see on this sticker is what could be the new host for Bug-Off events in Animal Crossing: New Horizons. I'm not entirely sure exactly what species he (or she) is, but it looks like a chameleon most likely.
Generally the artwork of villagers don't include tools or items, but this guy has a net and bug prominently displayed, just like the new 'Chip Junior'. Based on that, it's highly likely he is a new special character host for the Bug-Off then.
Which brings the question, is this a relative of Nat, just like 'Chip Junior'? And will he replace Nat? So many questions here…
A Young Relative of Joan?
Next up, we have another potential 'junior' character in the form of what's likely a new relative character of Joan! This adorable little thing is carrying a huge pack of white turnips on his head, so I guess we'll just have to buy lots of turnips to help him out.
Once again, we're left wondering whether it's possible that Joan has been replaced by this new character, but we really can't say for sure either way. Time will tell!
The Dodo Duo
We already saw our first look at the new Dodo Airlines character in the box-art reveal earlier this month, but it appears there are actually two of them! Perhaps one will be piloting the seaplane, while the other takes care of departure manners at the dock?
I love seeing duos of characters in Animal Crossing, much like Copper and Booker or Reese and Cyrus, so I'm super happy about this reveal.
Another Look at 'Chip Junior'
While he's not entirely new as we saw him on the box-art before, we're getting another fresh look at the new beaver infamously known as 'Chip Junior', even though we don't for sure if that's his actual name yet!
Confirmed Returning Special Characters
We've now covered all of the new and noteworthy special characters for Animal Crossing: New Horizons, but there are a whole pile of returning characters present on this artwork too that can be newly confirmed in the game!
There's no point talking at length about them as you're already familiar, so here's a quick gallery of newly confirmed returning special characters photos below.
Saharah
Celeste
Wisp
Sable and Labelle
Gulliver
Kicks
Harvey
Brand New Villagers
And last, but definitely not least, we have a round of brand new villagers for Animal Crossing: New Horizons! I have to admit that I wasn't expecting any new villagers to be revealed after taking this long to see them, so I'm pleasantly surprised about this news.
These new villagers of course don't yet have any official names, so here's a quick gallery below of all the new ones we could spot.
One more thing — it's not a villager or special character, but there is one new human player render hidden within the sticker artwork too. Interestingly, she's holding what looks like it could be the Kiki & Lala Wand from New Leaf's Sanrio collaboration, as pointed out on Twitter!
Whew — that just about covers everything new there is to show off from these Animal Crossing: New Horizons sticker accessories for the Nintendo Switch! You can pre-order the new stickers for your own Switch from HMV Japan here if you're interested.
And don't forget about the other amazing Animal Crossing: New Horizons accessories from Hori, Keys Factory, and Max Games if you haven't seen them before!
Which new characters are you most excited about from this new round? And do you think the special characters with what appear to be relatives like Chip, Nat, and Joan are going to be retired or still return?
Let me know what you think in the comments below and let's get a discussion going! There really is so much to talk about from this news.
Animal Crossing: New Horizons launches worldwide in less than two months from now on March 20th! Check out our release date countdown here, or pre-order the game here. Stay tuned to Animal Crossing World for more news as we approach the release!