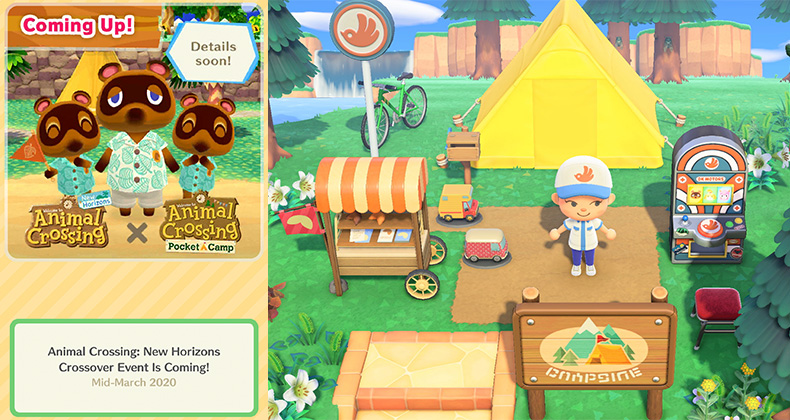 The upcoming crossover event between Animal Crossing: New Horizons and Animal Crossing: Pocket Camp finally has a time-frame set for when it will begin, thanks to a loading screen!
According to a new loading screen appearing in Animal Crossing: Pocket Camp today, there will be an Animal Crossing: New Horizons Crossover Event coming in Mid-March 2020. No more details have been announced inside Pocket Camp yet, but we did get information regarding the game in the Animal Crossing Direct last month.
Near the end of the Animal Crossing Direct, a set of collaboration items for inside both New Horizons and Pocket Camp were announced and shown off in a few quick screenshots, with more details promised at a later date.
Each Animal Crossing game will receive a set of special items celebrating the opposite game, so it's likely playing each game will be required to receive the items, but we don't know for sure yet exactly how this will work.
Pocket Camp themed items like OK Motors and the Fortune Cookie Stand will appear in New Horizons, while New Horizons themed items like the Dodo Airlines seaplane and various Nook Inc. branded materials will debut in Pocket Camp.
More details on exactly how this event will work should be announced in the coming days as Animal Crossing: Pocket Camp has a scheduled maintenance window planned for Wednesday, March 11th from 7 PM PDT to 11 PM PDT. Given that Nintendo advertised the downtime with an image showing some special items seen in the Direct, it's basically a sure bet!
It's that time again, campers! To update the game, we will be undergoing scheduled maintenance from approximately 7 PM PDT to 11 PM PDT on Wednesday, Mar. 11. During this time, you will be unable to play Animal Crossing: Pocket Camp. Thank you for your understanding! pic.twitter.com/ztFVxOEzGx

— Animal Crossing: Pocket Camp (@Pocket_Camp) March 9, 2020
It's worth noting that it's always possible the Crossover Event in Pocket Camp isn't actually directly connected to Animal Crossing: New Horizons in any way. But given that both sets of items were announced together in the Animal Crossing Direct and it's a perfect opportunity for Nintendo to drive Pocket Camp game installs, we're guessing they will be connected!
Assuming that playing Pocket Camp is involved to receive the collaboration items in Animal Crossing: New Horizons though, we'll be sure to have a handy guide posted as soon as possible to make it easy as possible for you to get the special Pocket Camp themed items.
What do you think of the collaboration items for both games? Would you want to get your hands on the Pocket Camp items in your New Horizons game, or do you not really care? Let me know in the comments below!
Animal Crossing: New Horizons launches worldwide on March 20th! Pre-order the game here, the official guide here, and check our release date countdown here. Stay tuned to Animal Crossing World for more news as we approach the release!
Animal Crossing: New Horizons Animal Crossing: Pocket Camp News