New details on the upcoming new Bunny Day event for Easter in Animal Crossing: New Horizons have just been announced by Nintendo today!
In a brand new Nintendo Direct Mini released this morning, the company shared new information and visuals of the Bunny Day event celebrating the Easter holiday that will be available to play beginning on April 1st through April 12th next month.
Similarly to Easter events in past Animal Crossing games, you will meet the Zipper T. Bunny special character who tasks you with collecting special Easter Egg items for him in a variety of ways.
Based on the footage shown today, you'll be able to both dig up the eggs from the ground and fish them out of the ocean! In Animal Crossing: New Leaf, eggs could also be found by shaking trees, shooting down balloons, and hitting rocks in your town. It's likely these old methods will all return!
What's new in Animal Crossing: New Horizons however is that your Easter Egg items will be used to craft limited-time Egg Series furniture at a workbench using the game's new DIY Crafting feature, which is definitely a clever twist on the classic holiday formula in the series.
While we don't yet have a complete list of Egg furniture available for the event yet, a variety of fun new Egg items can be seen in the Nintendo Direct Mini footage showing us that the furniture has recieved a total makeover in New Horizons from past Animal Crossing games.
It's worth noting that you cannot currently play the Bunny Day event in-game, even if you time travel by changing the real time clock on your Nintendo Switch to April 1st, because a small further update will be required as a download on April 1st to unlock the content.
In addition to Bunny Day, today's Nintendo Direct Mini also announced a future major update for Animal Crossing: New Horizons arriving in April with Leif and Earth Day — learn more here!
Here's a few more high resolution 1080p screenshots of the Bunny Day Easter event in Animal Crossing: New Horizons below straight from the Nintendo Press Room!
Be sure to click on them to load the highest quality version without compression, including the other ones include earlier in the article.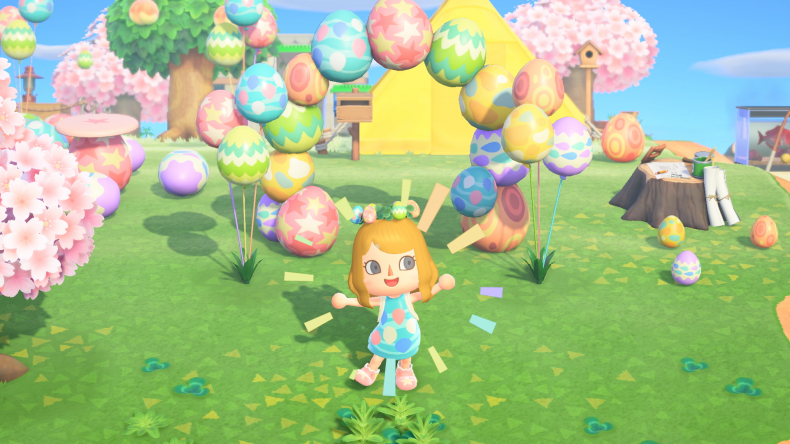 Are you excited to participate in the brand new Bunny Day event for Animal Crossing: New Horizons in a just few days? Happy about the new Egg furniture redesign, or wish for the old ones to return? Let me know your thoughts in the comments below!
For more on Animal Crossing: New Horizons, check out our work-in-progress Guides section here.