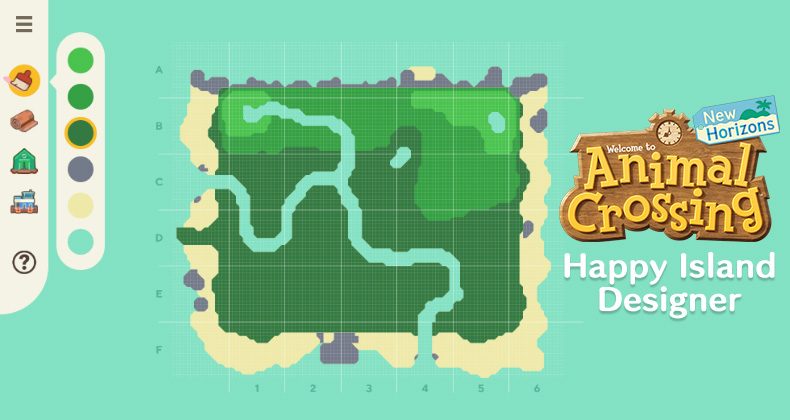 We're getting closer to the release of Animal Crossing: New Horizons on March 20th with each and every day, and one of the favorite ways to pass the time for many fans has been designing their new island layout!
Unfortunately, if you're not particularly talented with art or graphics programs, making these lovely island design plans can be quite the challenge. We have good news though because an amazing web-app cleverly called the 'Happy Island Designer' has been created by Eugeneration to solve this problem!
UPDATE: Looking for a more sophisticated 3D application? Check out the new 3D Island Planner by Rob Fichman featuring a full 3D enviroment for designing your island!
With the Happy Island Designer web-app, you can design the rivers, beach, rocks, and every tier of terrain for your upcoming deserted island. Beyond the basic terrain tools, you can add a few types of paths around your island to match New Horizons' brand new path-making tool.
Various building options are available too for easily placing villager residents, player homes, trees, bushes, and more. You can choose from a few types of designs for both your trees or houses. (tents are available if you prefer!)
Finally, some large amenities can be placed as well including the Resident Services, Airport, Nook's Cranny, Able Sisters, The Museum, and Campsite buildings. A few basic bridges and cliff ramps are available too but are pretty limited, at least for now.
Check out the Happy Island Designer web-app yourself on GitHub here if you'd like to try out designing your Animal Crossing: New Horizons deserted island while you wait for the launch later this month.
Quite a lot of effort looks to have gone into this handy island designer and I wouldn't be surprised to see it greatly improved upon in the near feature. A huge appreciation goes to Eugeneration for putting together this great creation that is sure to help pass the time until March 20th for many Animal Crossing fans!
Let me know in the comments below what you think of this designer web-app and be sure to drop a link below to a saved image of your design if you happen to give it a try! I'm definitely going to fiddle around with it a little bit soon.
Animal Crossing: New Horizons launches worldwide on March 20th! Pre-order the game here, the official guide here, and check our release date countdown here. Stay tuned to Animal Crossing World for more news as we approach the release!