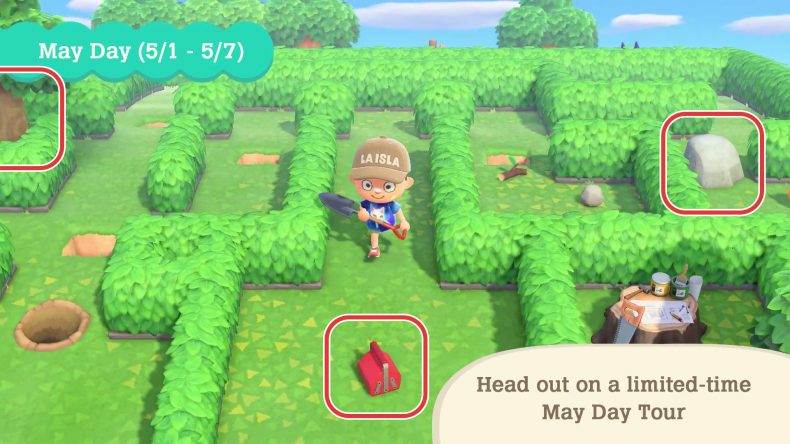 Today's huge announcement of the April Update for Animal Crossing: New Horizons brought a lot of new features and reveals in a very short trailer, so let's go over five small details you might have missed!
If by any chance you haven't heard too much about the new update announcement already though, be sure to check out our other articles covering the main April Update Highlights and the Upcoming April / May / June Events.
Leif Will Sell Flower Seeds Rare To Your Island
As you likely already know, one of the biggest additions in April's major Animal Crossing: New Horizons is the arrival of Leif with his new Garden Shop. His primary purpose will be selling brand new bushes for the first time, but we can see in the trailer that Leif will be selling some flower seeds as well.
But why would he sell flower seeds anyway? Surely, we could just purchase them from Nook's Cranny just as we already have been able for the past month? It turns out there is a very good reason after all!
Thanks to a small mention on the official Japanese Nintendo website, we can confirm that the flower seeds Leif sells will be flower types that are rare to your island.
[At Leif's Garden Shop you can buy] seeds of the flowers that are hard to find at the stores on the island.
As many players probably already know, there seems to be some sort of flower rarity system in play with the seeds sold at your Nook's Cranny. Different islands tend to have certain flower seed types for sale more often than others, sometimes making a visit required to another island for finding missing seeds.
Thanks to Leif's Flower Shop though, it seems that this online trading of basic flower seeds could be a thing of the past soon when the update lands!
The Museum Expands To The Edges With A New Design
We're super excited for the Museum to gain a huge upgrade indoors with the new Art Gallery exhibit section being added alongside Jolly Redd's Treasure Trawler. But did you notice that the outside appearance of the Museum has received a nice upgrade as well?
Check out both the original Museum design currently seen in Animal Crossing: New Horizons, and then the newly improved updated version in the comparison below:
Interestingly, the seemingly wasted empty space on each side of the original Museum design has been removed too with the newly upgraded building taking over that area. It's nice to see that the empty spacing was serving a good purpose besides just annoying some players!
You Can Spot The New Art Gallery Doorway
Ever since fans first saw the inside of the Museum in Animal Crossing: New Horizons, there's been endless speculation about the seemingly empty upstairs area in the main foyer.
It turns out if you look very closely in the new April Update trailer when International Museum Day is introduced, you can actually spot what appears to be a new doorway in that upstairs area! While we can't say for sure, it's almost certainly leading to the new Art Gallery area that's been confirmed today.
Obviously, this isn't exactly groundbreaking information, but we thought it was a cool little detail to see that the fan theories were essentially 100% correct on expecting a new area to be added up there!
May Day Tour Island Item Puzzles?
In our view, one of the most interesting new additions revealed in today's April Update trailer was the May Day Tour event featuring a new set of mystery islands to visit! On the surface, the new island type looks pretty neat, but we think there's even more if you take a deeper look.
With a closer inspection, we definitely think some kind of semi-complicated puzzle is in play here on the new May Day Tour islands. Specifically, we're focusing in on the suspicious red toolbox item on the ground in the middle, the blocking rock on the right, and the blocking tree on the left.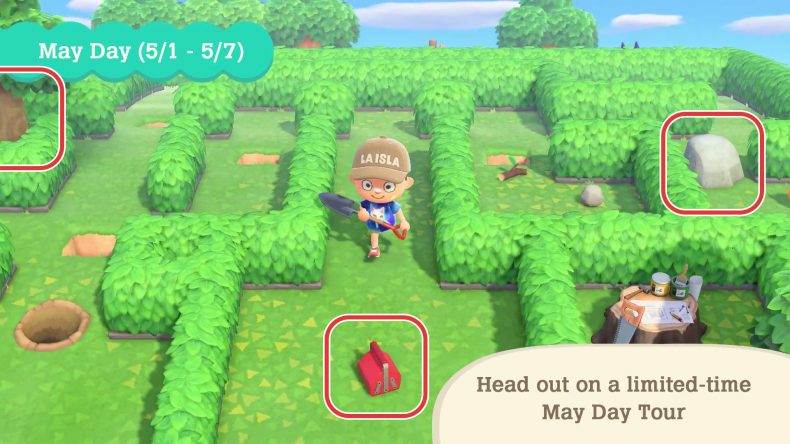 Why would there be a tool item on the ground though? It's just a theory of ours, but it's possible that May Day Tours will start you off with all of your items taken away leaving you to work you way through a puzzle obtaining and using items to progress.
For example, that toolbox item on the ground in front of the player could be an Axe tool that can be used to destroy the tree on the left. Behind that tree could be another tool like a Vaulting Pole or Ladder unlocking another area.
And maybe the player found that shovel tool he's carrying somewhere else on the island allowing him to destroy the rock on the right side leading to another area? Perhaps this is all a bit of a stretch, but we think there might be something here given the strange maze layout of the screenshot, not to mention the tool on the ground.
Rover Returns On May Day Tour Islands
Finally, we can't forget that classic Animal Crossing character Rover can be seen in a May Day Tour island screenshot confirming he will be returning in Animal Crossing: New Horizons!
We left this one to the very end suspecting that many of you have likely already heard about his return, but it's worth including here just in case you haven't! It's a pretty big deal in our opinion to see Rover making a grand return given his odd absence in New Horizons originally.
As for what Rover actually will do in this game, that remains a mystery still for now, but we suspect he'll be involved in running whatever shenanigans happens on these new May Day Tour islands!
It'd be even better if he were to gain a more permanent role outside of a week long event, but it's not as if Rover was seen any more frequently in Animal Crossing: New Leaf either.
---
That just about wraps up our brief analysis going over five smaller details that you might have missed in the announcements today for April's Animal Crossing: New Horizons update! I hope you learned at least a couple new things in this article.
For more on Animal Crossing: New Horizons, check out our many helpful pages on the game in the Guides section here.