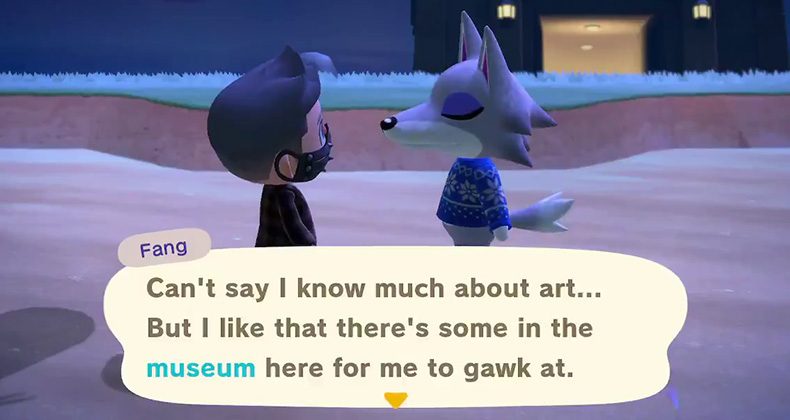 An interesting piece of villager dialogue newly discovered in Animal Crossing: New Horizons is raising exciting questions about possible future content coming to the game!
First spotted by a Twitter user, the cranky villager named Fang has a very intriguing speech discussing how much he enjoys viewing the art at the local island Museum and pretending to appear thoughtful while he stares away towards each piece.
But as anyone who's been playing Animal Crossing: New Horizons for the past few weeks knows, there's definitely no art pieces to be found in the game's Museum, whether that be a painting or a statue!
So the fact that there's an entire villager speech in the game discussing the feature is pretty peculiar. It's possible that art was originally planned for the Museum and the dialogue was written before plans changed with the feature removed, or it's some speech intended for a future update that was unintentionally included.
Many fans have been wondering about the conspicuously empty area above the stairs in the Museum too, so it wouldn't be a huge surprise. Either way, it's a pretty interesting sighting and makes us wonder about what future content could be coming to Animal Crossing: New Horizons, beginning with the update planned near Earth Day later this month.
Check out the full clip of Fang discussing viewing art in the Museum from @sylvidia on Twitter below:
did fang just leak the art dlc #AnimalCrossing #ACNH #NintendoSwitch pic.twitter.com/eKJxX9lobo

— ka (@sylvidia) April 6, 2020
If an Art section is added to Animal Crossing: New Horizons' Museum in the future, we really hope that the special character Crazy Redd from past Animal Crossing makes a triumphant return as well.
He's been sadly missing from New Horizons and was previously the main method for getting art pieces, so it's quite likely that he could arrive alongside an update introducing painting and statues!
Do you think this means we'll be seeing an Art section coming to the Museum in Animal Crossing: New Horizons anytime soon? What updates would you like to see for the game? Let me know your thoughts in the comments below!
For more on Animal Crossing: New Horizons, check out our Guides section here and stay tuned to Animal Crossing World for updates.