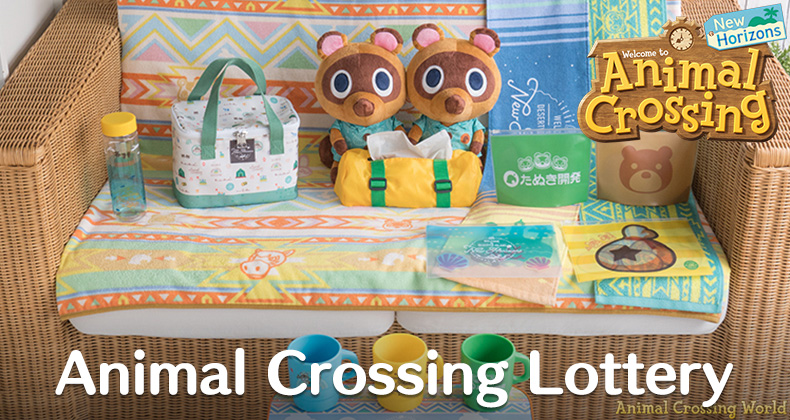 We've already seen quite a bit of brand new merchandise for Animal Crossing: New Horizons lately, but another very special set is coming very soon to Japan through an upcoming lottery!
This lottery has been planned for quite some time going back to late 2019 before New Horizons even released, but unfortunately suffered many delays for obvious reasons. After these delays, the lottery is finally ready to launch on August 15th next month in Japan.
By purchasing a ticket at select convenience stores and Nintendo Tokyo for 650 yen, you can enter to win a variety of different Animal Crossing: New Horizons themed merchandise prizes from the lottery.
Unlike many other lotteries, it's not actually possible to lose as you'll always receive a prize every time — even if it's not quite the one you were hoping for. As you'd expect the quality ranges from elaborate to simple, but most Animal Crossing fans would probably be happy with anything.
And if the idea wasn't cool enough already, the lottery tickets themselves are even appropriately themed with popular Animal Crossing villagers including Apollo, Bunnie, and Goldie! You can check out how they look above.
For those of us living outside of Japan who would love to get in the action though, there are a few websites online that run simulations of these lotteries allowing everyone a chance at getting their hands on the Animal Crossing prizes. We'll share more details on some of these options when the lottery gets closer.
Animal Crossing: New Horizons Lottery Prizes
There are nine different types of prizes to win the Animal Crossing: New Horizons lottery, including a few with different design variants. Check out all of the prizes below…
Prize A: Timmy & Tommy Tissue Case
This amazing case for your tissues featuring both Timmy & Tommy is a highlight item for the lottery, although it's rather large!
Prize B: Animal Crossing Rug
This Animal Crossing themed rug with characters like Isabelle and K.K. Slider can make a great towel or light blanket as well.
Prize C: Animal Crossing Lunch Bag
The decorative Animal Crossing lunch bag with fully enclosing zippers is  decently sized and could be used a shopping bag too.
Prize D: Animal Crossing Clear Water Bottle
Decorated with characters at the top on an island fishing, this Animal Crossing clear bottle is the perfect container for water on the go. There's even fish decorations towards the bottom for when its filled up!
While it's not the most elaborate prize, this is probably our favorite item in the lottery just because of the  ingenious fishing idea.
Prize E: Clear Animal Crossing Pouches With Slider
These clear pouches with sliders come in four different Animal Crossing designs including Bells and the Nooklings.
Prize F: Stackable Animal Crossing Mugs
Three different Animal Crossing themed mugs in blue, green, and yellow are available as prizes, and they stack perfectly in case you win more than one!
Prize G: Animal Crossing Towels
Six different Animal Crossing towel designs can be won in the lottery in both small and large sizes. There's a large variety of designs ranging from characters to pattern to logos.
Last One Prize: Animal Crossing Characters Mini Table
Likely the most coveted prize in the lottery, this Animal Crossing Mini Table features 15 different characters on display in a decorative table.
Note that the Last One Prize is very rare since there's only one to win in each lottery set.
Double Chance Prize: Large Animal Crossing Leisure Bag
A giant Animal Crossing leisure bag rounds out the lottery prizes as the Double Chance prize, featuring the same illustrations seen on the lunch bag.
We're not experts on how the lottery works, but believe the Double Chance Prize is won via a separate online entry system after buying a ticket.
---
That covers all of the prizes available in Japan's Animal Crossing: New Horizons lottery happening this August! For more photos that we didn't include here, check out Japanese publication GAME Watch's article here. (via Japanese Nintendo)
Stay tuned to Animal Crossing World for everything on Animal Crossing: New Horizons, including our extensive Guides section here. In particular, don't miss out on our new Sea Creatures, Pascal's Mermaid Set, and Pirate Gulliver guides.