Want to get your hands on some official Animal Crossing: New Horizons merchandise? My Nintendo is now carrying four different physical prizes in the United States and Canada up for grabs during October!
Beginning today, you can now find a Dodo Airlines branded shopping bag, a Tom Nook themed shopping bag, a Leaf Bandana resembling the Nook Inc. in-game item, and a Tom Nook keychain on Nintendo's loyalty program.
Each Animal Crossing item costs between 600 to 1000 Platinum Points, which can be obtained largely for free with enough time spent, to redeem for a special promotional code usable on the Nintendo Store to order the physical item to your mailing address within US & Canada.
Note that these prizes are advertised as available for a limited time until October 31st, while supplies last. If we had to guess, they'll be gone sooner than later, so don't delay. It's not clear if sold out items will be re-stocked or not.
Animal Crossing: New Horizons My Nintendo Prizes
Find details, images, and prices for all four of the Animal Crossing: New Horizons prizes now available on My Nintendo in the US and Canada listed below.
And for more information on exactly how you can earn these prizes if you're unfamiliar with the workings of My Nintendo, keep reading further down this article.
Animal Crossing™: New Horizons – Leaf Bandana: 600 Platinum Points
Fall into fashion this autumn with a lovely bandana inspired by the Animal Crossing leaf motif.
Made in China
100% polyester
Size: 21"x 21" Package size: 5.5"x5.5"
Animal Crossing™: New Horizons – Dodo Airlines Shopping Bag: 800 Platinum Points
This handy reusable bag features the Dodo Airlines logo and is a perfect way to pack for your next island-hopping adventure.
Made in China
100% polyester
Bag size: 23"x 16" Package size: 5"x5"
Animal Crossing™: New Horizons – Tom Nook Shopping Bag: 800 Platinum Points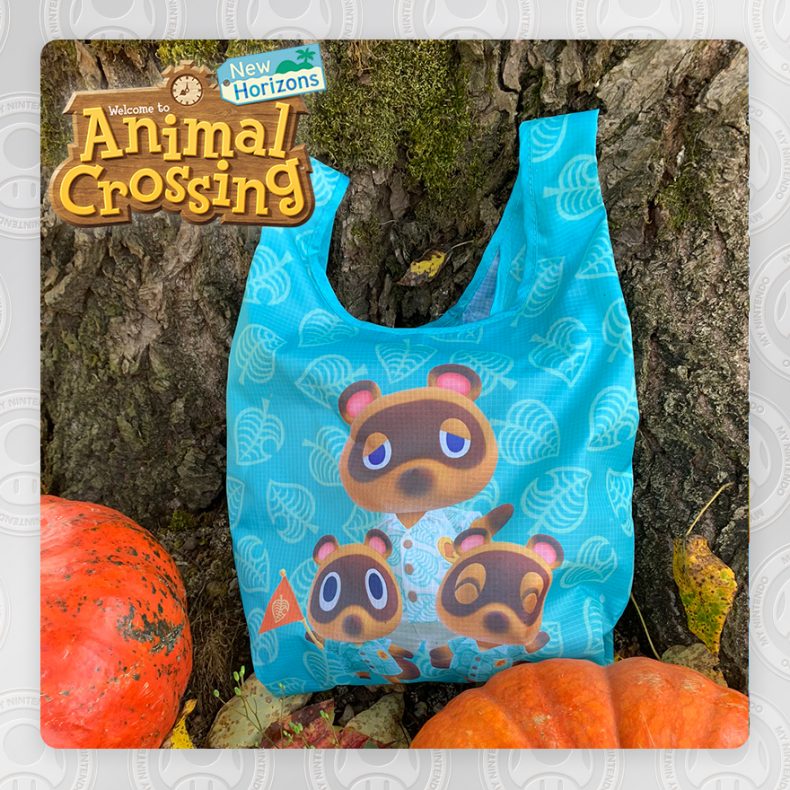 Bring your Bells with you wherever you go with a reusable bag featuring Tom Nook and the Nooklings, Timmy and Tommy.
Made in China
100% polyester
Bag size: 18″x 10″ Package size: 3.5″x4″
Animal Crossing™: New Horizons – Tom Nook Keychain: 1000 Platinum Points
Clip this cute keychain to your set of keys for a constant reminder that you're probably still paying off your in-game mortgage.
Made in China
Size: 5″
How To Get My Nintendo Platinum Points
Not to be confused with the Gold Points on My Nintendo, which require purchases of games to acquire, Platinum Points are relatively easy to come by without spending any money. All you have to do is complete various different missions listed on the My Nintendo website.
Many are one-time missions that you may have already completed in the past, while some others are repeatable even if you've done them before. The majority of missions involve playing one of Nintendo's many mobile games, including Animal Crossing: Pocket Camp and Fire Emblem Heroes.
In addition to the mobile game missions, some others are as simple as clicking buttons around the My Nintendo website or even on other pages like the Super Mario 35th Anniversary website. Either way, head on over to the Earn Points page here to see all of the available missions.
Here's a few of our suggested missions to check out — you should be able to easily rack up enough points for a reward with these:
Linking accounts and completing camper requests in Animal Crossing: Pocket Camp
Clearing chapters in Fire Emblem Heroes
Adding friends and clearing worlds in Super Mario Run
Finding Gates on the ASTRAL CHAIN website
Interacting with the SuperMario35.com website
Shipping Costs
An important catch which makes these My Nintendo rewards not quite completely free is that Nintendo does charge shipping on the item, even if the actual prize itself is free.
In the Untied States, the Nintendo Store will ship via USPS for 5 dollars. For Canadians, shipping is available through Canada Post for 7 dollars. These definitely aren't unreasonable costs by any means, but it's good to know up front before spending your points in case it's an issue.
How To Order Animal Crossing: New Horizons My Nintendo Prizes
First, pick out the prize you wish to claim and redeem your Platinum Points for it on My Nintendo. Here are some handy links again to each prize:
Before redeeming though, make sure there's no indications on the page that the item is sold out. We're told that these prizes are in limited quantities until supplies last and likely won't last long.
Once you've redeemed points for the prize, a fun animation will occur and your reward code will appear on the page. Click the nearby Access Prize button to be taken to the Nintendo Store page for the item.
When you're on the Nintendo Store product page for your prize, press the Add To Cart button and enter the reward code from My Nintendo when prompted.
You can now go through the Nintendo Store checkout process with your Animal Crossing prize ready to go in the cart. Remember that shipping fees are charged, so you'll need to provide a payment method to pay those costs.
If everything goes well, you should hopefully now have a confirmed order for some exclusive new Animal Crossing: New Horizons merchandise coming your way soon at minimal cost! We hope this article was helpful in your journey.
Stay tuned to Animal Crossing World for everything on Animal Crossing: New Horizons, including our extensive Guides section here. In particular, don't miss out on our popular Pumking Farming, Spooky Set Items, Acorns & Pine Cones, Redd Art, and Sea Creatures guides.