It's Gracie's birthday today, so let's take a look back at who Gracie is from past Animal Crossing games and what she brought with her including five amazing furniture sets!
Who Is Gracie In Animal Crossing & What Did She Do?
Gracie is a giraffe special character working as a fashion designer seen in every mainline Animal Crossing game up until Animal Crossing: New Horizons. While her exact role in each title has varied a bit, most recently she has focused on her GracieGrace store selling luxury furniture and clothing.
In Animal Crossing: New Leaf, players could encounter Gracie visiting their town randomly proposing Fashion Checks. These fashion checks aren't too dissimilar from how Label functions in New Horizons, although Gracie has historically been a bit more strict.
GracieGrace Store In New Leaf
After passing Gracie's fashion check four different times, a brand new floor is opened up at the Nook's shop called GracieGrace featuring her very own products! As a high-end fashion designer, the exclusive furniture sold inside GracieGrace is far more expensive than anything else in New Leaf.
These prices are somewhat reminiscent of the high priced furniture found inside the upgraded Nook's Cranny in New Horizons where a Laptop can sell for 70,000 Bells, but even more pricey in many cases!
Each season throughout the year brings a different series of exclusive Gracie furniture for sale at GracieGrace, with clearance sales held towards the last 2 weeks of every season period. A special fifth furniture set called the Card Series takes the place of sold out items during sales.
In addition to furniture, a selection of exclusive clothing is sold at GracieGrace too, but we'll be focusing only on the home decoration items in this article.
Gracie's Card Series
The Card Series is uniquely sold in place of 'Sold Out' items during the last two weeks sale period at the end of each sales season at GracieGrace.
As the name implies, these items resemble a deck of playing cards turned into everyday furniture pieces! The complete Card Series costs 2,070,000 Bells to purchase.
Gracie's Princess Series
The Princess Series is exclusively sold during the Spring season from March 1st to May 31st at GracieGrace.
Fit perfectly for a fairytale theme, this set is made for a princess! The complete Princess Series costs 1,926,000 Bells to purchase.
Gracie Series
The Gracie Series is exclusively sold during the Summer season from June 1st to August 31st at GracieGrace.
These items certainly aren't the best that Gracie has to offer, but the design represents her personal brand matching the colors seen on her clothing! The complete Gracie Series costs 2,496,000 Bells to purchase.
Gracie's Sweets Series
The Sweets Series is exclusively sold during the Fall season from September 1st to November 30th at GracieGrace.
Try not to get hungry inside your home with this set of furniture made from chocolate, ice cream, wafers, and more! The complete Sweets Series costs 1,534,000 Bells to purchase.
Gracie's Gorgeous Series
The Gorgeous Series is exclusively sold during the Winter season from December 1st to February 28th at GracieGrace.
Featuring a stunning selection of black, red, and gold trimmed furniture, these items are great for a royal look. The complete Gorgeous Series costs 2,158,000 Bells to purchase.
Will Gracie Come To Animal Crossing: New Horizons?
Unlike some of the other missing characters that have had their purposes directly replaced by a successor, like Joan and Nat, it's not clear to us that Gracie's role has been truly fulfilled.
Yes, Label does perform a limited version of a Fashion Check and some furniture at Nook's Cranny is pricier than before. But Grace's recent defining feature of expensive complete sets of furniture and pricey clothing remains missing from New Horizons.
Plus, we think it's safe to say at this point that one of the most highly demanded new features for Animal Crossing: New Horizons isn't an actual feature — it's simply a desire for more furniture options in general!
Introducing Gracie would be a great way to fulfill that demand by using her as a mechanism to add additional furniture sets, and in an expensive manner that reflects how players have had over half a year to save up Bells. Plus, we're still hoping for a third Nook's Cranny upgrade too!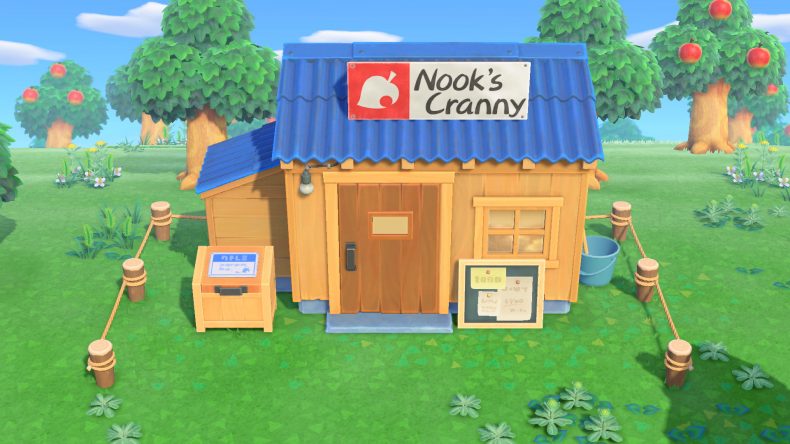 So in conclusion, we're feeling a healthy mix of hopefulness and optimism for Gracie making a return with her furniture to Animal Crossing: New Horizons sooner or later.
What do you think? Which of Gracie's five exclusive furniture sets would you most like to see come to New Horizons in a future update? Or do you have any new ideas for Gracie sets? Let us know in the comments below!
Stay tuned to Animal Crossing World for everything on Animal Crossing: New Horizons, including our extensive Guides section here. In particular, don't miss out on our popular Mushrooms, Maple Leaves, New Fish & Bugs In November, Spooky Set Items, Acorns & Pine Cones, Redd Art, and Sea Creatures guides.
Image Sources: Sosostris, Fandom, Reddit, Tumblr
Animal Crossing: New Horizons Animal Crossing: New Leaf Welcome amiibo Editorials