The latest major content update for Animal Crossing: New Horizons has just been announced by Nintendo called the Winter Update! It'll add multiple brand new events and features, so let's dive in.
Good news though — we don't have to wait very long as this exciting new update is just around the corner on November 19th later this week!
Turkey Day Thanksgiving Event With Franklin
Are you ready to celebrate American Thanksgiving with your villagers and a special guest? Turkey Day is the latest event coming to Animal Crossing: New Horizons being held on November 26th in both the Northern and Southern Hemisphere.
During Turkey Day, the world-class chef Franklin the Turkey will pay a special visit to your island to host a gathering outside Resident Services.
To avoid getting himself cooked up for dinner, he'll task you to collect ingredients for you across your island to cook up special holiday dishes for display in the plaza!
As you'd expect, Franklin will give you a special gift in return for your assistance with his cooking, although we don't know exactly what those item(s) will be yet. Judging by the trailer though, it seems we'll definitely be getting some food items to take home with us for decoration.
In previous games, Franklin gave a special purple Harvest Series of furniture, but we're not seeing any signs of that here so far.
Toy Day Christmas Event With Jingle
Christmas is coming to Animal Crossing: New Horizons with the Winter Update bringing a brand new Toy Day event on December 24th. The island will become more and more festively decorated as the day approaches!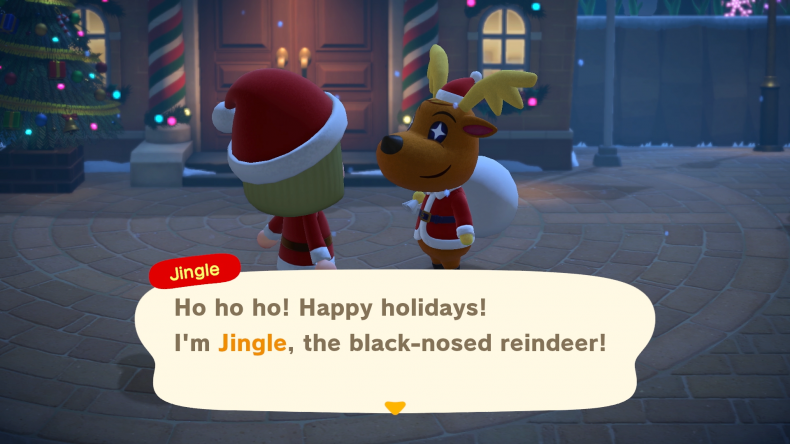 Then on December 24th, you can meet Jingle the Reindeer as he shows up to your island for a special holiday visit bringing holiday gifts for all.
Jingle will need your help spreading the holiday fun though, so you'll be able to play as Santa going around the island giving gifts to all of your villagers!
After you help him deliver all of his holiday gifts to everyone, Jingle will reward you with a special gift yet to be determined. In past Animal Crossing games, he would give out red and green Jingle furniture!
New Holiday Toys & Clothing In Shops
Beginning on December 1st, brand new holiday toys at Nook's Cranny and holiday themed clothing at Able Sisters will begin to be sold at these shops!
You'll soon be able to shake your trees as well to find hidden holiday ornaments for crafting Christmas themed items — but those are technically already in Animal Crossing: New Horizons and not strictly part of this update.
House Item Storage Space Upgrade
While new events and items to enjoy are always exciting, the best new addition in the Winter Update for some fans might be something much more low key…
Are you an Animal Crossing: New Horizons hoarder? Nintendo has heard your pain and suffering as an additional storage space upgrade for your house will now be available in the Winter Update!
By speaking to Toom Nook at Resident Services after expanding your house to the maximum size and paying off all the debt, he can upgrade your item storage by adding 800 new slots for a total of 2400 item slots.
It may seem like a little thing, but we're honestly so pleased to see Nintendo acknowledge the storage space pains of Animal Crossing collectors with this update!
New Reactions & Hairstyles To Unlock
If you've got some Nook Miles burning away in your wallet, a new use for them is coming in the Winter Update!
Nine brand new Reactions and six brand new Hairstyles can be unlocked by redeeming some of your hard earned Nook Miles at the Nook Stop Terminal.
These new Reactions include an exciting ability to sit your character down on the ground and perform a yoga pose! As for the new Hairstyles, it seems Nintendo has made an effort to be more inclusive and diverse with the options in Animal Crossing. We're glad to see it!
Island & Resident Save Data Transfer Feature
We've heard from endless readers over the past few months upset over the limited options for transferring your island between two Nintendo Switch systems. Thankfully, the dark days are coming to an end.
With the Winter Update, you can now easily transfer your entire Animal Crossing: New Horizons island to another system using the Island Transfer Tool for free download in the Nintendo eShop.
Even better, it'll also be possible for additional players on an existing island to move their data off to another system with inventory, house, storage, and more intact.
We don't have the space to go into the full details here yet, so check out Nintendo's official support page on the Island & Resident Transfer feature here.
The Next Update With Pave Is Coming In January
If you're still itching for more Animal Crossing: New Horizons content that isn't included in this update, watch out for the next major update releasing in Late January!
As usual, the official details are very light, but we can spot special character Pave from previous Animal Crossing games showing his face on the announcement graphic.
For those not familiar, Pave is a raving peacock who hosts the Festivale event in Animal Crossing in February or March. Typically, this event involves catching falling colored feathers from the sky and bringing them to Pave for rewards!
Notably, the scheduled date for Festivale following past games shouldn't arrive until February 15th, making an update release in Late January quite a bit early. We're inclined to guess this is a sign that the update may include some major new non-event features as well!
Nook Link Catalog, New Nook Shopping Items, New Dream Island Feature
On top of all the major features mentioned above that were highlighted in the official announcement trailer from Nintendo, another set of smaller additions can be found in the press release and the Japanese website that weren't included in the trailer.
Those additions include an interesting new Nook Link catalog feature, many new seasonal items in Nook Shopping, and an exciting new feature for visiting Dream Islands with Luna! You can learn more details about all of these 'secret' features in our complete 5 New Additions In Animal Crossing: New Horizons Winter Update Missing From The Trailer article here.
---
That just about covers all of the major new Animal Crossing: New Horizons events, features, and more coming in the Winter Update on November 19th!
Let us know in the comments below what you think so far of this exciting new content update and what you're looking forward to experiencing most. I'm so excited for the holidays and storage upgrade personally!
Stay tuned to Animal Crossing World for everything on Animal Crossing: New Horizons, including our extensive Guides section here. In particular, don't miss out on our popular Mushrooms, Maple Leaves, New Fish & Bugs In November, Spooky Set Items, Acorns & Pine Cones, Redd Art, and Sea Creatures guides.