New villagers from the upcoming Animal Crossing: New Horizons Version 2.0 update have arrived in Animal Crossing: Pocket Camp for smartphones today bringing new confirmed details!
Although the new villagers in Version 2.0 were first revealed over two weeks ago with the new Series 5 Animal Crossing Amiibo Cards, some key details have remained unconfirmed by Nintendo until now with Pocket Camp giving us a new look.
First of all, here's the biggest bombshell from today's reveals that is likely to turn some heads: That new blue rabbit Sasha is a male villager! Despite some initial impressions from fans that Sasha would be a female villager, that's not the case after all.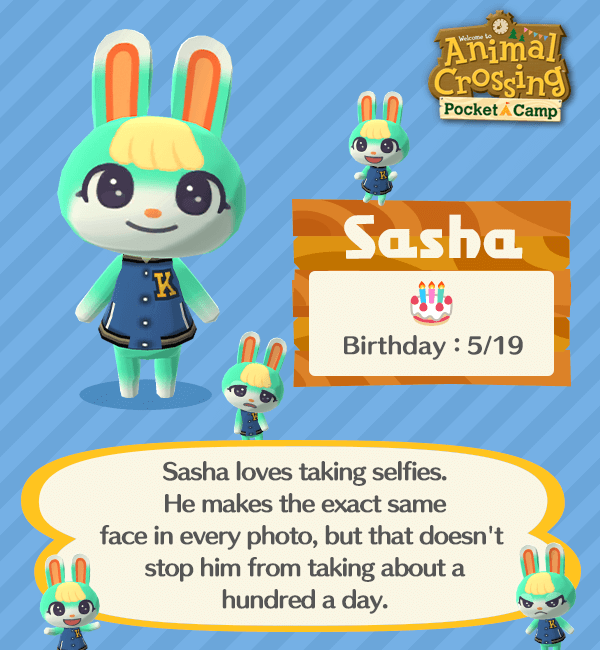 According to Animal Crossing: Pocket Camp, Sasha 'loves taking selfies' and 'he makes the exact same face in every photo, but that doesn't stop him from taking about a hundred a day.' Furthermore, datamining has confirmed that Sasha has the Lazy personality.
This won't be entirely new to everyone as Sasha's male gender been wildly speculated by some fans in recent days, due to a curious pattern in villager amiibo card order, but this marks the first time that Nintendo has officially confirmed these details.
Another villager that some have been unsure about their gender is the new cream colored Deer named Shino! While it was speculated that Shino might be a male villager, due to their prominent and large horns, it's been confirmed by Pocket Camp that Shino is a female villager.
As Nintendo says in her official description, Shino 'seems like the quiet mysterious — before she starts talking'. She's known to 'befriend everyone she meets' and 'tell them her whole life story in the process.' Additionally, her personality is Peppy.
Every other new villager coming in Version 2.0 of Animal Crossing: New Horizons had a pretty straightforward gender already, but some personalities were a bit unclear.
One new villager that's sure to be popular with Animal Crossing fans is the blue Squirrel named Ione featuring a celestial-style tail, who can now be confirmed as a female Normal personality villager! The struggle of having too many Normals on your island is sure to continue with her…
Another new villager we expect may end up quite popular with players is the sweet white Mouse named Petri who sports a doctor's coat in her default clothing. She's now confirmed as a Snooty personality villager, thanks to Pocket Camp.
In conclusion, here's a quick summary of the eight brand new villagers coming in Version 2.0 of Animal Crossing: New Horizons and their now definitively confirmed gender + personality:
Sasha: Male & Lazy
Marlo: Male & Cranky
Tiansheng: Male & Jock
Cephalobot: Male & Smug
Shino: Female & Peppy
Petri: Female & Snooty
Quinn: Female & Uchi / Big Sister
Ione: Female & Normal
You can view the remaining official villager biography images shared by the Animal Crossing: Pocket Camp Twitter account below:
With these new details available, which of the eight brand new villagers coming to Animal Crossing: New Horizons in Version 2.0 are you most hoping to see invited to your island next month? Let us know in the comments below!
Special thanks to Bassieeee for Animal Crossing: Pocket Camp datamining work that resulted in some information used in this article. Personalities for Marlo and Tiansheng are not technically confirmed by Pocket Camp datamining yet, but match the previously speculated pattern.
Animal Crossing: New Horizons Animal Crossing: Pocket Camp News Version 2.0 Update